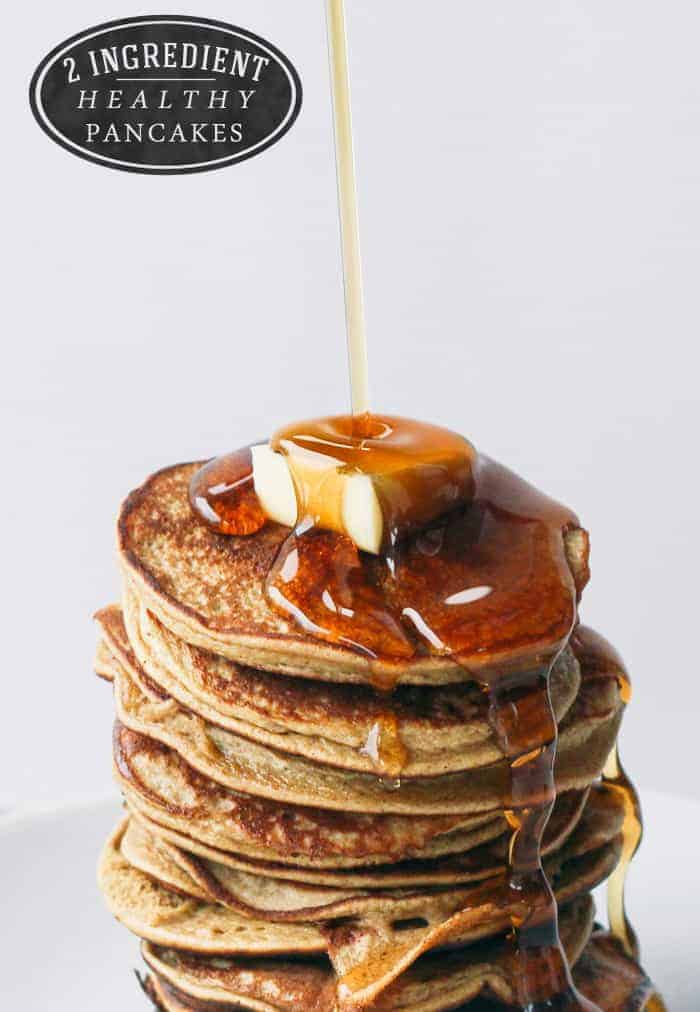 What's my favourite breakfast food? If it isn't obvious so far, the answer is PANCAKES! However, sometimes I just don't have time for measuring out loads of different ingredients.
These pancakes are so easy to make, you only need 2 base ingredients (bananas + eggs) to make them. The ratio is also super easy to remember so making these pancakes in the morning is a snap! They're probably the healthiest pancake recipe I've ever made!!
How to make healthy pancakes, tips for success:
These pancakes can be slightly tricky to master at first. Once you've practiced a bit you'll be a pro though, so don't give up! The batter doesn't have flour supporting it so you have to make a few adjustments to how you might normally make pancakes:
Make the pancakes SMALL! Silver-dollar style pancakes are going to be best here. They're easier to flip and won't break.
Use a non-stick frying pan. You seriously need it here as the sugar in the banana makes the batter stick to the pan more easily. The non-stick coating plus a little spritz of oil will really help you here.
Cook low and sloooow. This method means that the batter on top will cook more making them easier to flip when the time comes. The underside will be less likely to burn as well (again, as the banana has sugar it's more likely to burn)
Use a thin metal spatula for flipping – you can even use a metal offset spatula. Those plastic/silicone ones are probably not going to be useful here as they are too thick to be able to get under the pancake successfully.
Blend the ingredients together with a stick blender (immersion blender) to make a smooth batter. This will make the batter have the best texture. No lumps of banana in the batter = easier to flip!
Consider adding in a bit of nut/seed butter/ PB powder/ ground almonds (almond flour). This makes them not 2 ingredients, but still ultra simple. I recommend this when you're getting used to working with the batter. Then when you've made them a few times like this, you can remove the nut butter/whatever you're using as you'll be more likely to succeed.
Are these pancakes dairy free?
Yes! Some people mistakenly think that eggs are within the dairy category – this is not true. Even though eggs and milk products are sometimes categorised together in the grocery store, this doesn't mean they are the same thing!!!! For example, egg allergies are completely separate from dairy allergies/intolerances. These pancakes are NOT vegan though (vegan = egg AND dairy free) as one of their main components is egg!! You cannot sub the egg here for a vegan alternative as the egg protein is needed for the pancakes to set (and provides the slightly airy texture). 
All in all ….you should make pancakes.
(p.s. I have to say that that is the MOST RIDICULOUSLY, HEART-MELTINGLY AWESOME .gif I've EVER MADE)
Other healthy pancakes on my site:
Notes
– the basis of the pancake is extremely simple, just roughly 1 medium UK egg (US large egg) per 3 or 4 tbsp of mashed banana, but I like to add a few things to it to make it more awesome:
– I love adding the baking powder; it makes them fluffier, but if you enjoy a denser pancake leave it out
– I've made them with 2 tbsp peanut flour (aka pb2) and they're SO AMAZING, and even more filling – even if you don't like peanut butter, you cant actually taste it that much. See my tips for success above. If you're new to these pancakes 
– Add flavour extracts, spices and things like chopped nuts, chocolate chips fruit etc… for a personalised flavour
-Yep, that whole stack of pancakes was the whole recipe (using a slightly heaped 1/3 cup of mashed banana)
-You can use frozen bananas for this, just let them defrost and then peel and use as per usual in the recipe.
-To make a smoother batter that's easier to work with, blend the ingredients in a food processor, blender or with a stick blender
– the recipe is adapted from various places around the internet Update!: I think I've found the source of the recipe, Blogilates!
Ingredients
Basic Batter:
1

large banana

, , mashed (should be around 1/3 to 1/2 cup when mashed)

2

eggs
optional add ins:
1/8

tsp

baking powder

, (see notes)

2

tbsp

nut butter

, , pb2/peanut flour, almond flour or dessicated coconut (see post & notes)

1/4

tsp

ground cinnamon

1/4

cup

blueberries/ raspberries/ chopped nuts

2

tbsp

mini chocolate chips
Instructions
Peel and mash the banana, stir in the egg. Mix in any non-chunky add ins that you want (e.g. nut flours or butters, baking powder…).

Heat a non stick skillet and lightly spray with oil. Turn the heat down to low.

Pour a circle of batter into the pan (I used about 1 tbsp of batter per pancake – it's easier if you make very small pancakes).

Cook until golden brown on the underside (around 1 minute) sprinkle on any chunky ingredients (e.g. chocolate chips, fruit, nuts, if using), then use a thin metal spatula to gently get underneath the pancakes and flip them over. Cook until golden brown on the other side (30 seconds to 1 minute).

Serve warm with whatever the heck you want