You can order the book through these retailers:
Amazon UK   (out June 29th)
Amazon US   (out June 20th)
Dymocks (AUS) (out July 23rd)
Hachette (AUS)
The Book Depository (Worldwide)
And once you pre-order you can claim your copy of a FREE 10-recipe ebook download by emailing your proof of purchase to thesavvycookbook@gmail.com
A quick note about events first:
London, June 28th

–

 I've got a little pop-up dinner (with recipes from the book) happening with all profits going to The Shoreditch Trust charity. You can see more info and buy tickets here
New York, June 22nd – there's a FREE signing happening at Verde along with the lovely Hetty as she is launching her new book too! There will be complimentary vegetarian snacks and a cash bar. Find the details here
more things are going on over the summer in the UK so keep an eye on my events tab just underneath my logo on topwithcinnamon.com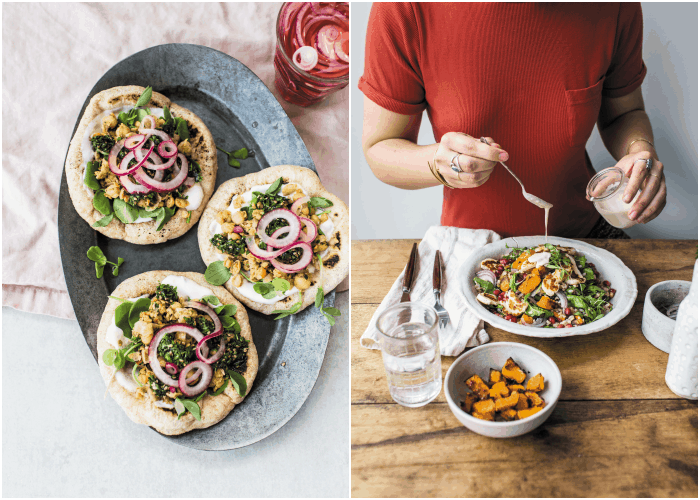 Okay so here are the 'headlines' about it:
over 150 vegetarian recipes (many of which are vegan and/or gluten free or have adaptations to make them vegan/gluten-free)
Most of the recipes feed 1-2 people so they're ideal if you're cooking for yourself or only a couple of people. They can of course also be scaled up for when you need to feed more!
The recipes are easy, interesting and won't break the bank
Very flexible recipes with loads of tips & ingredient swaps to help you adapt the recipe to suit your taste/what you have in the fridge
The recipe chapters are: Breakfast + Snacks, Lighter Bites, Bigger Meals, Clear the Fridge, Cheeky Treats, DIY
NO DIET FAD CRAP – there's no weird superfoods in here, no coconut oil and I don't go on about 'detoxing' or avoiding 'refined sugar'. This is sensibly-healthy food and to me, that means LOTS of vegetables, whole grains, legumes & fruit but ALSO cakes + cookies – because hello you need to nourish your soul as well as your body.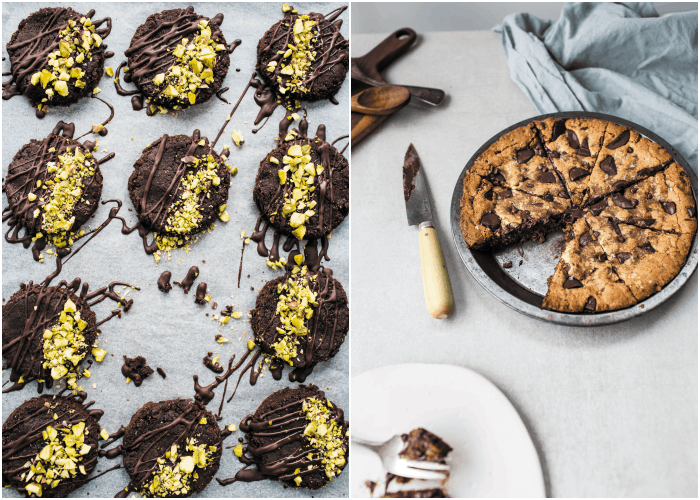 One of the coolest things about the book is the 'leftovers' slant to all the recipes:
At the bottom of each recipe is a box telling you what ingredients you might have leftover after making that recipe – say for example half a lemon, a jar of tahini or cooked chickpeas.
The box tells you the page reference for the back of the book where there's a HUGE 6-page table called 'Makeovers with Leftovers'
In this table you can look to see what other recipes in the book you can make with that leftover ingredient – so you can find a use for half a lemon, all that tahini or the open can of chickpeas!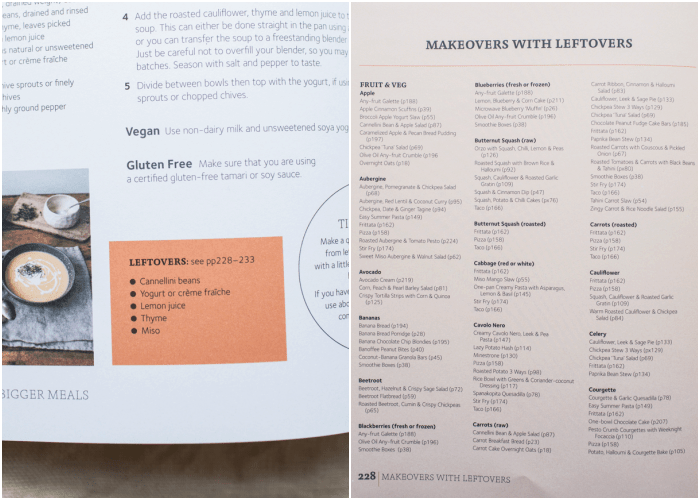 This is something I'm super excited about because I've found that when cooking for 1 or 2 people, I always end up with open bags of spinach, half blocks of feta, half a broccoli etc.. left over. I shove it in the fridge and forget about it and a week later it's mouldy and I've had to throw it away! This leftovers table feature should help you tackle that food-waste by showing what recipes to make next so you can meal plan.
It's ALSO great for when you've bought a niche ingredient like tahini or miso for a recipe in the book and you have no clue what else to do with it! Instead of making the same recipe again, this shows you what else to do with it without having to trawl through the whole book.
Another thing to point out is the 'Clear the Fridge chapter!
This chapter has 4 different recipe templates for Pizzas, Tacos, Stir-Fries and Frittatas.
There's a basic skeleton of a recipe with suggestions of ingredients you can use for each aspect of a recipe
It's the perfect way to use up all the random bits of vegetables or whatever that you have left in the fridge at the end of the week!
There's also 3 example recipes for each template to show you possible flavour combos
I think that's it!! If you have any questions, let me know 🙂