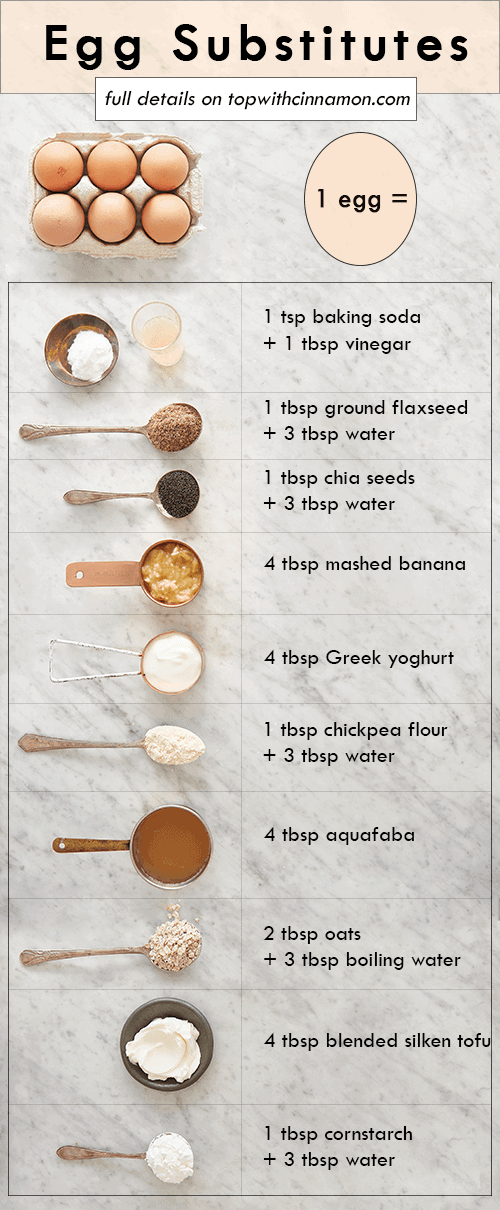 This post has been updated as of August 2021
A lot of the time when developing vegan baking recipes, I prefer to start with a standard recipe and make plant-based substitutions. One of the main things I find myself experimenting with are different vegan egg substitutes. Have you ever wondered what ingredients could be used as an egg substitute in baking? and which of those substitutes work best in different situations? Below you'll find quite a comprehensive list of common ingredients you can use instead of eggs, how much to use to replace 1 egg & which applications each one is best for.
Eggs have many properties which we use in cooking & baking (binding, aeration/rise, spongey texture, creaminess, thickening, browning, stabilisation) so each substitution provided usually covers some but not all of those properties – hence needing different substitutes for different recipes.
Even if you're not vegan or allergic to eggs I think it's useful to know a few of these substitutes for if you're ever in a situation where you don't have/can't get eggs. You can pin the graphic above (or even save it) for future reference!
Baking Soda + Vinegar
An interesting combination which provides the lift and browning to vegan cakes missing from not including eggs. This is very limited in application but works extremely well for certain recipes.
1 egg = 1 tsp baking soda + 1 tbsp vinegar
Method: Unless you are confident in making changes to recipes I would only use this substitute in recipes which have been specifically developed using it. These types of recipe are easy enough to find by googling!
Best for: chocolate cakes, other fluffy layer cakes and cupcakes, pancakes
Benefits: most people will have these already to hand, cheap
Example recipe: Caramelised Banana Buckwheat Bread
Ground Flaxseed (Linseed)
Flaxseeds can come whole or pre-ground. If they're pre-ground and you live in a warm climate, store in the fridge or freezer to prevent it going rancid. If you have whole flaxseed, use a spice grinder or blender to blitz them into a fine powder before using as an egg substitute.
1 egg = 1 tbsp ground flaxseed + 3 tbsp (45g) warm water
Method: Mix the flaxseed and water together in a small bowl and set aside until the mixture becomes slightly thick and gelatinous (around 5 minutes). You can now use it in your recipe as you would an egg.
Works best for: Muffins, cakes, quickbreads, cookies, cornbread
Benefits: high in fibre, high in omega 3 fatty acids, neutral taste, easy to find
Example recipe: Vegan Lemon Poppyseed Muffins
Chia Seeds
Chia seeds come either as black or white small seeds. You can choose the white ones if you don't want to see black speckles in the final product. They are used whole so remain kind of crunchy in the final bake and can get stuck in your teeth. Once mixed with water the chia seeds form a fibrous, mucilaginous (slimy!) clear liquid.
1 egg = 1 tbsp whole chia seeds + 3 tbsp water
Method: Mix the chia seeds and water together in a small bowl and set aside until the seeds have formed a gelatinous goop around them and thickened up a lot
Works best for: muffins, quickbreads, cookies (& sometimes brownies)
Benefits: high in fibre, high in unsaturated fats, high in protein, no need to grind before using
Mashed banana, applesauce, pumpkin puree
These all work in a similar way with a smooth, slightly thick but watery texture. They can impart a flavour (mashed banana) or a colour (pumpkin puree) but the most neutral is plain, unsweetened applesauce. They can make things have a slightly denser texture so are best used for heartier bakes.
1 egg = 1/4 cup (60ml) mashed banana or applesauce or pumpkin puree
Method: mash/blend banana until very smooth (use smooth, unsweetened applesauce/pumpkin puree) and mix into recipe as you would an egg.
Works best for: heartier bakes such as pancakes/waffles, muffins, quickbreads
Benefits: easy to access and use
Example recipe: Vegan Sourdough Banana Bread
Greek Yoghurt
Very similar to how you would use mashed banana/applesauce/pumpkin puree (but not vegan!). Youghurt can help provide a tender texture so is best for cakier products. As it's high in protein and contains some sugars, it can also give your bakes a lovely golden-brown appearance.
1 egg = 1/4 cup (60ml) Greek yoghurt
Method: use as you would an egg in your recipe.
Works best for: quickbreads, muffins, pancakes
Benefits: easy to access, provides some tenderness, high in protein, helps with browning
Example recipe: Lemon Yoghurt Pot Cake
Chickpea Flour (Gram flour)
A pale yellow, fine flour, commonly used in Indian recipes. This flour has a distinctly 'beany' scent and can make the batter of your bakes taste a bit earthy. Don't worry though, once baked the flavour is lost. This can even be used to make vegan 'scrambled eggs' or 'omelettes' – you just need to incorporate some salt and spices/herbs into your chickpea flour 'batter' and fry with some oil in a frying pan.
1 egg = 1 tbsp chickpea flour + 3 tbsp (45ml) water
Method: Place the flour in a small bowl and
Works best for: cakier products like cakes, quickbreads, muffins, deep frying (egg substitute for when you're breadcrumb-coating things), French toast batter, crepes/pancakes, scrambled 'eggs'/ 'omelettes' or quiche (in combo with silken tofu), meatballs / meatloaf
Benefits: high in protein, high in fibre, imparts a golden colour to bakes, has a neutral flavour once cooked
Example Recipe: Butternut Squash & Caramelised Shallot Tart
Aquafaba (Chickpea Water)
The brine which is usually drained away and discarded from a can of chickpeas (or even black beans, kidney beans, cannellini beans) can be used as an egg white substitute. It whips up just like egg whites do, although tends to take longer to reach stiff peaks, and can be used for similar applications. Unlike egg whites, the foam produced by aquafaba will not solidify once cooked so it needs sugar (or something else like melted chocolate e.g. if using for a mousse) to be whisked into it in order to stabilise it.
The viscosity of aquafaba can vary from brand to brand (as well as if you're using water from beans you've cooked yourself) – if you tried whipping it and it doesn't seem to work, reduce the liquid down by 50% by gently simmering it in a small pot on the stove.
1 egg = 1/4 cup (60ml) aquafaba
Method: either use straight from the can or reduce (as described above) if needed before using. Can mix straight into batters/doughs or whip it up in a stand mixer (with or without sugar, as you would meringue) until you get thick, white fluffy foam just like whipped egg whites.
Best for: things where egg whites are used like meringues, mousse, Swiss meringue buttercream. Also can be used for cookies, waffles/pancakes, deep frying (egg sub. for breadcrumb coating things), and cakes.
Benefits: uses something you'd usually throw away, can be frozen for use in the future, light fluffy texture.
Example recipe: Vegan Molten chocolate cakes
Oats
When oats are combined with boiling water they thicken and become a bit gloopy (i.e. porridge!). This can then be used as is (or blended to form a sticky, smooth paste) and used as an egg substitute.
1 egg = 2 tbsp oats + 3 tbsp boiling water (fine/instant/porridge oats work best here – not old fashioned oats)
Method: Place the oats in a small bowl, cover with the boiling water and set aside until thickened and cooled. This mixture can then be blended into a smooth paste if having a slightly oaty texture in the finished bake isn't desired.
Best for: cookies, muffins, quickbreads, pancakes/waffles
Benefits: common pantry ingredient, cheap, high in fibre
Example recipe: Vegan Chocolate Chip Cookies
Silken Tofu
This tofu is usually shelf stable so is normally found on supermarket shelves (i.e. not in the chilled section). It has a wobbly and very soft texture. Once blended into a smooth paste it can be used in place of eggs in baking. Or it can also be mashed with the back of a fork and used as a 'scrambled egg' sub, if fried with some spices and dried herbs. You can blend up a whole block and store in pre-measured 1/4 cup (60ml) portions in the freezer so you don't end up wasting any.
1 egg = 1/4 cup (60ml) blended silken tofu
Method: blend with a hand blender, food processor or blender until smooth. Measure and then mix into your recipe as you would an egg.
Best for: cakes, muffins, quickbreads, quiche (in combo with chickpea flour), scrambled egg
Benefits: provides a light texture so good for cakes, high in protein, shelf stable
Example recipe: Marble Cake (vegan option)
Cornstarch (cornflour)
As cornstarch thickens into a clear-ish gel when heated, and can set into a firmer, jelly-ish texture when cooled, it does a great job at thickening liquids instead of eggs. This is mostly useful for custards and pie fillings so is great for making eggless custards, creme patissiere, pudding and vegan ice cream. Other starches will work in a similar fashion too (tapioca, arrowroot, potato starch).
1 egg = 1 tbsp cornstarch + 3 tbsp (45ml) water
Method: mix in a small bowl to form a slurry. If using in something that gets baked (like a cake), just stir straight into the batter/dough. If using for custards/pie fillings, mix with the remaining liquid in the recipe and then cook on the stove over a low heat, stirring until thickened.
Best for: custards (ice cream, creme patissiere, pudding), pie fillings (e.g. pecan pie), lemon curd
Benefits: easy to use, accessible & cheap
Example recipe: Pistachio Ice Cream
Bonus: Psyllium Husk
This one I learnt about from School Night Vegan. Psyllium husk acts in a very similar way to flax or chia seed, creating a mucilaginous mixture when combined with water. However, psyllium husk actually produces a much stronger gel (so strong in fact, that it is often used in gluten-free bread recipes to replace the gluten!). It can be a bit harder to find, usually it's sold as a healthcare product/supplement as, being very high in fibre, it is beneficial for your digestive health. Otherwise you can find it online. It comes in two forms: whole and powdered – make sure you know which type you have as the powdered form is more concentrated.
1 egg = 1 tsp whole psyllium husks or 1/2 tsp ground psyllium husk + 3 tbsp water
Method: if using whole physllium husks, grind them in a spice grinder before starting. Mix the gound psyllium husk with the water in a small bowl and leave for a few minutes to gel. Combine the gel with any liquid from your recipe (e.g. milk, juice, water) and blitz until smooth with a hand blender or standing blender.
Best for: cakes, breads, cookies, muffins, pastry
Benefits: cheap, works well in a variety of recipes, stronger gel than flax/chia
Example recipe: vegan chocolate chip sheet cake
Bonus: Egg wash substitutes
Vegan substitutes for egg washes (for glazing things like pastries and breads before baking) are one of the trickier things to get right. Usually, egg wash provides 3 things: stickiness (to adhere seeds or seal pastry), sheen and a golden-brown hue. There are a few different types of vegan egg washes that I like to use depending on the situation & what I have to hand.
1 tbsp maple syrup + 1 tbsp soy milk

This egg wash does provide a slight sheen & darkening but not super effectively (although will do in a pinch)

1 tbsp maple syrup + 1 tbsp non-dairy milk + pinch of bicarbonate of soda + pinch of xanthan gum

Whisk together until combined.
This one is my favourite. Thanks to the xanthan gum, this is thicker than just maple syrup + soy milk alone so it adheres to the dough a lot better. The bicarbonate of soda aids in browning.

1 tbsp maple syrup + 3 tbsp non-dairy milk + 1 tbsp cornflour

The cornflour here helps to thicken up the glaze so it adheres but can make the glaze appear more matte.