This post has been updated as of August 2021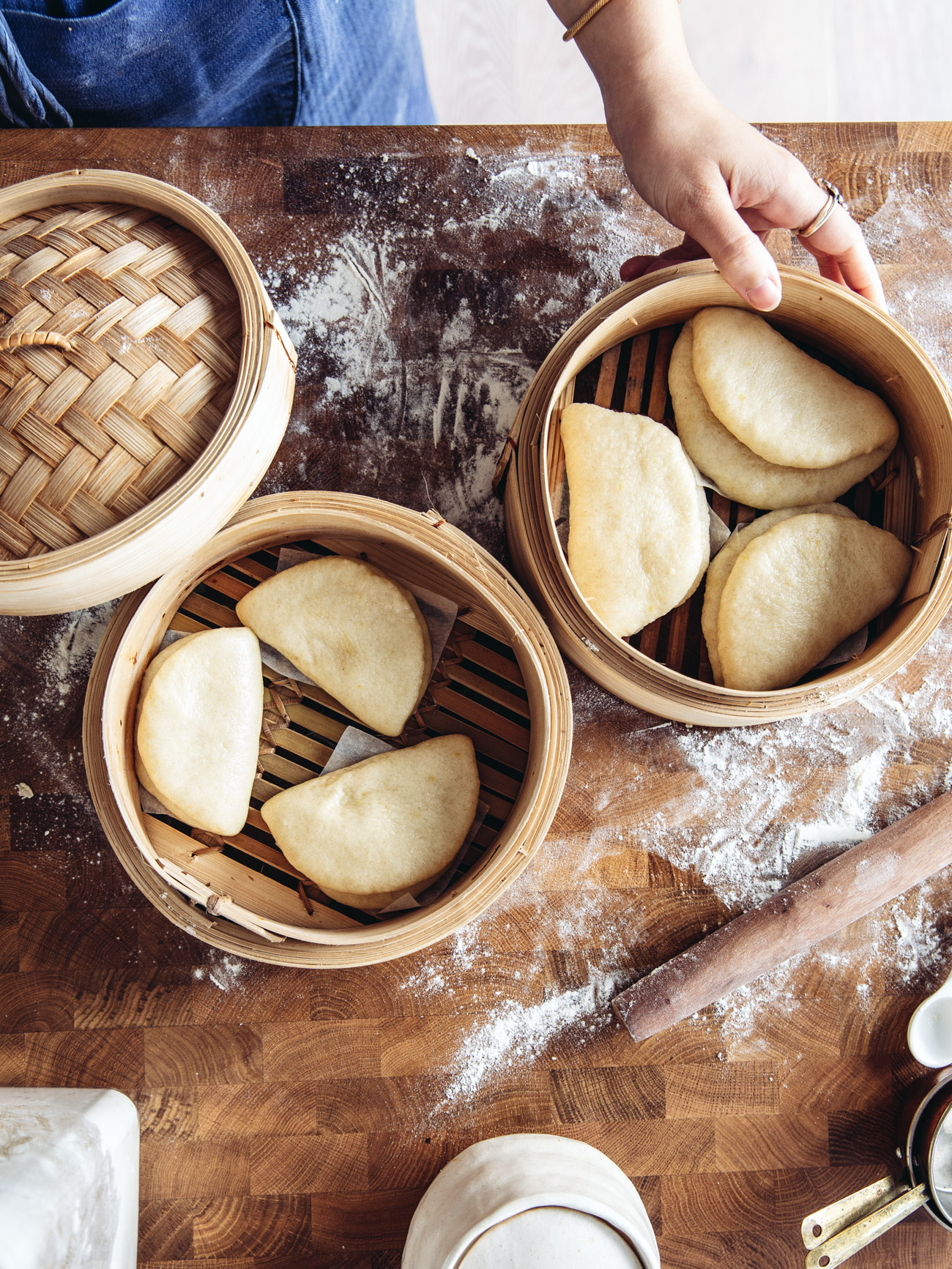 In light of recent racially-targeted attacks and hate crime against Asian people, I will be donating all ad revenue generated from this blog post (any previous ad revenue generated in 2021 as well as revenue from the remainder of 2021) to besea.n, a network for East and South East Asian people in the UK. They work to tackle negative stereotypes and provide resources to promote a positive representation of ESEA people in the UK media as well as other important work to increase equality for this marginalised group.
Over the past few years there has been an explosion of bao restaurants in London. These soft and fluffy steamed buns are incredibly delicious and usually not too pricey. BUT you can make them at home which can be a fun weekend 'project' to do (and you can freeze extras for weeknight dinners!). The idea of steaming bread can seem daunting so I've gone in deep here with as much detail as I can muster! I've made them quite a few times at home now so, although I'm definitely not an expert, I may have some tips from what I've learned.
Contents:
Recipe adapted from School of Wok – Jeremy Pang
Ingredients
420

g

(3 1/2 cups) plain white flour (all-purpose flour), plus more for kneading

2 1/4

tsp

(1/4 oz or 7g) easy bake yeast (instant yeast)

1

tbsp

granulated sugar

1

tsp

salt

250

g

(1 cup) warm water

2

tbsp

vegetable oil

, plus more for the bowl + brushing

1

tsp

baking powder
Instructions
Make the dough & first rise:



Place the flour, yeast, sugar and salt in a large bowl. Stir together to combine.

Add the warm water and vegetable oil to the bowl and stir together to form a rough dough. Tip the contents of the bowl out onto a work surface and knead together, dusting lightly with extra flour as needed to prevent it sticking to the surface (just try to add as little extra flour as possible). Knead for about 10 minutes - the dough will be slightly sticky and quite soft but should be stretchy and smooth. You can also use a stand mixer with the dough hook fitted to knead it if you'd like.

Pour a little extra vegetable oil into the bowl you were using. Place the dough in and turn to coat with oil. Cover with a clean tea towel and leave somewhere warm for 1 hour to rise until doubled in volume (I place it in my oven, turned off, with a baking tray full of boiling water on the rack below - it makes the perfect warm, steamy environment for the dough to rise in).

Once the dough has risen, tip it out onto your work surface and pat out into a large rectangle. Sprinkle the baking powder all over the surface of the dough, roll it up, and then knead for 5 more minutes so the baking powder is incorporated.
Shape the buns & second rise:



Divide the dough into 20 equal pieces. Shape each of these into little balls, dusting with more flour as needed to stop them sticking to the work surface.

Cut 20 squares of baking paper, each roughly 3.5 inches (9 cm) wide.

Take each ball of dough and roll it out into an oval about 3.5 by 4.5 inches (9 x 12 cm). Brush the surface of each oval with a light coating of vegetable oil. Fold each oval in half to get a half-moon shape. Place onto the individual squares of baking paper.

Set aside to rise for 20 minutes on your counter so they get a bit puffy.
Steam the buns:



Gently place a few of the risen buns into your bamboo steamer - I can fit 3 buns in each layer of mine so a total of 6 buns. Make sure when you do this you don't squish the buns, so lower them in by grasping the corners of the baking paper square. You also want to leave room for expansion as the buns will rise even more when they are steamed - try to make sure they're not touching each other/ the edges of the steamer or they'll stick.

Put the remaining risen buns on a baking tray in the fridge to stop them overproofing as the first batch steams.

Fill a wide saucepan with ~1 inch (3 cm) of water. Bring to the boil over a medium heat then lower the bamboo steamer in, covering it with its lid. Turn the heat down so the water is simmering and let the buns steam for 6 minutes.

Let cool slightly then remove from the steamer so you can steam the next batch, you may need to top up the water to prevent it running dry (you can take the dough straight from the fridge, no need to let it come to room temperature).

Eat the buns warm! If they cool off, you can reheat them once more by steaming again for ~2 minutes.
FREEZING BUNS:



Steam all of the buns as directed above. Allow to cool to room temperature then place on a baking sheet (with the baking paper squares still attached). Freeze on the tray for 1-2 hours until solid. Tip the frozen buns into a resealable bag which is labelled and dated. Keep in the freezer for up to 3 months.

To reheat, place frozen buns into a steamer. Steam for 5-8 minutes until piping hot inside.
Notes
Recipe adapted from School of Wok (Jeremy Pang)
you can use melted butter or lard in place of the vegetable oil if desired
you can replace half of the water with warm milk in the dough for a slightly softer result
if you don't have easy bake/instant yeast: first mix the yeast with the warm water in a jug and set aside to bubble up for 5 minutes before pouring into the bowl of flour/salt/sugar/oil.
What is a bao bun?
Really, calling these bao buns is incorrect (bao means bun, so it's like saying 'bun bun'). They're usually called gua bao but are also sometimes known as Taiwanese hamburgers. However their popularity in the West has spread with the redundant name bao buns, so here we are! The usual filling is glazed pork belly but you can basically fill them with whatever you want.
I think a good formula for vegetarian fillings is: grilled/deep fried vegetables (or tofu/seitan) + something crunchy (lettuce, carrot ribbons, shredded cabbage) + sauce + pickles (kimchi, red onion/radish, kraut).
Where can I buy bao?
I have to say, as much as I love making things from scratch, sometimes I just want a super easy dinner and frozen bao are a godsend for that. I buy packs of frozen bao from the big chest freezers in my local Chinese food shop. They have a variety of names I've come across: 'gua bao', 'double slice bun', 'Hirata bun' or 'Taiwan burger bun'. If you want to make them yourself though, read on.
Can I make vegan bao?
Yes! This recipe below is vegan (with non-vegan adaptations you can make if you'd like). I just use all water and vegetable oil so it really is an easy recipe to make. Plus they come out just as fluffy and soft as the ones containing milk.
I have a couple of vegan filling options too:
– Grilled Asparagus Bao
– Gochujang Tofu Bao
How do you steam bao?
I have a 2-layer bamboo steamer I got from a Korean supermarket when I lived in Leeds. You can get them online or usually at larger Korean/Chinese/Japanese food shops. If you don't have a bamboo steamer you can use a metal one, you just can't fit as many buns into them as you can with a bamboo one (as they are stackable).
For bamboo steamers: place the steamer into a wide saucepan or pot that it can fit snugly in. Pour water into the pan, I usually do a ~1-inch depth and top up the water as needed while steaming so it doesn't run dry. The most important thing is that the water level doesn't rise above the base of the steamer as you don't want the water to come into direct contact with whatever is in the steamer. Bring the water to a boil over a medium heat, fill the steamer with your buns (they expand quite a bit when steaming so leave some room around them) then cover with the lid. Place into the pan of water and turn the heat down so the water is simmering. Let the buns steam for 5-6 minutes – do not remove the lid during this time as the trapped steam inside is cooking the buns!
I use a pair of kitchen tongs to remove each layer of the bamboo steamer from the pan so I don't get burnt by the steam.
Can you freeze bao and can you reheat frozen ones?
When I make bao I usually make a large batch so I can freeze most of them for easy dinners later on. To do this, steam all of the bao as instructed. Then line them up on a baking tray – I like to leave the little parchment square on the bottom of each bun so I can use it when I reheat them later. Freeze the buns for 1-2 hours on the tray then tip them into a resealable bag. Label and date them for future reference. You can reheat the bao straight from frozen, just pop a few into your steamer and steam for 5-8 minutes until hot in the middle.
How do you keep steamed buns warm?
Keep them in the bamboo steamer with lid closed. They should stay warm like this for ~10 minutes. When having them for dinner, I usually actually cook all the bao ahead of time and then re-heat a couple at a time by steaming for 1-2 minutes before eating. That way you always have hot ones to eat.
Why are my bao not white?
The addition of baking powder/bicarbonate of soda can cause a yellowing of the dough after steaming. You may notice that if you don't knead the baking powder into the dough thoroughly, there will be little yellow spots on the buns (this is just an aesthetic issue, they'll still taste fine). The yellowy tinge can also come from the flour – if your flour is unbleached, as most is in the UK, the buns will not be super white. You can buy bleached white flour from some Chinese supermarkets if you're really after that snowy white look.
Can I make wholewheat bao?
Yes! Just replace 1/3 of the flour in the recipe below with wholemeal (wholewheat) bread flour. They'll be a little bit denser/ chewier but still delicious. I wouldn't recommend doing 50% or 100% wholemeal flour as it'll make the buns too dense and they won't be fluffy.