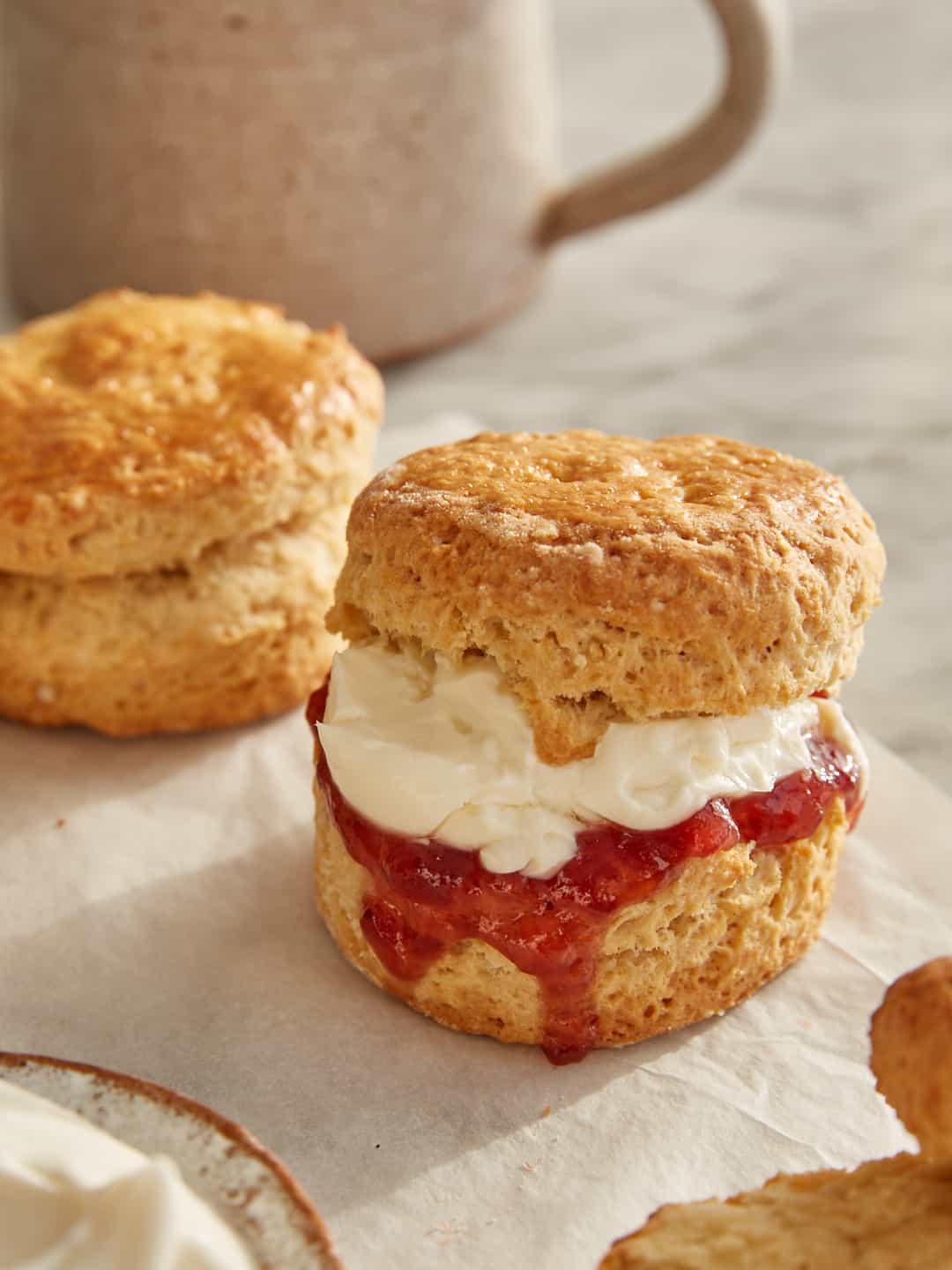 A classic scone is the perfect tea-time snack, served with clotted cream (or salted butter, as I prefer!) and jam. These little delights are a kind of quickbread (similar to soda bread) so rely on a chemical raising agent, not yeast, and come together extremely quickly.
From Mary Berry to the BBC, every scone recipe will vary slightly but the ratios are usually pretty similar and rely on the simple ingredients of plain flour, milk, butter and baking powder.
You can play around with add-ins as well, folding in grated cheddar cheese for a cheese scone or some soaked sultanas for a fruit scone.
I like the addition of eggs to my scone dough as I think they produce a cakier texture and help the scones stay softer for longer.
Some people like using buttermilk but, as it is often hard to find, I prefer to simply thin some natural yoghurt with water (in a 50:50 ratio) to use instead of milk sometimes.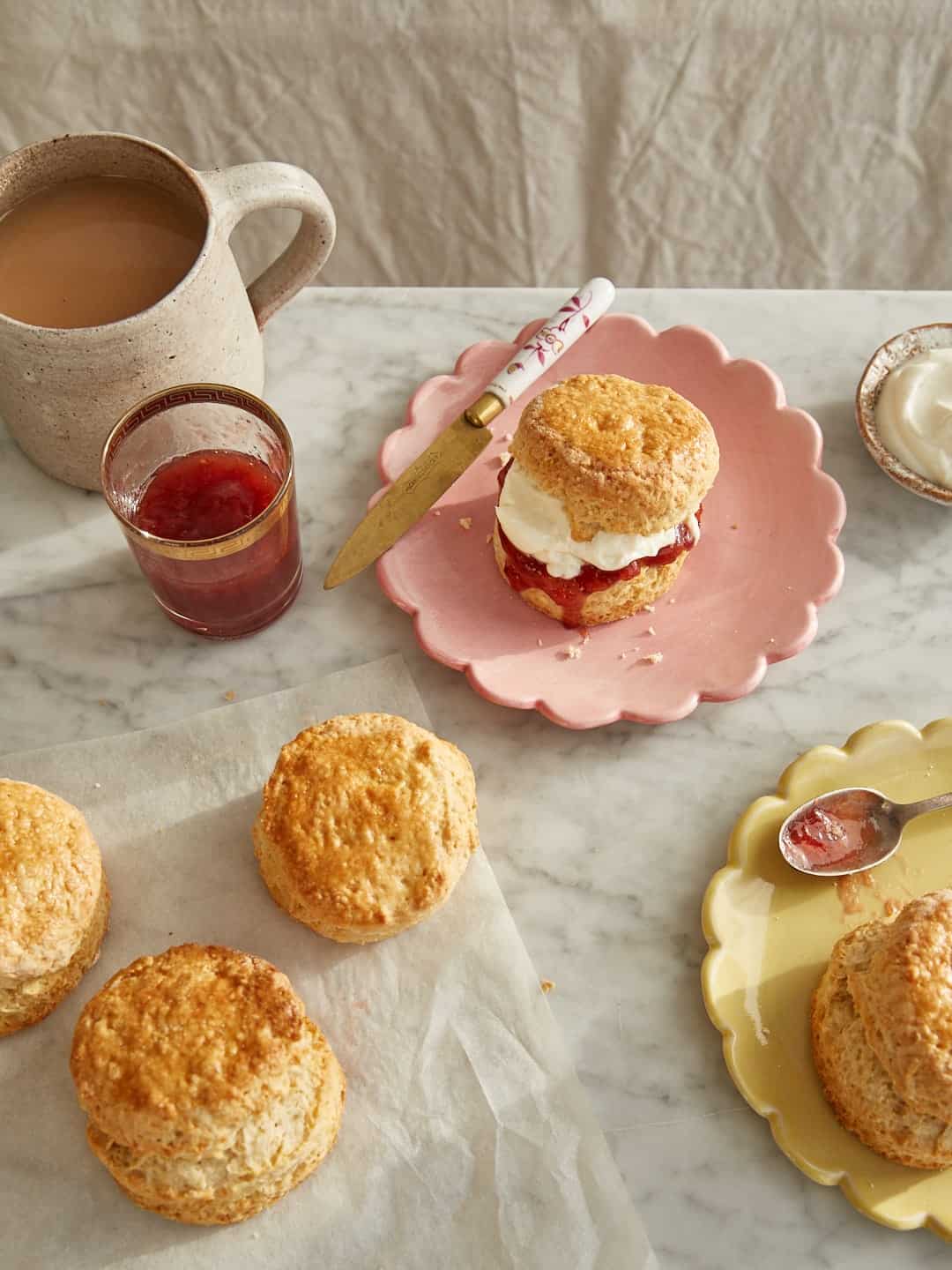 Can scones be frozen?
Yes, this is a great way to make scones way in advance. Freeze the cut rounds of scone dough on a lined baking tray. Once frozen, slide the scone dough rounds into a resealable food bag and freeze for up to 3 months. You can bake the dough straight from frozen, at the usual temperature, for 20-25 minutes.
You can also freeze already baked scones in a resealable food bag for up to 1 month. Pop them into a 100C (200F) oven for about 20 minutes to defrost & warm them up.
Can scone dough be made in advance & refrigerated?
Yes, you can make scone dough the night before you want to bake them. I think this works best if you roll & cut out the scones, pop them onto a lined baking tray and then chill for up to 24 hours (instead of chilling the un-cut dough). You can then glaze and bake as usual straight from the fridge – the chilling shouldn't really impact the baking time much. This can actually provide a better rise to your scones as the flour has more time to absorb the liquid in the dough, plus the buttery bits in the dough re-solidify, which both help produce a better texture. Don't leave the scone dough in the fridge for more than 24h though as the baking powder will start to lose its efficacy meaning your scones won't rise as much!
Why is scone dough so wet?
The texture of scone dough should be quite wet and sticky as this loose texture really helps to produce the lightest, fluffiest texture once baked. The drier your dough is, the less ability the dough has to rise in the oven and the denser your scones will be. If you're finding the scone dough is too wet to handle, pop it in the fridge to chill for about 30 to 60 minutes. Make sure you're using a lightly floured work surface and dust the top of the dough lightly with flour. Also, try to handle it as little as possible to prevent it sticking! Do not try to mix more flour into the dough as you'll throw off the ratios of ingredients in the recipe resulting in dry, dense scones.
Tips for the best scones
Scone dough is not kneaded – instead it is gently stirred and then patted and folded in half a few times (this is called 'chaffing' the dough), trying to work it only until the dry ingredients are incorporated. This is because kneading the dough will develop the gluten structure in the dough past where we want it to be, which leads to a tough, dense scone. On the other hand, chaffing the dough incorporates some air into the dough and encourages formation of distinct layers which help the dough rise AND give a natural 'fault' line to your scone meaning you should be able to split it in half by simply pulling the top and bottom apart.
Only stir the batter together until the liquid is just about incorporated – the chaffing step after mixing is where the dough properly comes together so don't worry if it looks like a complete mess when you tip it out of the bowl. By finishing the mixing job when you're folding the dough on the work surface, you prevent overworking the dough and ensure you get nice flaky layers in your scones.
Re-roll the dough as few times as possible – you will need to re-roll the scraps if you're cutting out circles but try your best to do this only 2 or 3 times max. This will ensure you don't overwork your dough!
Have cold butter and milk – this will help give the scones a light and 'short' (crumbly) texture as the cold fat and milk will somewhat inhibit gluten development.
Roll the dough THICK – I like to cut my scones from dough which is about 3cm thick. You'll probably look at the dough and think 'that dough is too thick!!' but it's not!! It's probably the most vital part to ensuring your scones rise up tall.
Don't twist the cutter – when you punch each circle out of the dough, use a straight down & up motion, no twisting!! The twisting effectively seals the cut edges of the circle which means it won't rise as well.
Don't let the egg/milk glaze drip down the sides of the scone – again this kind of seals that cut edge of the scone and will prevent it rising.
Can I make these scones with self-raising flour?
Yes, just replace the plain flour and the baking powder in the recipe with 360g of self-raising flour
Can I make these scones without egg?
Yes, they'll have a slightly less spongey texture but you can replace the eggs in the recipe with an extra 75ml (1/4 cup plus 1 tbsp) of milk.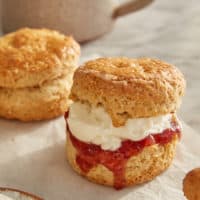 Easy Scones
Big, fluffy scones made with plain flour, milk, butter & eggs. Delicious served with strawberry jam and clotted cream.
Print
Pin
Rate
Ingredients
360

g

(3 cups) plain flour *

(all-purpose flour)

50

g

(1/4 cup) granulated sugar

3 1/2

tsp

baking powder

1/2

tsp

fine table salt

100

g

(7 tbsp) unsalted butter, cold, cubed

2

medium eggs

100

ml

(1/3 cup + 1 tbsp) cold milk*
Glaze (optional):
1

egg

, beaten OR 2 tbsp milk
Instructions
Preheat the oven to 200°C fan (400°F fan) / 220°C non-fan (430°F non-fan). Line a baking tray with baking paper.

Place the flour, sugar, baking powder and salt in a large bowl. Stir together. Add the cubed butter and used your fingertips to rub the butter into the dry ingredients until the mixture looks kind of sandy and shaggy with some pea-sized lumps of butter remaining.

360 g (3 cups) plain flour *

,

50 g (1/4 cup) granulated sugar

,

3 1/2 tsp baking powder

,

1/2 tsp fine table salt

,

100 g (7 tbsp) unsalted butter, cold, cubed

Make a well in the middle of the flour mixture. Crack the eggs into the centre and pour in the milk. Stir together very briefly to form a messy, sticky dough with some floury patches remaining.

2 medium eggs

,

100 ml (1/3 cup + 1 tbsp) cold milk*

Tip the contents of the bowl out onto a work surface dusted lightly with flour. Pat the shaggy dough out into a rough rectangle about 1.5cm (1/2-inch) thick. Fold the dough in half and rotate 90 degrees. Pat out again and fold in half then rotate 90 degrees. Do this a couple more times until there are no floury patches remaining. You want to work quickly & lightly here – don't overwork the dough or the scones will be tough.

Now dust your dough rectangle with flour on top and underneath. Roll out gently until it's around 3cm thick – it'll look super thick but this is key to getting tall scones!

Dust a 5 or 6cm (2 or 2.5-inch) round cutter (or water glass) with flour and use to cut out rounds of dough. Make sure you're using a simple down-up movement with the cutter (i.e. DON'T twist the cutter as this will seal the cut edge and prevent the scones rising).

Pop the rounds out onto the lined tray. Gently gather the scraps and re-roll, cutting out more rounds from the dough until it's all used up. You should get 8 or 9 scones total.

Brush the tops of the scones with a thin layer of beaten egg (or milk) – try to make sure the glaze doesn't drip down the sides of the scone as this can prevent them rising.

Bake for 12-15 minutes, rotating the tray 180-degrees when they're halfway through their cooking time. They should be well-risen and golden all over.

Serve warm with clotted cream, or butter, and jam.
Notes
*Using self-raising flour: If you don't have baking powder to hand, just replace the plain flour & baking powder with 360g (3 cups) of self-raising flour. *Using yoghurt in place of milk: I sometimes use a mixture of water and natural yoghurt (50ml of each) in place of milk. It depends on what I have in the fridge and what flavour I'm going for (yoghurt adds a bit more of a tangy flavour to the scones). Dairy-Free Scones – use a dairy free block butter (like Stork or Naturli) instead of the butter. Use a dairy-free milk (I like oat milk). Freezing scones before baking – you can freeze the rounds of scone dough before baking on a tray. Once frozen, slide them off the tray into a sandwich bag and pop back into the freezer for up to 3 months. They can be baked from frozen at the same temperature as usual for 20-25 minutes. Freezing baked scones – cool scones to room temperature then pop into a sandwich bag and freeze for up to 1 month.