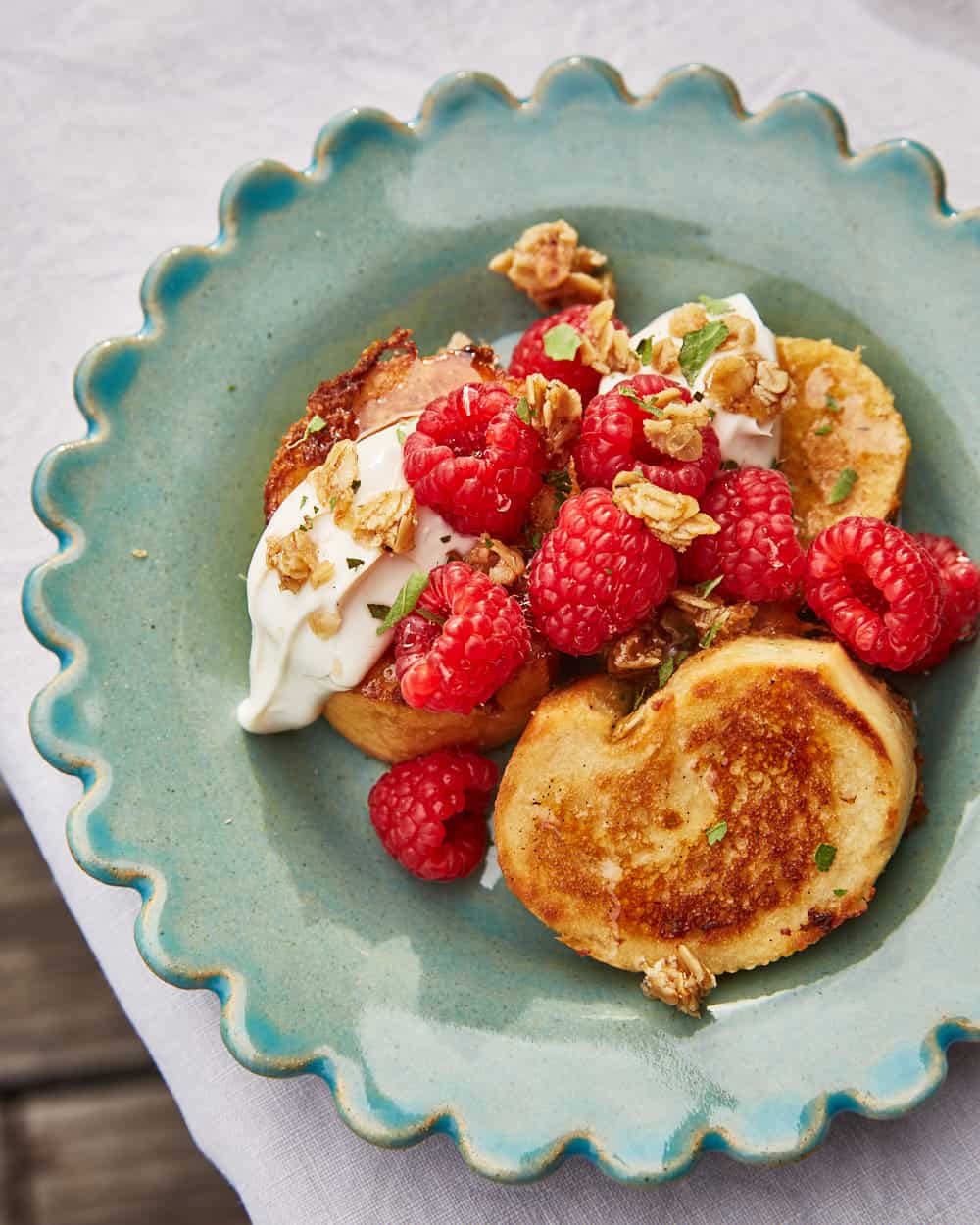 An ingredient you may not know you can cook with is the leaves from fig trees. Strangely, fig trees are quite common in London – once you spot them, you'll realise they're everywhere. I think this fig leaf french toast is a perfect beginner recipe to use them in as it's a low effort thing to make.
How to cook with fig leaves
Fig leaves have a very unique flavour which I think of as a herbal coconut note. They're delicious and really easy to cook with – you need to clean and dry them, 'toast' them in a dry frying pan until crunchy and then use them to infuse liquid (like milk or alcohol). You then can strain the leaves off and discard them or blitz them into the liquid.
I prefer to strain them off as it provides a more subtle flavour and I've found that blitzing them can produce some bitterness.
Using fig leaves in desserts
I think the best way is to infuse the fig leaves into a dairy (or dairy substitute) like milk or cream which you will then use in your recipe. Here I've used them to infuse soy milk which became the base of the 'custard' for this French toast. You can blitz them into the milk but I prefer to strain them out as I have found in the past that blitzing them made the flavour too strong for my preference.
KCHossack Pottery x Top With Cinnamon Collaboration
The ceramics in the images here are all made by my lovely mum, Karin Hossack a.k.a. KC Hossack Pottery! We have collaborated on a series of recipes together showcasing her tableware and providing some exclusive pieces for purchase on her online shop.
For this Autumnal brunch setting, using Karin's Speckle Teal Shallow Daisy Bowls, I've made two recipes: this Fig Leaf French Toast as well as a Tomato Ricotta Flatbread drizzled with Chipotle-Garlic Butter.
Fig Leaf French Toast (vegan)
A fragrant fig leaf-infused custard is used to soak stale bread which is then pan fried until golden. The fig leaf gives this a coconut-like fragrance which is delicious and unique.
Print
Pin
Ingredients
5 to 6

fresh fig leaves

washed and dried

240

ml

(1 cup) non-dairy milk

I like oat milk

2

tbsp

cornflour (cornstarch)

1

tbsp

maple syrup

1

tsp

vanilla paste or extract

pinch

salt

8

slices

stale, sliced bread

(or around 12 slices of baguette)

2

tbsp

vegetable oil

for frying

2

tbsp

vegan butter

for frying
Instructions
Remove the long stem from the fig leaves. Add to a large frying pan and 'toast' the leaves over a high heat, turning occasionally, until they curl up and seem dry/crisp. Remove from the heat.

Place the milk into a small pot. Cut the fig leaves into small pieces and add to the pot, pushing down to submerge them in the milk.

240 ml (1 cup) non-dairy milk,

5 to 6 fresh fig leaves

Place the pot over a medium heat on the stove and warm the milk until just steaming. Remove from the heat and leave to steep for 15-30 minutes.

Strain the milk into a wide, shallow dish, catching the fig leaves and discarding them. To the milk, whisk in the cornflour, maple syrup, vanilla and salt.

2 tbsp cornflour (cornstarch),

1 tbsp maple syrup,

pinch salt,

1 tsp vanilla paste or extract

Dip each piece of bread into this mixture, turning to coat, and allowing it to sit in the liquid for ~20 seconds to get nicely soaked.

8 slices stale, sliced bread

Heat half of vegetable oil and butter in a non-stick frying pan over a medium heat. Once hot, add the soaked bread slices, fitting in as many as you can. Leave to cook until golden underneath then flip and let cook until the other side is golden. Repeat with any remaining slices of bread, adding more oil & butter to the pan as needed.

2 tbsp vegetable oil,

2 tbsp vegan butter

Serve the french toast warm with berries, dairy-free yoghurt and maple syrup. You can also sprinkle on a bit of granola for crunch.