Pressure.
It's something, I could probably avoid 90% of the time by not procrastinating the time away.
I know I could avoid it, I know that future-Izy will hate past-Izy for not doing the work, yet I still find that sometimes, that 'last minute pressure blast' is the only way I can make myself work efficiently.
But then there's also that pressure that has no pin-pointable deadline when you know it'll be over – can I call mine the mid-sixth-form-crisis?
Suddenly, it's all about the future, what the heck you're doing with your life now, for reals – your A2 choices, extended essay title, positions of responsibility for next year, university courses.
A career.
dijkfhgsdlf
I just felt like I needed to pause time last week after thinking about that plus chemistry coursework plus biology coursework plus my deadline for my art coursework.
aaaaand that's why I've been a little absent recently!
It's not like I wasn't baking – oh ho ho, believe me, baking is a major form of procrastination in my life – I just didn't have the energy to sit in front of Lightroom adjusting exposure and contrast levels for 100 photos, which led to this post not being finished :'(
But I don't return empty handed! During my procrastination timez, I've accumulated a few link-loves – or Monday 'me gusta' s if you will 😉
So anywho, I also made these quick thin mints as a way to snazz up some oreos. I'd seen those DIY thin mints made with crackers before, but I had always thought that using oreos would probably be 1000% better. It was.
And I also made a slightly different variation (I'll probably post it sometime this week) with white chocolate, that you can see in that last photo!
I love these because they're simple, quick, tasty and look pretty elegant too!
Notes:
-For optimum twist-abilitiy of the oreos, make sure they're at room temperature (it's really difficult to separate them without breaking them when they're cold!)
-If you want to temper the chocolate in a food processor, I have a tutorial here
-You don't have to scrape the filling out of the oreo if you cba; if you leave it on one half, it'll just taste sweeter and less chocolatey, but it saves time.
-You can decorate the chocolate dipped oreos before the chocolate sets with sprinkles, Maldon salt, chopped nuts or a drizzle of white chocolate for some contrast!
-If you're making these vegan, make sure your chocolate is vegan friendly 🙂
– you can use Newman O's instead of Oreos or whichever chocolate cookie you desire! In some countries, Oreos contain whey powder meaning they're not vegan so check the label properly.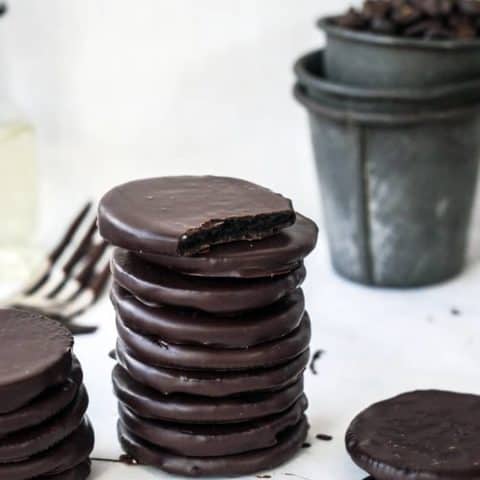 Ingredients
16 to 20

oreo cookies

(or your favourite vegan chocolate cookie)

7 to 10

oz

semisweet or bittersweet chocolate

1

tsp

peppermint oil

(you can't use alcohol-based extracts)
Instructions
Twist the oreos to separate them (see notes), and scrape off the cream filling (either discard the filling...or eat it, if you're into that.)

Melt (and temper, if you can be bothered - see notes) the chocolate, then stir in the peppermint oil well.

Dip an oreo half in the melted chocolate, turn to coat using a fork.

Use the fork to remove the oreo from the chocolate, tap it on the edge of the bowl a few times (to let excess chocolate drip off) and transfer to a lined cookie sheet.

Leave at room temperature until set.