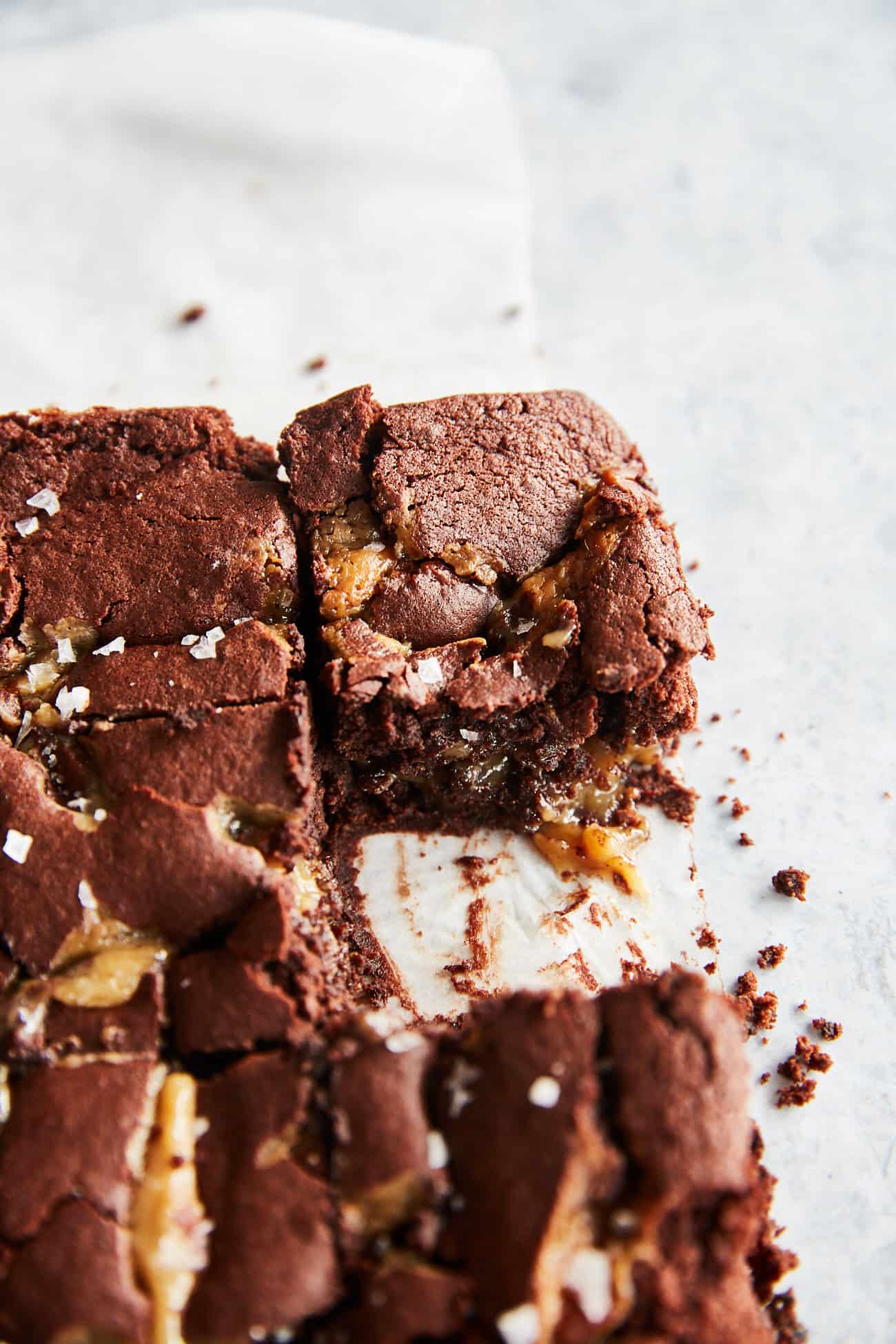 Vegan Maple Caramel Brownies
Ingredients
Maple caramel:
100ml pure Canadian Maple Syrup (Amber Grade)
50g tahini (or nut butter of your choice)
60g vegan butter
pinch of salt
Brownie batter:
120ml aquafaba (chickpea liquid)
1/4 tsp cream of tartar (optional)
220g caster sugar
150g 70% chocolate
100g vegan butter
100g water
100g plain white flour
70g ground almonds
50g unsweetened cocoa powder
30g cornflour
1/4 tsp bicarbonate of soda
1/4 tsp fine table salt
Flaky salt, to sprinkle (optional)
Instructions
Make the maple caramel:
Combine the maple syrup, tahini, vegan butter and salt in a small pot. Stir over a medium-low heat until the butter has melted then continue to cook until thickened – about 5 minutes.
Pour the caramel into a bowl and set aside
Make the brownie batter:
Preheat the oven to 180C fan and line an 8-inch square baking tin with baking paper.
Whisk the aquafaba and cream of tartar (if using) in a stand mixer or a large bowl with electric beaters until it starts to become fluffy. Gradually add the caster sugar whilst whisking until all the sugar has been incorporated and the mixture is thick, glossy and looks like stiffly beaten egg whites.
In the same pot you were using earlier, melt the chocolate and vegan butter over a low heat, stirring occasionally to prevent it catching. Lastly, stir in the water and remove from the heat.
In a separate bowl mix the flour, almonds, cocoa powder, cornflour, bicarbonate of soda and salt.
Pour the melted chocolate into the bowl of whisked aquafaba and sift in the flour mixture. Fold together until combined and pour into your prepared tin.
Take spoonfuls of the maple caramel and dot over the surface of the brownie batter.
Bake for 25-30 minutes until the top looks dry but the centre is still soft. Remove from the oven, sprinkle with the salt and allow to cool completely before slicing into 16 squares.
Store in an airtight container for up to 1 week.