Thanks to Lyle's Golden Syrup for sponsoring this post
Every year I look forward to pancake day – it's usually in close proximity to my birthday and they're also one of my all-time favourite things to make! I love to change up the flavours and try different types of pancake from savoury, dinner-appropriate ones to luxuriously dessert-y options.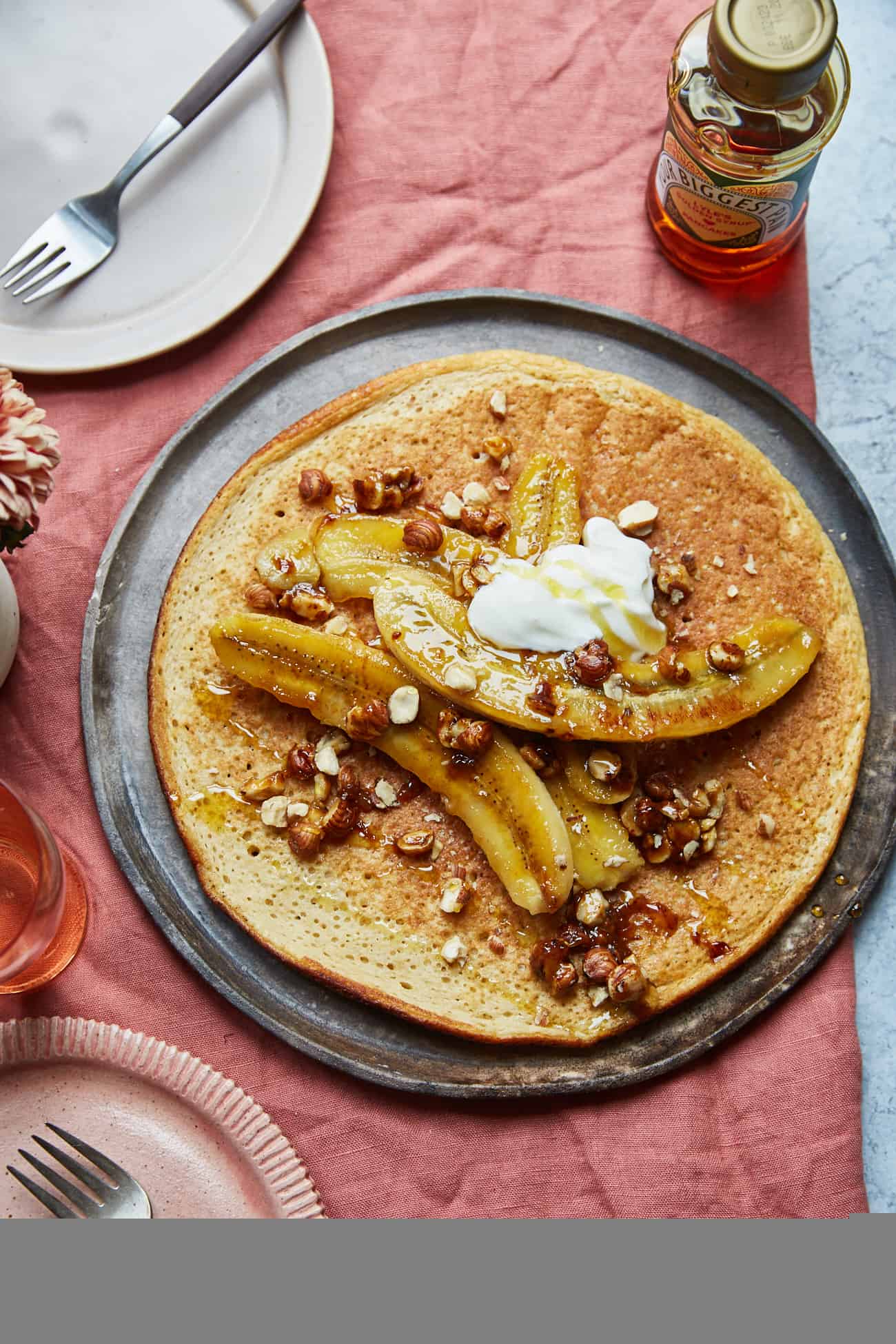 This recipe is definitely a dessert-appropriate pancake – it makes a BIG fluffy one, like a cross between a souffle pancake and an American-style pancake, perfect for sharing between 2 for dessert (so perfect for Valentine's day). To take things up a notch I caramelised some cut bananas in butter and Lyle's golden syrup for a gooey sweetness which isn't too overbearing. A handful of crushed hazelnuts stirred in with the bananas at the end adds a little crunch to each bite.
Of course, I drizzled the pancake with a bit more Lyle's Golden Syrup before serving as it's an essential pancake topping! I also added a dollop of yoghurt (or you can go with whipped cream or even vanilla ice cream).
Banana & Hazelnut Sharing Pancake
A big fluffy pancake (for two!) topped with caramelised bananas and chopped hazelnuts, perfect for sharing.
Print
Pin
Rate
Ingredients
Pancake batter:
70

g

plain white flour

1

tbsp

granulated sugar

3/4

tsp

baking powder

120

ml

milk

2

eggs

, separated

15

g

(1 tbsp) butter, melted

Pinch

fine table salt

1

tbsp

vegetable oil
Caramelised bananas:
2

tbsp

Lyle's Golden Syrup

, plus more for drizzling

15

g

(1 tbsp) unsalted butter

2

ripe bananas

, peeled and halved lengthways or cut into rounds

30

g

hazelnuts

, crushed
Instructions
For the pancake:
Place the flour, sugar, baking powder, milk and egg yolks into a bowl. Stir with a whisk to combine to a smooth batter. Melt the butter in a medium non-stick frying pan then remove from the heat and add to the bowl, stirring to combine.

In a separate bowl whisk the egg whites with the salt until you get stiff peaks. Take 1/3 of the beaten whites and mix them into the batter. Add the remaining egg whites and fold in gently until combined.

Heat the oil in the same frying pan you were using earlier over a medium-low heat. Pour in the pancake batter and cover with a lid. Leave to cook for around 5-6 minutes until the top of the pancake looks almost fully set and the bottom of the pancake is golden brown. Use a spatula to gently loosen the pancake from the pan and then flip over (I find using 2 metal spatulas to be the best way to do this). Cook until the other side is golden (1-2 minutes) then slide the pancake out onto a serving plate.
For the bananas:
Heat the Lyle's Golden Syrup and butter in the frying pan over a medium heat. Once melted, add the bananas cut side down to the pan and cook until softened and golden underneath. Stir in the hazelnuts and then pour the contents of the pan over the cooked pancake.

Serve with a drizzle of Lyle's Golden Syrup and a dollop of
yoghurt or whipped cream if you'd like.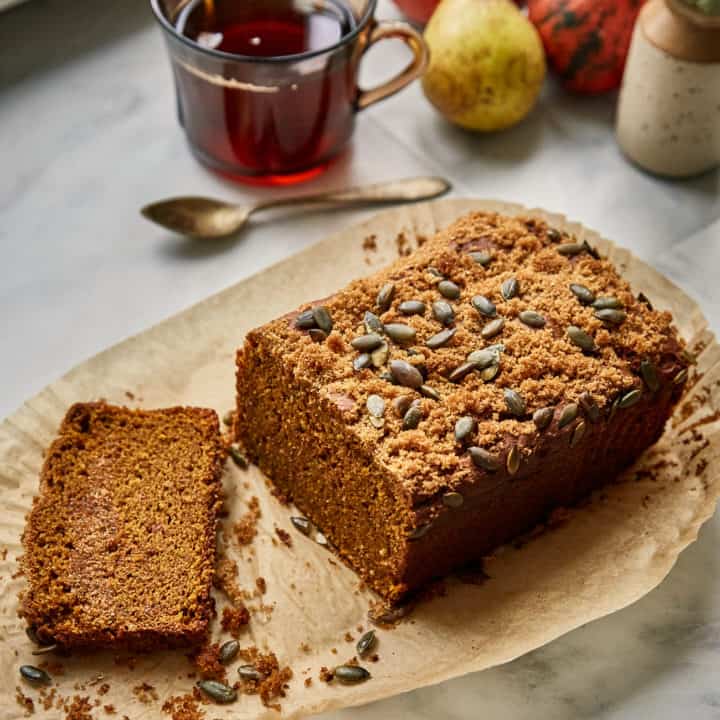 Sourdough Pumpkin Bread (Vegan)
A warmly spiced vegan pumpkin bread which uses sourdough discard!
Print
Pin
Rate
Servings:
1
loaf (serves 12)
Ingredients
200

g

(3/4 cup plus 1 tbsp) pumpkin puree*

(SEE NOTES if using homemade)

150

g

(3/4 cup) light brown sugar*

90

g

(1/3 cup + 2 tsp) neutral oil or light olive oil

2

tsp

ground cinnamon

1/2

tsp

freshly grated nutmeg

1/2

tsp

ground ginger

1/8

tsp

ground cloves

zest of 1 orange

, finely grated

1/4

tsp

fine table salt

150

g

(3/4 cup) sourdough starter/discard

(100% hydration)

120

g

(1 cup) plain white (all-purpose) flour

1

tsp

bicarbonate of soda

(baking soda)
Topping (optional):
2

tbsp

light brown sugar

3

tbsp

pumpkin seeds/pepitas
Instructions
Preheat the oven to 180°C fan (350°F). Grease a 2lb loaf tin with some oil and line with a sling of baking paper.

In a large bowl, mix the pumpkin puree, sugar, oil, spices, orange zest and salt until smooth.

200 g (3/4 cup plus 1 tbsp) pumpkin puree*

,

150 g (3/4 cup) light brown sugar*

,

90 g (1/3 cup + 2 tsp) neutral oil or light olive oil

,

2 tsp ground cinnamon

,

1/2 tsp freshly grated nutmeg

,

1/2 tsp ground ginger

,

1/8 tsp ground cloves

,

zest of 1 orange

,

1/4 tsp fine table salt

Stir in the sourdough starter. Lastly, add the flour and bicarbonate of soda. Fold together until just combined.

150 g (3/4 cup) sourdough starter/discard

,

120 g (1 cup) plain white (all-purpose) flour

,

1 tsp bicarbonate of soda

Pour the batter into your lined loaf tin. Sprinkle with the topping of light brown sugar and pumpkin seeds, if using.

2 tbsp light brown sugar

,

3 tbsp pumpkin seeds/pepitas

Bake for 55-70 minutes– a toothpick inserted into the centre should come out clean. If the loaf looks like it's browning too much but is not cooked through yet, tent the top with foil for the last 20 minutes of baking.

Allow to cool before removing from the tin, slicing & serving.
Notes
Adapted from my
Sourdough Banana Bread (vegan)
Amount of sugar: use 150g for a slightly less sweet loaf or 200g if you prefer things sweeter
If using homemade pumpkin puree: it is essential that your pumpkin puree is drained before weighing & using in this recipe. To do this, line a sieve (mesh strainer) set over a bowl with 2 layers of cheesecloth. Fill with your homemade pumpkin puree and leave to drain for 2-3 hours. After this time, gather up the edges of the cheesecloth and twist together at the top. Gently squeeze the bundle of puree to remove any last bit of water – don't squeeze too hard or the puree may start to seep through the cheesecloth! The texture should be very thick just like canned pumpkin puree. You can now measure it out and use it in the recipe.
To make homemade pumpkin puree: cut your pumpkin in half. Place cut side down on a baking tray and roast at 180C fan (350F) for 1-2 hours until completely soft. Remove from the oven, flip over and scoop out the seeds then discard them. Scoop the flesh into a blender/food processor/bowl with sitck blender, discard the skin. Blitz the flesh until smooth then drain as instructed above.
What is 100% hydration sourdough starter? This means that when feeding your starter, you're using an equal weight of flour & water (e.g. feeding it with 50g flour & 50g water each time).
Non-Vegan option: use 100g butter, melted, in place of the oil.