With Thanksgiving coming up, we need some easy desserts in our lives!! I must admit that pie is not top of my list when it comes to baked goods (except for pecan pie, that is) and I know some people are averse to pie-making so these cupcakes are a perfect alternative!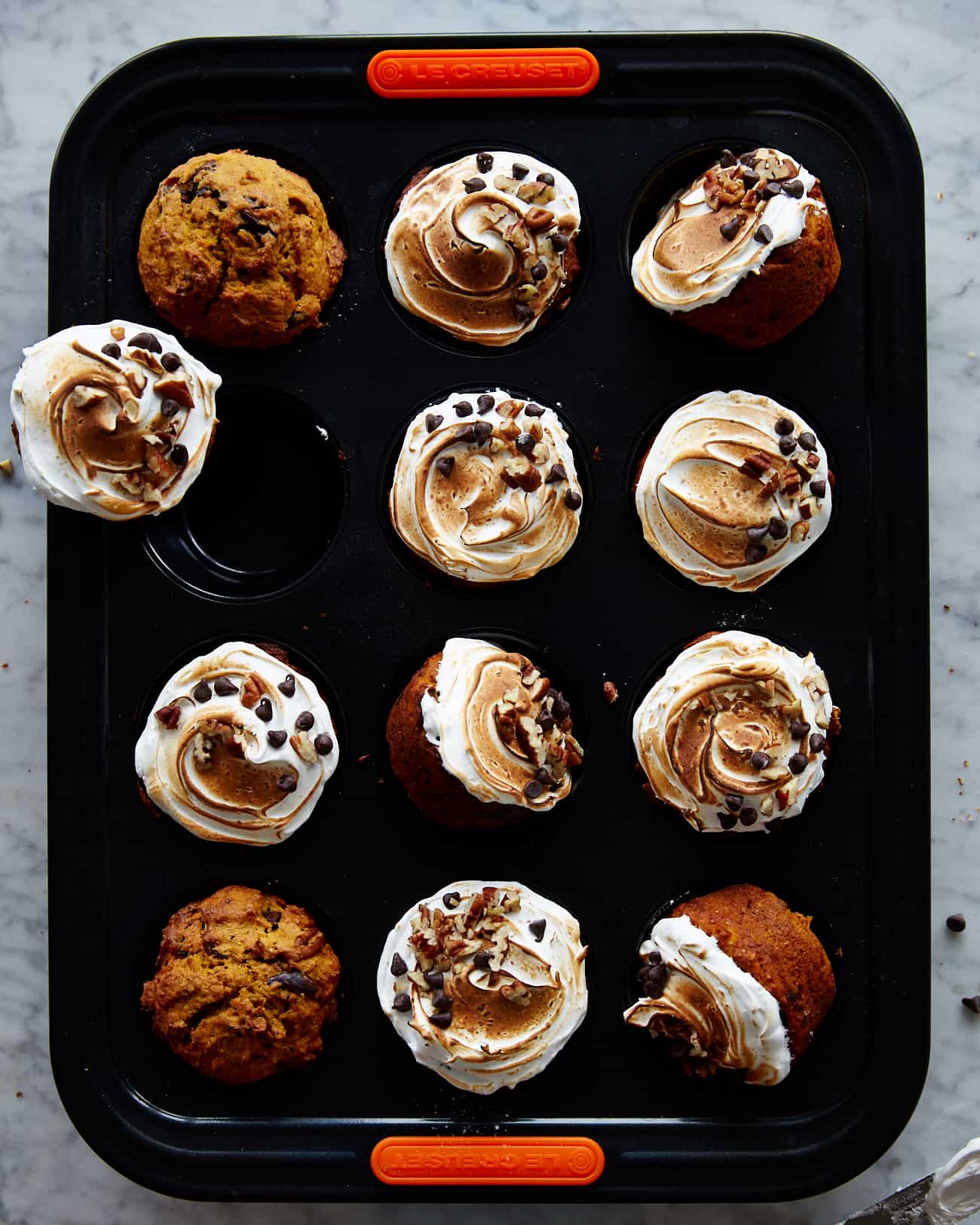 The batter is made using sweet potato puree (so if you actually have any leftover from thanksgiving you could also use it to make these) with pecans and chocolate chunks folded in. A cooked meringue frosting is swirled on top and torched for that gorgeous toasty look. You could even leave the torching until it's time to serve them for a dramatic effect (although I'd be careful with that blowtorch!! Don't want it to be dramatic for the wrong reasons).
These are delicious warm from the oven (gooey, melty chocolate hello!) or at room temperature. You can even re-warm them in a low oven for about 10 minutes which will melt that chocolate again AND make the meringue on top all crispyyyyy. So good!!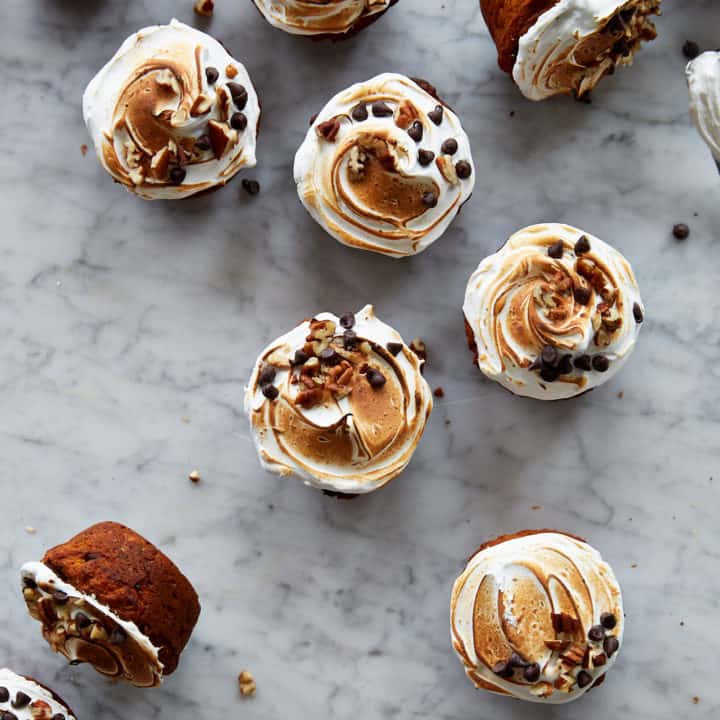 Ingredients
Sweet potato puree:
400

g

sweet potato

, peeled
Cupcake batter:
160

g

(3/4 cup) unsalted butter, melted

120

ml

(1/2 cup) natural yoghurt (plain yogurt)

2

medium eggs

150

g

(3/4 cup) granulated sugar

2

tsp

ground cinnamon

280

g

(2 1/3 cups) plain white flour (all purpose flour)

2

tsp

baking powder

1/2

tsp

bicarbonate of soda

(baking soda)

1/2

tsp

fine table salt

100

g

(3.5 ounces) dark chocolate (70% cocoa solids), roughly chopped

100

g

(3.5 ounces) pecans, roughly chopped
Meringue:
2

medium egg whites

120

g

(1/2 cup plus 1 tbsp) granulated sugar
Instructions
Make the sweet potato puree:
Fill a medium saucepan with a 2cm depth of water. Cut the sweet potato into roughly 5cm chunks and add them to the saucepan then place over a medium heat on the hob. Once the water begins to boil, place a lid onto the saucepan and turn the heat down to low. Allow to steam for 15-20 minutes or until the sweet potato is tender and easily pierced with a fork. Drain the steamed sweet potato and blend in a food processor or blender into a smooth puree. Set aside.
Make the cupcakes:
Preheat the oven to 200°C/180°C fan/Gas mark 4. Grease each cup of a 12 Cup Le Creuset Muffin Tray with a bit of vegetable oil using a pastry brush.

In a medium bowl, mix the melted butter, yoghurt, eggs, sugar and cinnamon. Mix until smooth then weigh out 300g of the sweet potato puree and stir in. Next, add the flour, baking powder, bicarbonate of soda and salt. Stir gently until just combined. Finally fold in the chopped dark chocolate and pecans.

Divide the batter evenly between the cups of the muffin tray (the batter should come close to the top of the cups). Bake for 20-25 minutes until well-risen and a toothpick inserted into the centre of a cupcake comes out clean. Allow to cool for 10 minutes in the tin before removing to a wire rack to cool completely.
Make the meringue:
Fill a medium saucepan with a 5cm depth of water and place over a medium-low heat on the hob. Set a large, heatproof bowl over the saucepan. Add the egg whites and sugar to the large bowl and stir constantly until the sugar has dissolved (the mixture shouldn't feel gritty when stirred) and registers 70°C on a thermometer.

Remove the bowl from the pan and use electric beaters to whisk the mixture until cool, very fluffy and thickened – you should be able to lift up the beaters and form stiff peaks in the mixture which do not sink back into the meringue.
Assemble:
Use a palette knife to cover the top of each cooled cupcake with a swirl of the meringue. If you have a kitchen blowtorch, use it to gently toast the meringue. Keep in an airtight container for up to 3 days.
Notes
– You can also use pumpkin puree (same volume/weight) instead of making a sweet potato puree.
– Allergens: milk, wheat, gluten, eggs
NOTE: this recipe was created as part of a paid instagram collaboration for Le Creuset UK. I was under no obligation to post the recipe on my blog but I thought it would be a shame not to!