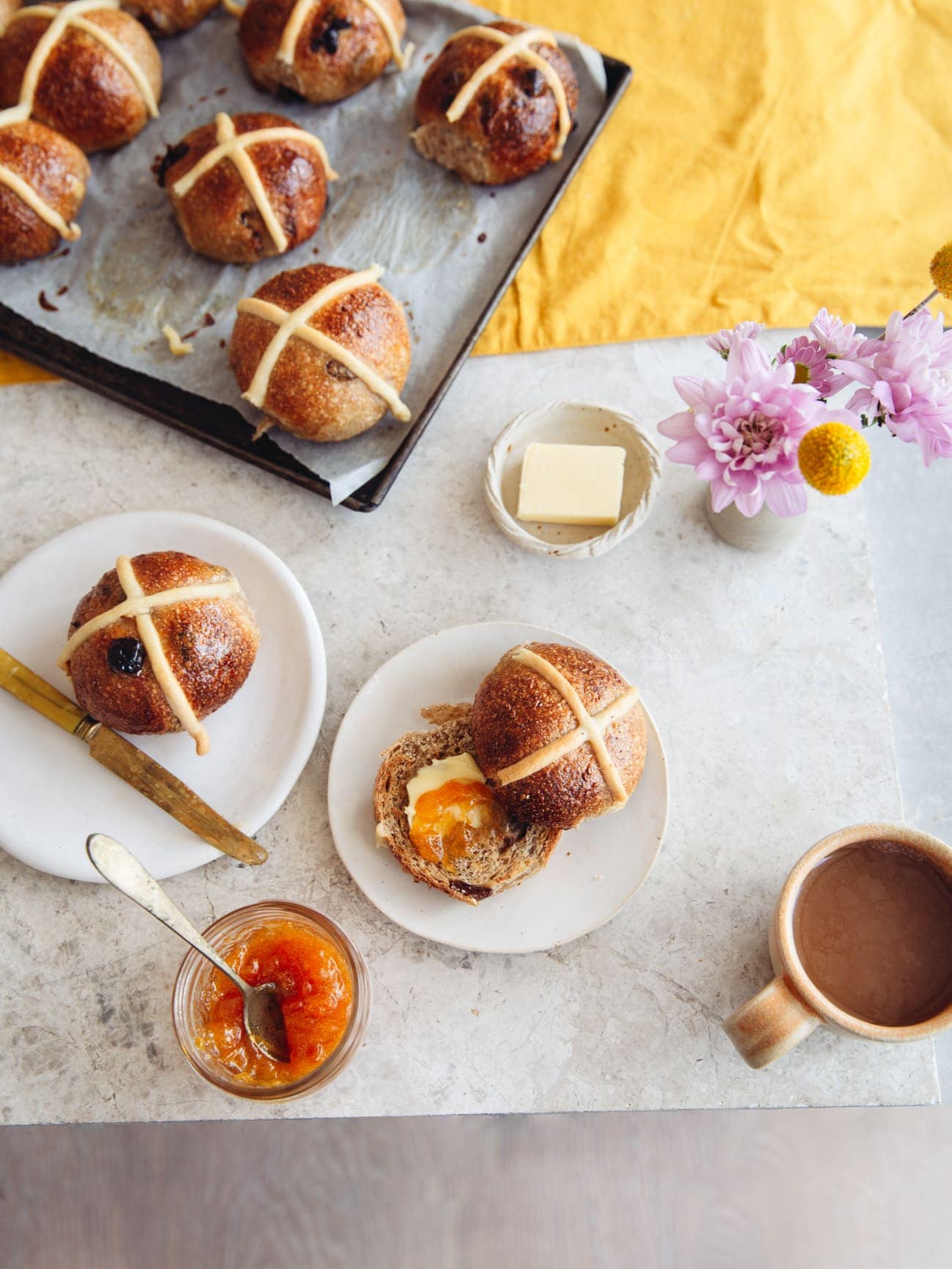 It doesn't properly feel like Spring until the scent of a toasting hot cross bun is wafting through the kitchen. These sourdough hot cross buns are my spin this year, previously having done bagel, loaf and Chelsea versions of the delicious HCB.
Although sourdough can be something that sounds incredibly intimidating to use (and can be very hard to master!) this dough is handled pretty much just like a standard bun dough. It's not super wet so it isn't a nightmare to shape. And you just give it a good knead at the start – no hours of intermittent folding involved either.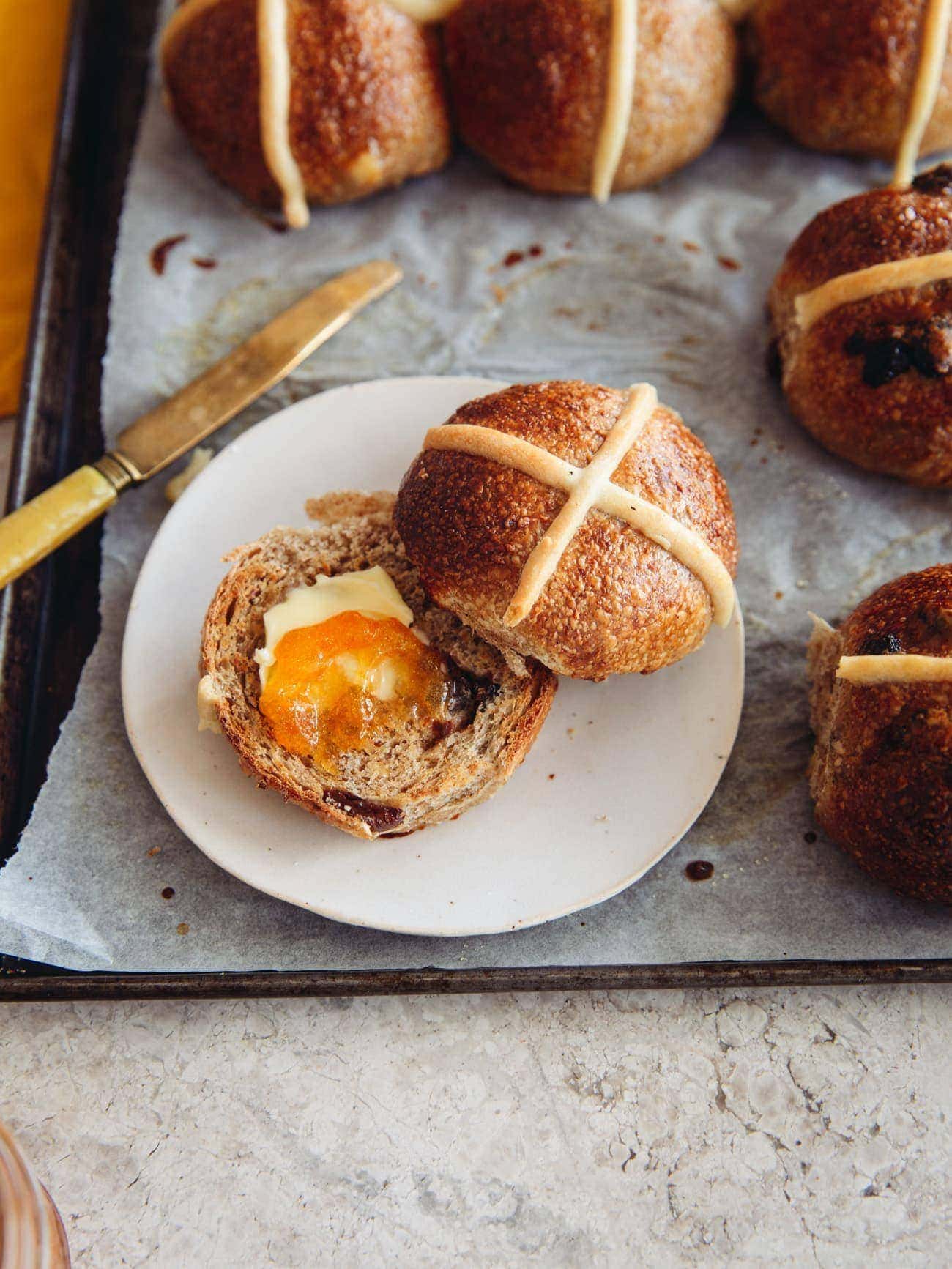 The main thing is that the sourdough nature of this recipe means that it requires a much longer rise (8-12 hours) as the yeast isn't as powerful as commercial stuff. That's okay though, just let it rise overnight and you can bake the buns off the next day! Perfect for a weekend baking project for Easter.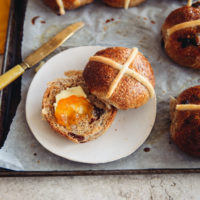 Ingredients
Paste:
50

g

(1/4 cup) water

2

tbsp

plain flour
Dough:
170

g

(2/3 cup + 1 tbsp) water

60

g

(1/4 cup) vegetable oil, plus extra for the bowl

50

g

(1/4 cup) granulated sugar

2

tbsp

mixed spice

(see notes)

90

g

sourdough starter

(100% hydration)

200

g

(1 2/3 cup) wholewheat bread flour

250

g

(2 cups) white bread flour, plus extra for kneading

1

tsp

salt

150

g

mixed dried fruit

(see notes)
Cross:
75

g

plain flour

15

g

vegetable oil

65

g

water
Egg wash (see notes for vegan version):
Instructions
Make the paste:
In a small pot combine the 50g water and 2 tbsp flour. Stir together then set over a medium heat on the stove. Cook, stirring constantly, until you get a thick paste. Remove from the heat and set aside to cool.
Make the dough:
Place the cooled paste into a large bowl. Add the water, oil, sugar, mixed spice and sourdough. Stir together briefly to combine, mashing the paste up slightly as you do this.

Add the flours and salt to the dough. Stir together until you get a shaggy dough.

Tip out onto a clean work surface and knead for 8-10 minutes, dusting with extra white bread flour as needed to prevent it sticking, until smooth and elastic.

Pat out into a circle then sprinkle over the mixed dried fruit. Roll the dough up into a log, like a Swiss roll, then coil up into a ball.

Drizzle a bit of extra vegetable oil into the bowl you were using earlier. Add the dough to the bowl and turn it to coat with the vegetable oil.

Cover the bowl with a damp tea towel (or a shower cap). Leave at room temperature for 8-12 hours or until the dough has doubled in volume (I usually leave it overnight).

If you find the dough hasn't doubled in volume in that time, place somewhere warm (e.g. an oven switched onto the lowest heat for 2 minutes then turned off) for an hour or two to help things along.
Shape:
Tip the risen dough out onto a clean work surface. Pat out into a circle.

Cut the dough into 12 equal pieces. Roll into balls – don't worry if some of the dried fruit comes out when you do this. You can try to poke some of it back into the ball.

Place the balls of dough onto a lined baking sheet and cover with a damp towel. Leave somewhere warm for 2-3 hours until the balls are almost doubled in volume.
Bake:
Preheat the oven to 180°C (160°C fan / 350°F).

Brush the risen buns with the beaten egg using a pastry brush.

Mix the 'cross' ingredients in a small bowl to get a smooth paste. Place into a piping bag (or sandwich bag with the corner snipped off) and cut off the very tip. Pipe the mixture over the buns in cross shapes.

Bake the buns for 20-25 minutes until the buns are dark golden.
Glaze:
Heat the maple syrup in a small pot until reduced by about half. Whilst this is still hot, brush it over the warm buns and leave to cool.
Notes
Mixed spice is a standard ingredient to buy in the UK. You can DIY it by mixing: of 2 tbsp ground cinnamon, 2 tsp ground allspice, 2 tsp ground nutmeg, 1 tsp ground clove, 1 tsp ground ginger, 1 tsp ground coriander seed
Mixed dried fruit a standard ingredient you can buy in the UK. It is made up of mostly sultanas, raisins and currants with a bit of candied orange/lemon peel mixed in. I like to soak mine in boiling water for ~10 mins first (then drain before adding to the dough in step 4).
For a vegan glaze: mix 1 tsp golden syrup/maple syrup + 2 tbsp oat milk/soy milk + a pinch of baking soda (+ a pinch of xanthan gum if you have it). Whisk together until smooth-ish. Brush this on the buns instead of an egg glaze.
Have you made this recipe?
I'd love to see how it went! Tag me on instagram @izyhossack and hashtag it #topwithcinnamon so I can have a look & reshare in my stories!