Filo tarts were a mainstay in my house at uni. Along with curry nights, filo pie was a favourite to cook together and share. I'm definitely more of a savoury tart/pie person (weirdly) and filo is a great pastry for dinner time since it's so easy to work with.
My favourite thing to do with it is rip up shreds of the pastry, crumple them up, and lay those over a bed of veg. The crumpling of the pastry increases the surface area so you get LOADS of crispy, crunchy bits – the besssst.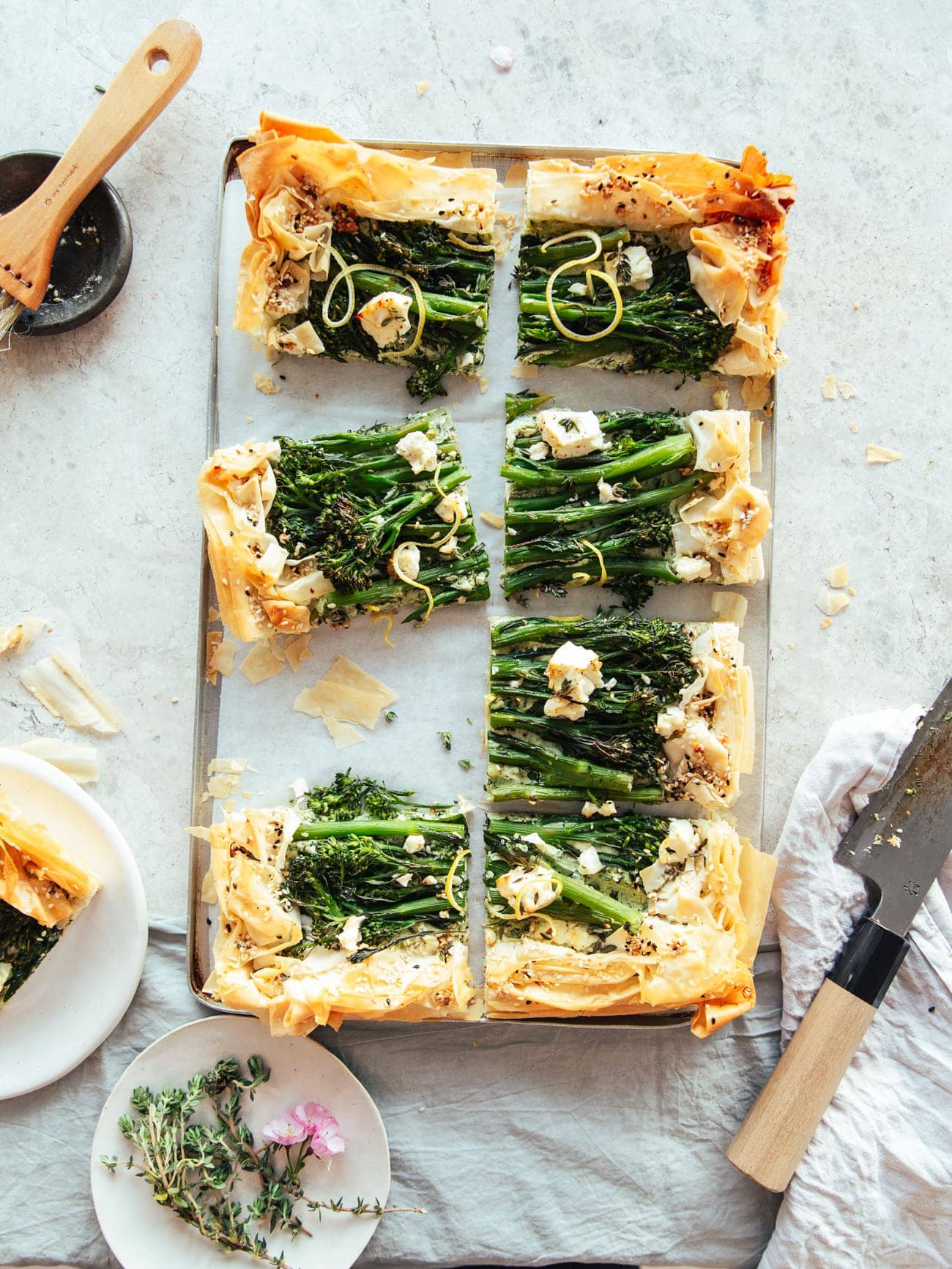 This tart is a prettier version but still has the maximum crunch possible – I reserve a couple of pastry sheets to make crumples which I dot around the exposed edges. The outcome is a lovely springy tart, super quick to make (so weeknight friendly) with the crunchiest, sesame seeded edges. Yum.
More spring time goodness:
– Casarecce with snap peas, asparagus & ricotta
– Roasted carrots with herby yoghurt dressing
– Carrot Gnudi with walnut sauce
Ingredients
4

tbsp

olive oil

a

(220g / 8 oz) packet filo pastry (phyllo pastry)

250

g

(9 oz) ricotta cheese

2

heaped tbsp pesto

(I used wild garlic pesto or basil pesto)

1

lemon

, zested

5

sprigs of thyme

, leaves picked

1

medium egg

350

g

(12.5 oz) tenderstem broccoli

60

g

(2 oz) feta cheese, crumbled

1

tbsp

sesame seeds
Instructions
Preheat the oven to 180°C (160°C fan / 350°F).

Take a 9 x 13-inch rimmed baking sheet and brush it with a bit of the olive oil.

Lay a sheet of filo onto the top half of the baking sheet and brush with olive oil. Place a second sheet of filo over the bottom half of the baking sheet, there should be some overlap in the middle. Brush with more olive oil.

Coninue with the layering until you have 2 sheets of pastry left. Rip them into random pieces about 3 inches wide and set aside.

Mix the ricotta with the pesto, lemon zest and thyme in a medium bowl. Stir in the egg until smooth. Spread this over the pastry, leaving 1 inch slight border of pastry uncovered around the edge.

Lay the broccoli over the ricotta in an even layer. Top with the crumbled feta and fold in the edges of the pastry.

Take the random shredded pieces of filo and crumple them up, place around the border of the tart.

Brush the whole tart with any remaining olive oil and sprinkle the edges with the sesame seeds.

Bake for 25-30 minutes until browned around the edges and the broccoli is starting to colour.

Remove from the oven and cut into 8 pieces. Serve hot.
Have you made this recipe?
I'd love to see how it went! Tag me on instagram @izyhossack and hashtag it #topwithcinnamon so I can have a look & reshare in my stories!