When I first started coming up with my own recipes, I would tend to go through phases of becoming obsessed with one thing at a time. There was a cinnamon roll phase, chocolate chip cookies phase and a lemon cake phase. Specifically, I was enamoured by the lemon poppyseed muffins which Starbucks used to sell (before they started adding the weird lemon goo to the middle of the muffins). That perfect balance of a fluffy muffin (basically a cake) with a good amount of lemon flavour PLUS a nice tanginess from the lemon glaze on top. What a winner!
I recently got such a strong craving for lemon poppyseed muffins as I realised I hadn't made any in YEARS. So I got experimenting and ended up with this vegan version, still full of poppyseeds and topped with a generous amount of that sweet-tart icing. The batter is oil based so they're fast to whisk up and so delicious for an afternoon tea break snack.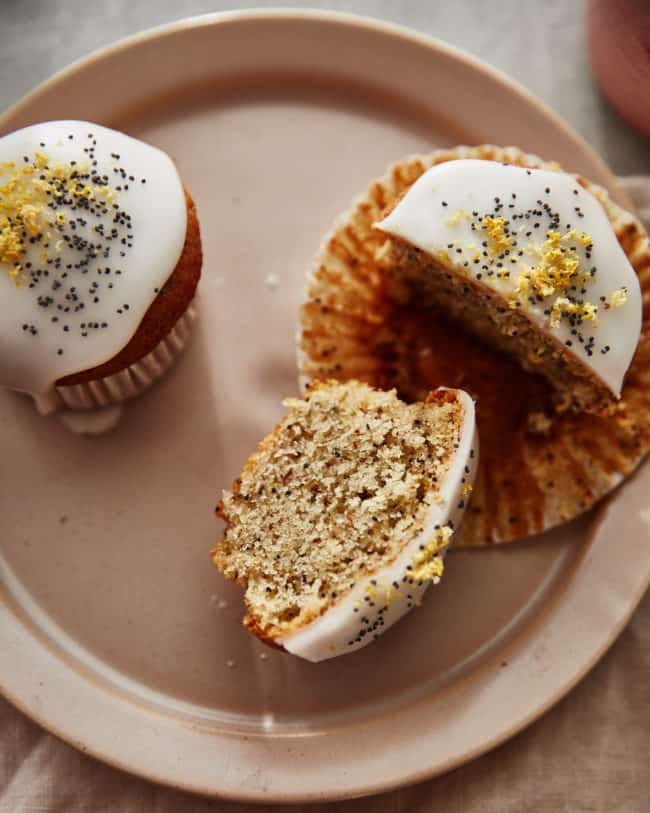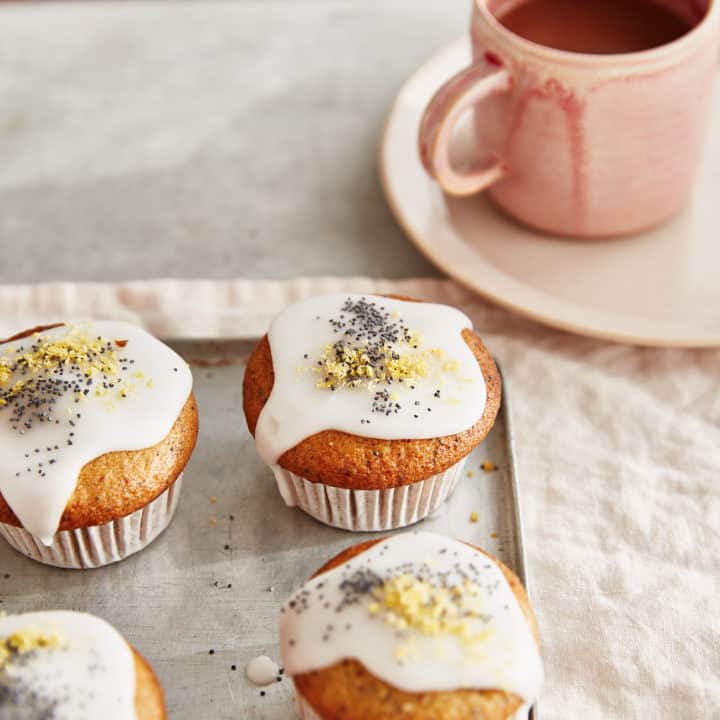 Lemon Poppyseed Muffins (Vegan)
A soft lemony 'Bakery-Style' muffin studded with poppyseeds and glazed with a tart lemon icing. These are easy to mix up by hand and are completely vegan!
Print
Pin
Ingredients
150

g

(2/3 cup) granulated sugar

zest of 2 lemons

, finely grated

2

tbsp

ground flaxseed

250

ml

(1 cup) unsweetened non-dairy milk (I prefer soy or oat)

80

g

(1/3 cup) vegetable oil

220

g

(1 3/4 cups) plain white (all-purpose) flour

45

g

(1/2 cup) ground almonds

2

tbsp

poppyseeds

1 1/2

tsp

baking powder

1/2

tsp

bicarbonate of soda

(baking soda)

1/4

tsp

fine table salt
Lemon icing:
150

g

icing sugar

lemon juice
Instructions
Place the sugar into a large bowl and grate in your lemon zest (I use a microplane to do this). Use your fingertips to rub the zest into the sugar - this will help pull the oils out of the zest, releasing all that lemony flavour.

Add the ground flaxseed, milk and oil to the bowl. Stir together to combine. Add the flour, ground almonds, poppyseeds, baking powder, bicarbonate of soda and salt. Stir until mostly smooth (I like to use a whisk for this but a mixing spoon will work too).

Chill the batter for at least 1 hour or, preferably, overnight.

When you're ready to bake, preheat the oven to 180C (350F) convection / 200C (400F) non-convection. Line a muffin tin with 9 paper muffin liners.

Divide the batter among the 9 muffin liners, it should come pretty high up in the liner but not right to the top.

Bake for 22-27 minutes, until a skewer poked into the centre of a muffin comes out clean.

Remove from the tin and leave on a wire rack to cool before icing.

For the icing, place the icing sugar in a small bowl. Squeeze in some lemon juice (start with 1 tsp) and stir together. Keep adding lemon juice a little at a time until you have a thick but drizzleable icing.

Spoon the icing over the cooled muffins and leave to set. Store in an airtight container for up to 4 days.