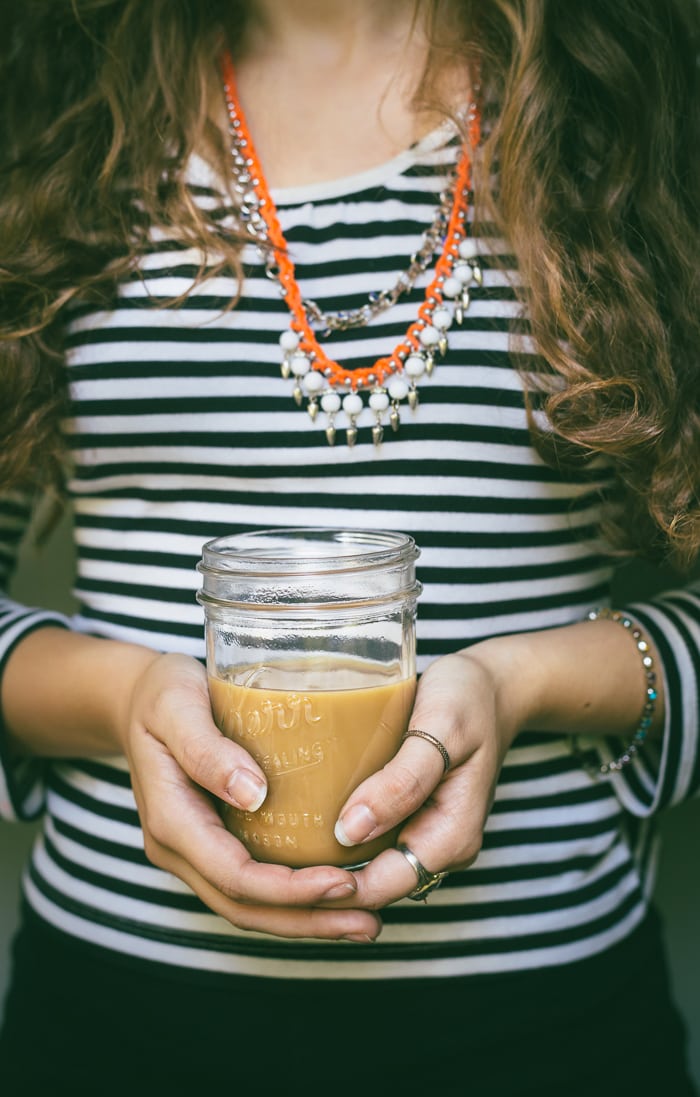 Behold the smoothest pumpkin spice coffee beverage you'll ever experience, both in texture and flavour.
This method of filtering the water not only through the coffee grounds, but also the pumpkin spice mixture yields a superior coffee experience.
Yeah, you can make pumpkin spice syrup, but that's only if you want to be drinking flavoured coffees for a WHILE, it also means you have to then make and store the syrup, plus you'll probably have really sweet coffee. You could also just add pumpkin spice to your coffee, but you'll end up with a not-so-nice spice sediment in your cup.
My method is quite a lot simpler. Add the pumpkin spice to the ground coffee. Put in a filter. Pour over water. Sweeten it to whatever degree you prefer and add milk.
It can be done on a whim as no boiling up sugar syrups needs to be done. You can also make as many servings of it as you want right then and there, no matter how many/few, with no more clearing up than usual.
I find you get a much nicer coffee than a Starbucks pupmpkin spice latte in the end with this method as it's not incredibly sweet (and the beans don't taste like ashes!!!!). It might still be a bit sacrilegious to mix pumpkin spice into some high-ish quality ground coffee beans but I do think this is a nicer way to enjoy a PSL.
This is basically just a step-by-step photo thing below showing how I make my coffee. It's pretty simple so I'm not going to add text between photos. There are a few general things that I'm going to quickly list here though:
I use about 3 tbsp of coffee beans for my coffee. Generally it's recommended that you use around 20 g of coffee beans per 200-300 ml of water (a 1:10 or 1:15 ratio). It depends on what strength you prefer your coffee. Make sure you boil a little extra water than what you need.
For 1 mug of coffee, I add 1 tsp of pumpkin pie spice mix to the coffee grounds.
You can make your own pumpkin pie spice mix! Stir together 1/2 tsp ground cloves, 1/2 tsp ground allspice, 1 tsp freshly grated nutmeg, 1 tbsp ground ginger, 3 tbsp ground cinnamon. Store in a lidded jar, using as needed.
The water should be a littler cooler than boiling hot when used
I used a swan neck kettle because it's easier to control the stream of water as your pour it over the grounds, but you can do it straight from an electric kettle (you just need to be a little more careful)
I'm using a V60 coffee dripper here (the white funnel thing)
Once the coffee is in the filter, in the dripper, over your vessel of choice, you want to pour in enough water to just saturate the coffee. Let it drain through, then slowly continue to add the water – pour it over the coffee gradually in a spiral, until you have your 200-300 g of brewed coffee.