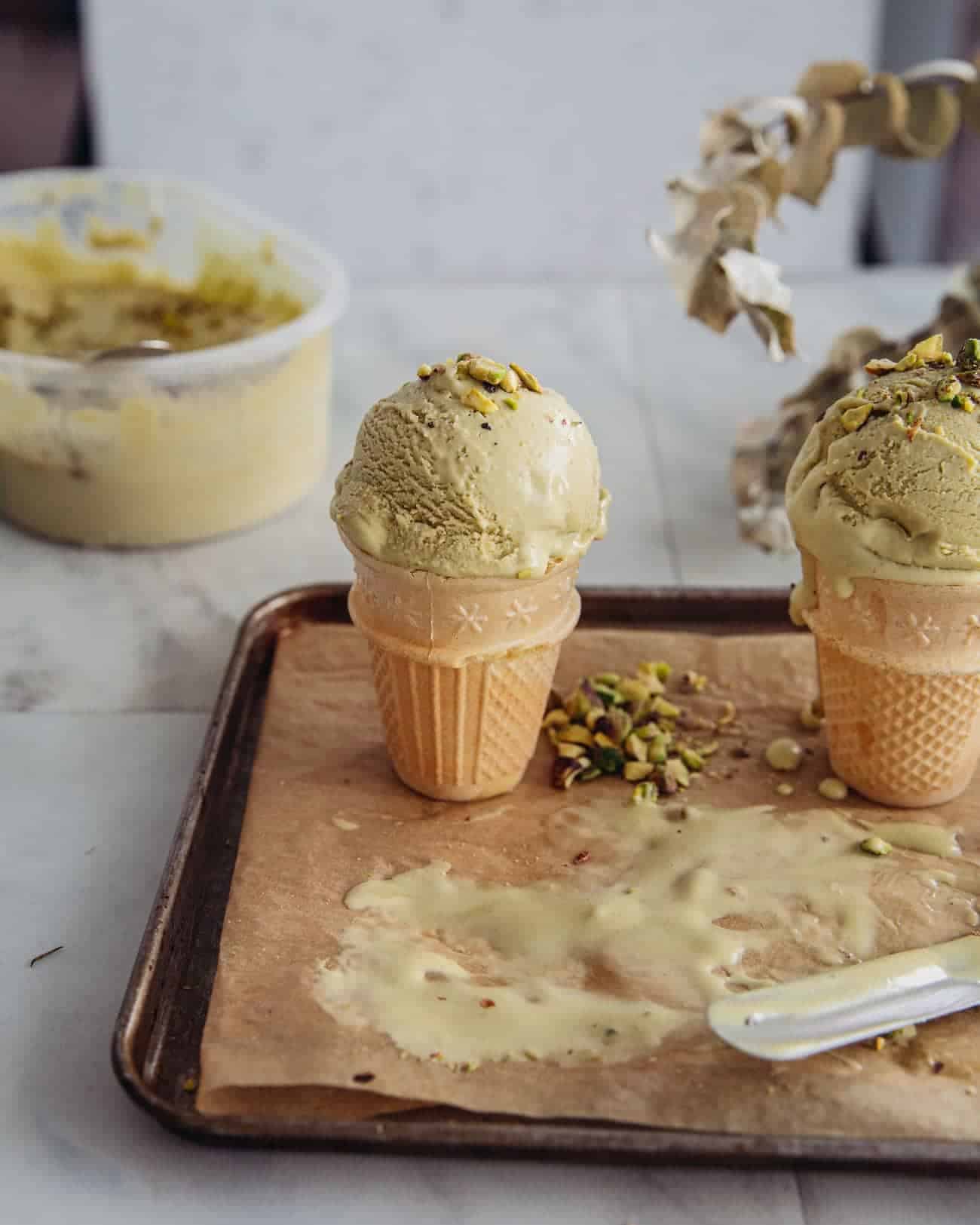 This post has been updated as of July 2021
As pistachio gelato is my favourite to buy when in an ice cream shop, I knew I'd love a homemade version too. There's something magical about making ice cream at home, the process of making a custard and watching it transform into a creamy, stretchy emulsion as it's frozen and stirred.
The flavour of real pistachio ice cream
Have you ever had a faux pistachio ice cream before? The stuff that is bright green and strongly flavoured with extracts? Ok so THAT stuff is definitely not the real deal. It's actually usually flavoured with something similar to almond extract and coloured with green food colouring. Still tasty but deffo not what we're after here.
Real pistachio ice cream/gelato will be flavoured/coloured purely with pistachio paste. It has a rich, nutty, toasty flavour that is divine. It has more of a dark olive-green colour (thanks to the carotenoids & chlorophyll in the nuts) so the ice cream comes out as a more pastel-y green. It is a lot more expensive than just using almond flavouring so you can understand why faux pistachio ice cream is so common.
Pistachio paste
Now, you *can* make your own pistachio butter at home by blending up raw pistachios until they become a paste in a food processor. A better thing to do is to buy the paste ready made – it'll be MUCH smoother and have a better flavour & colour in my experience. It's also very easy to get online and isn't any more expensive than buying shelled pistachios anyway. So go on, treat yoself to some pistachio paste! I bought a 250g tub and used it bit by bit, storing it in the freezer between uses to prevent it going rancid.
Ageing your ice cream base
I learnt a bit about the process of making ice cream for my Food science degree. An interesting takeaway was how ageing your ice cream base (i.e. chilling it for at least 4 hours) actually improves the texture of your ice cream a lot by allowing the globules of emulsified fat to become more stable. This helps the ice cream hold in air and retard the growth of ice crystals when being churned. Cool huh!?
This ice cream base is a super simple, egg-free one. I usually prefer eggless ice creams as they are easier to make and have a much cleaner flavour that allows the flavours you're adding to SHINE! As pistachio can be quite a gentle flavour, I wanted as little distraction from it a possible, hence the egg-free base. I also added xanthan gum which stabilises the ice cream and improves mouth feel (more of that food science degree coming in handy). I know most people won't have it around in their kitchens though so don't worry about leaving it out.
More Ice Cream Recipes:
Pistachio Ice Cream
This simple egg-free ice cream base means the flavour of the pistachio isn't masked at all. It is also very easy to make!
Print
Pin
Ingredients
110

g

(1/2 cup) granulated sugar

1/8

tsp

xanthan gum

(optional)

1

tbsp

corn flour

(cornstarch)

1/8

tsp

table salt

625

ml

(2 1/2 cups) whole/semi-skim milk (or non-dairy milk)

2

tbsp

golden syrup or corn syrup

250

ml

(1 cup) double cream (heavy cream) or coconut milk

100

g

(~1/2 cup) pistachio paste
Instructions
Combine the sugar, xanthan gum (if using), cornstarch and salt in a medium pot. Whisk to combine well. Pour in a bit of the milk and stir together to combine until smooth. Pour in the remaining milk and the golden syrup and whisk together.

Place the pot over a medium-low flame on the stove and heat, stirring often with a whisk, until the mixture is hot and has thickened slightly. Stir in the pistachio paste until smooth and remove from the heat. Stir in the double cream.

Let the mixture cool to room temperature. Either churn it now (see next step) or chill the mixture overnight ('ageing' the ice cream base overnight like this improves the texture of the ice cream).

When ready to churn, pour the ice cream base into your ice cream maker and churn according to the manufacturer's instructions. You want to stop it churning once it reaches the texture of soft-serve ice cream. Scoop all the churned ice cream into a plastic tub, seal with a lid and chill for at least 2 hours before scooping and serving.
Notes
- To make vegan: use full-fat coconut milk in place of the double cream. Also use a non-dairy milk (I like Oatly's barista milk for this as it's creamier).