This is the cake features a fresh strawberry buttercream and elderflower cordial – can't get more summery than THAT.
As I find layer cakes endlessly frustrating to make, I decided to go sheet cake style here. They're very easy to make and decorate so are much better for my level of patience!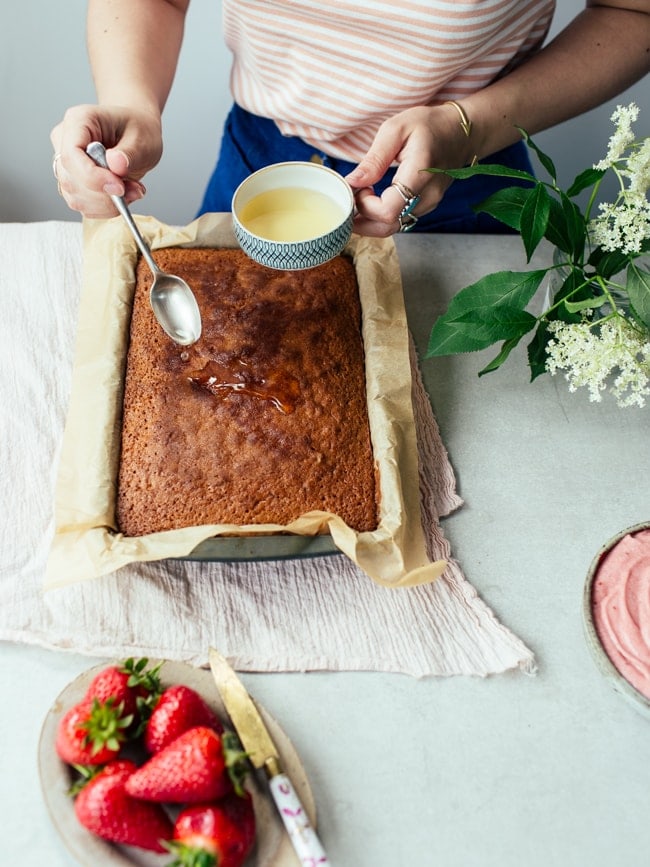 Fresh strawberry buttercream frosting:
Strawberries are definitely something that taste best in season. But as we're cooking them down into a jam for the frosting here, using slightly crappy strawberries (or frozen ones) is definitely a good option. The cooking process helps to concentrate the flavour so you get a nice strawberry hit. Cooking them also reduces the water content so you get a kind of 'jam' which, when cooled, can be incorporated into your icing with ease. You may need to adjust the amount of icing sugar to get the right consistency as the frosting can come out a bit runnier than you may be used to. The strawberries provide a nice pale pink colour to the icing but you can add a few drops of pink/red gel food colouring to the icing to make the colour stronger.
Ingredients
Cake:
150

g

granulated sugar

160

g

unsalted butter

zest of 1 lemon

, finely grated (you need the juice for the buttercream)

3

medium eggs

250

ml

natural yogurt

270

g

plain white flour

1 1/2

tsp

baking powder

1 1/2

tsp

bicarbonate of soda

1/4

tsp

salt

3

tbsp

elderflower cordial
Buttercream:
75

g

fresh strawberries

, hulled and roughly chopped (plus a few for decoration)

juice of 1 lemon

100

g

unsalted butter

, softened

200-300

g

icing sugar

(powdered sugar)
Instructions
Preheat the oven to 180C. Grease and line an 20 x 20cm square tin or a 25 x 17 cm rectangle tin.

Cream the sugar, butter and lemon zest together in a large mixing bowl until fluffy and soft. Beat in the eggs one at a time - it's okay if it looks like the mixture is curdling. Stir in the yogurt. Add in both flours, the baking powder, bicarbonate of soda and salt and fold in gently until just combined.

Pour the batter into the prepared tin and bake for 35-40 minutes until it's golden on top and a toothpick inserted into the centre of the cake comes out clean. Dilute the elderflower cordial with 2 tbsp of water in a small bowl and spoon this over the warm cake to soak in. Set aside to cool before frosting.
For the buttercream:
Blitz the strawberries and lemon juice together in a blender/food processor or in a jug using a hand blender. Pour the blended mixture into a medium pot and heat over a medium-low heat, stirring occasionally, until the liquid is reduced down to about 60ml. Let it cool - this is your strawberry 'jam'.

Beat the softened butter together with 200g of the icing sugar. Gradually mix in the strawberry 'jam', until you have a loose but spreadable consistency. You can add more icing sugar to thicken, if needed. Spread this over the cooled cake and top with the extra strawberries (I slice them) to decorate.