This post has been updated as of 21/07/2021
Every time rhubarb season rolls around, I'm IN on it, buying it as often as I can make an excuse to! This recipe is for a super simple rhubarb tart, which really lets the flavour shine. It's possibly the simplest a rhubarb tart can get, with only 5 ingredients needed to bake up the prettiest dessert!
Ingredients for this Simple Rhubarb Tart:
Puff pastry (shop bought or home made)
Rhubarb
Sugar
Pistachios (or your favourite nut)
Egg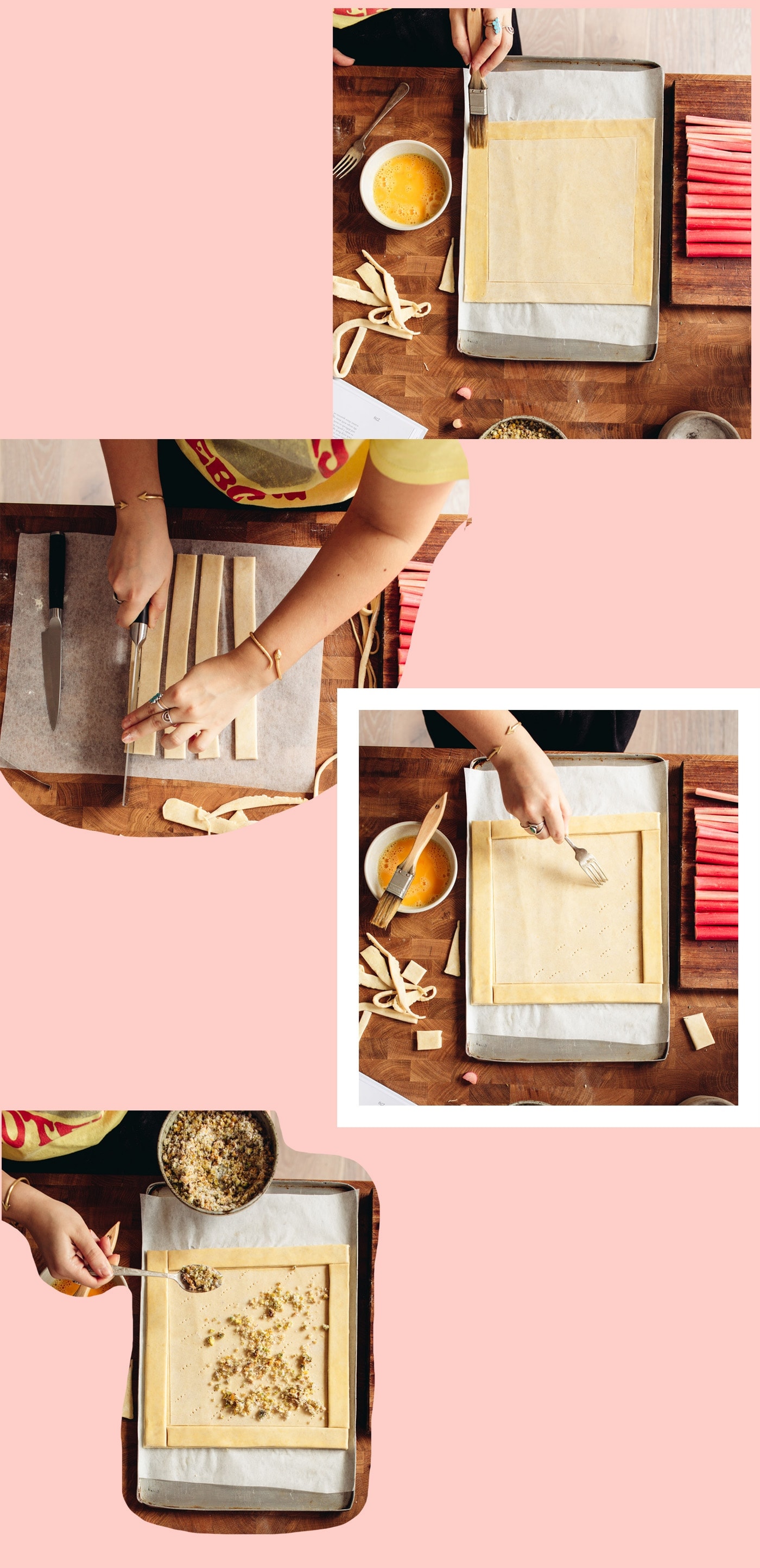 The New Art of Cooking: A Modern Guide to Preparing and Styling Delicious Food
For the past few years I've been lucky to assist Frankie Unsworth, an amazing food stylist who just is the loveliest, most talented person! Her book, The New Art of Cooking, came out in 2018 which is centred around delicious recipes with specific styling tips for each and every one. There are also notes on helpful tools to buy and sneaky methods to use to make food look its best.
After reading the whole book last year, the 5-ingredient rhubarb tart from was stuck in my mind and, once the rhubarb started to appear in the market, it was destiny that I would make it.
How to make rough puff pastry for rhubarb tart:
I made my life a bit more complicated by making my own rough puff pastry for the tart – see here for my tutorial on how to make some yourself! But if you stick to using shop bought stuff (especially if you can get the all-butter puff), it's going to be incredibly delicious too.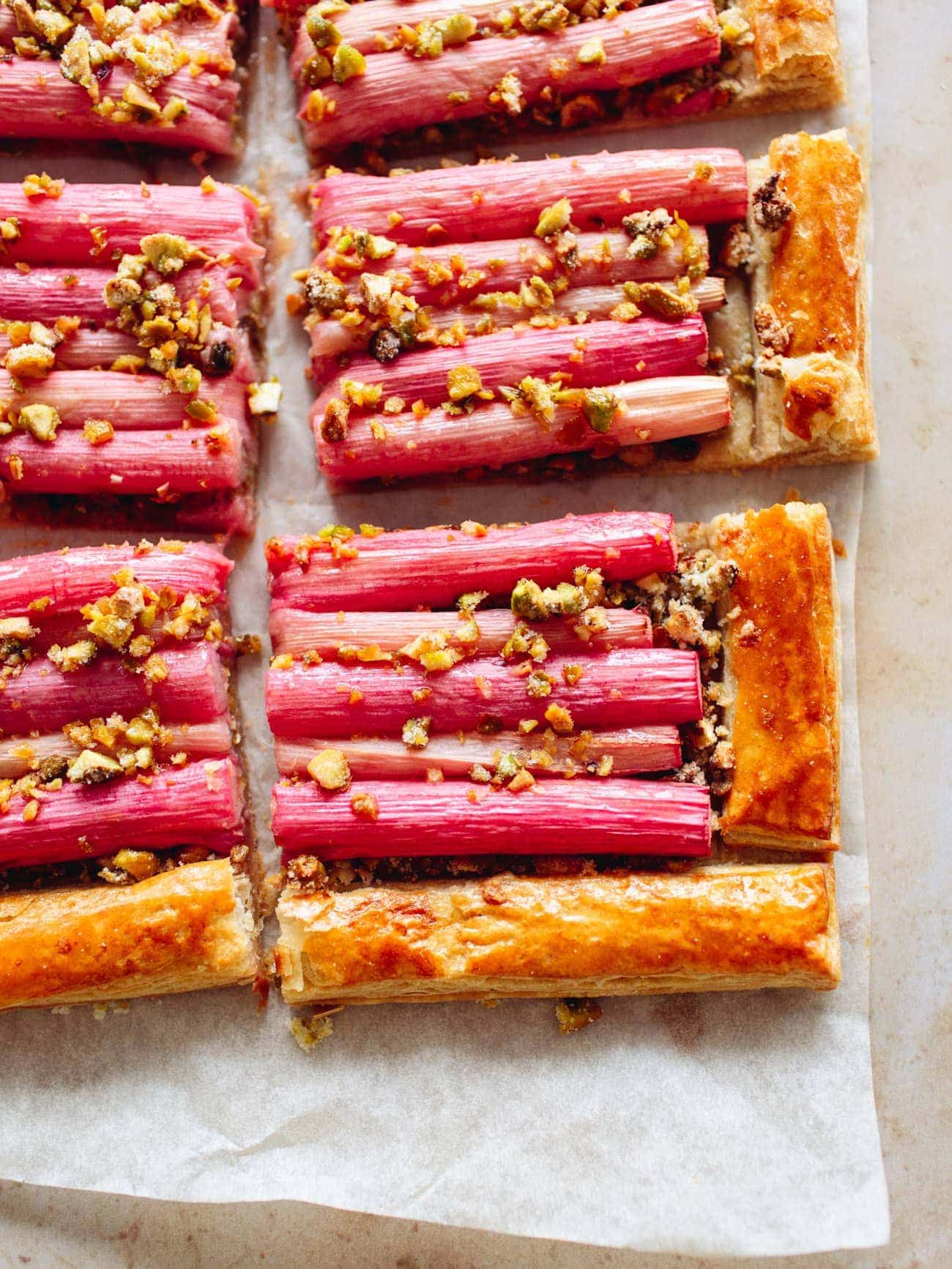 A simple frame of puff pastry is filled with sugar, pistachios and rhubarb before baking. It's almost like a galette but more sophisticated thanks to the sharp, neat edges of the square pastry. As an optional extra, Frankie recommends brushing honey over the rhubarb to make it shiny! It's a bit fiddly as you need to do some measuring to make it all fit together perfectly, but that really is the hardest part!
Other simple tarts: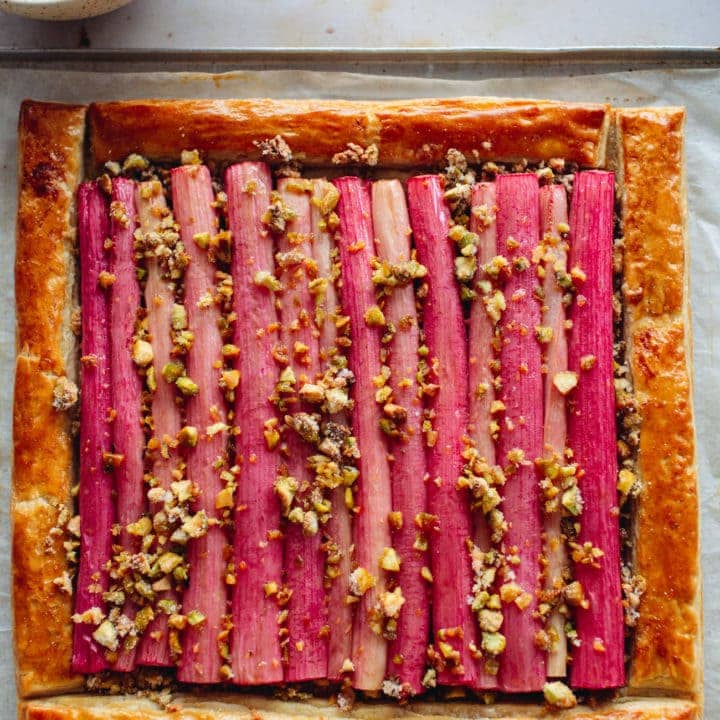 Ingredients
80

g

(1/2 cup) shelled pistachios

5

tbsp

caster

(superfine) sugar

1

large egg

300-400

g

(11-14 ounces) rhubarb (see notes)

320

or 375g

(11.5 or 13.5 ounces) ready-rolled puff pastry (see notes)
To serve:
2

tbsp

clear honey

, warmed

6

tbsp

creme fraiche or ice cream
Instructions
Preheat the oven to 200°C (180°C fan / 400°F). Line a large baking tray with baking parchment.

Very finely chop the pistachios (or pulse in a food processor). Place in a small bowl with the sugar and mix well.

In a separate small bowl, beat the egg until smooth.

Trim the tough ends and leaves off of the rhubarb. Cut each stalk into 20cm (8-inch) lengths.

Unroll the pastry and lay it out on a work surface. Trim to a 25cm (10-inch) square. Using the tip of a knife, make an incision all the way around the square about 2.5cm (1-inch) in from the outside edge. Do not cut all the way through. The rhubarb will sit within the resulting 'frame'. Transfer to a piece of baking parchment so you can move it around freely.

Cut four 22.5 x 2.5cm (9 x 1 inch) strips out of the remaining pastry. Brush the scored pastry 'frame' with the beaten egg, then lay the strips of pastry over it. You don't want the strips to overlap so place each strip flush against the next and continue all the way around to make a frame. If at any point the pastry feels warm and is hard to work with, transfer to the fridge to chill for 10 minutes. Brush the strips with more egg wash.

Prick the base all over with a fork then scatter three quarters of the pistachio mixture over it evenly.

Transfer the pastry to a baking tray and bake for 15 minutes. Remove from the oven and arrange the rhubarb as tightly and neatly as possible in a row inside the frame.

Scatter the remaining pistachio sugar haphazardly over the rhubarb and flick a little water over it. Bake for a further 15-20 minutes until the pastry is golden, the base is crisp, and the rhubarb tender.

To serve, brush the rhubarb with a little warmed honey (if using) and cut into portions. Add a dollop of creme fraiche or ice cream.
Notes
From 'The New Art of Cooking' by Frankie Unsworth
You can make your own rough puff pastry using this recipe and use that instead of the ready-rolled puff pastry.
The amount of rhubarb needed is going to depend on how thick the stems are. Frankie recommends 5-7 sticks when using the thick stuff. I was using much thinner stems and needed 12 stems (which weighed around 300g).
This will be very easy to vegan-ise: use a ready made puff pastry that is vegan friendly (most of the ones in the supermarket are). Mix 2 tbsp non-dairy milk with 2 tbsp maple syrup and use that instead of the egg wash. Lastly, brush the rhubarb with maple syrup instead of honey and serve with non-dairy vanilla ice cream!