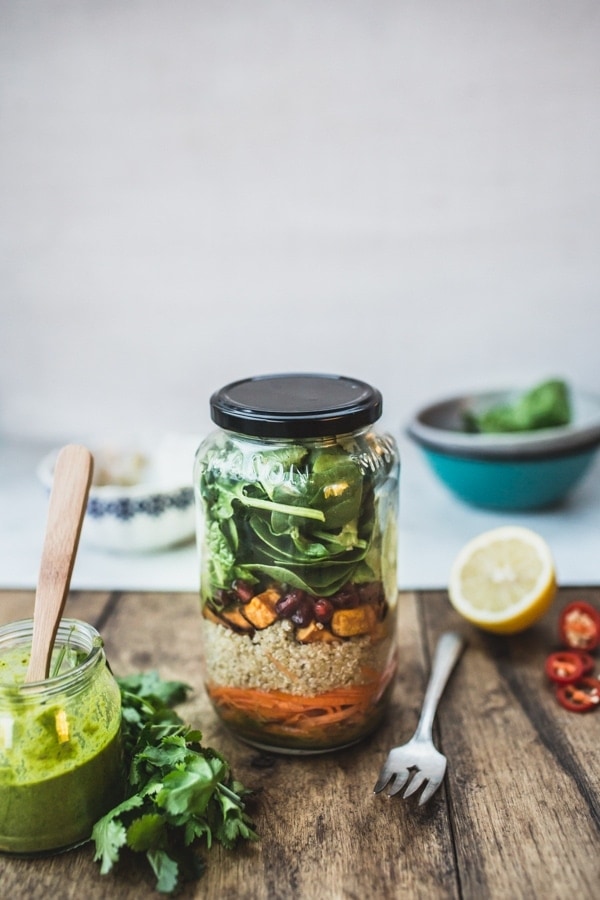 When I eat salad as a meal, not a side, I want it to be substantial so let's face it: it's basically gonna be cold carbs with some greenery mixed in; quinoa and roasted sweet potato are still delicious at room temp and keep well if you prep them ahead of time so they make up the base of this salad. Add in some leafies (baby spinach!), sweet crunch (pomegranate arils), extra veg (carrot) and a kick-ass dressing (sweet, sour and fresh) and you have yourself one excellent travelling lunch. Tip it all out into a bowl or pack it loosely so you can eat it straight from the jar and you're good to go.
Notes:
– The recipe for the dressing makes more than you need so store any extra in a jar in the fridge for salads, chicken or fish.
– Make sure you use a gluten-free miso paste if you need to!
– Quinoa can be replaced with loads of things: cooked rice noodles, mung bean noodles, chickpeas, lentils, edamame, pearl barley, buckwheat or freekeh.
– If you assemble the salad a day ahead, chill it overnight to take with you the next day. Keep it as cool as possible when you're travelling or at work/school.
Mason Jar Quinoa Salad with Green Thai-Style Dressing
Print
Ingredients
Green Thai-Style Dressing (makes excess):
roughly 1 cup coriander

, (cilantro), loosely packed / a large handful, stems and all

1-

inch

piece of ginger

, , peeled (use a spoon to scrape off the skin)

1/4

red chilli

, (or more to taste)

juice of 1/2 lemon

2

tsp

dried lemongrass

, (optional)

1/4

cup

(60 ml) coconut milk

2

tbsp

olive oil

2

tbsp

apple juice

, , pomegranate juice or more coconut milk

1

tbsp

palm sugar or honey

1

tsp

brown miso paste
For the salad:
3

tbsp

Green Thai-Style dressing

, (above)

1

sweet potato

, , peeled + cut into 1/2-inch cubes

1/3

cup

dry quinoa

1

small carrot

, , grated, julienned or spiralised

handful of pomegranate seeds

, (optional)

large handful of baby spinach leaves

coconut oil

salt
Instructions
Preheat the oven to 180 C (350 F). Place a dollop of coconut oil onto a baking tray and put into the oven to melt (about 2 minutes). Meanwhile peel and cube the sweet potato then throw onto the baking tray and toss, covering it with the melted coconut oil. Sprinkle with salt and roast in the oven for 25-30 minutes.

Place all of the dressing ingredients into a blender and whizz up into a smooth sauce. Pour into a lidded jar and chill until needed. (This recipe makes excess dressing).

While the sweet potato is cooking, put the quinoa into a fine mesh strainer and rinse. Then tip into a small pot along with 2/3 cup (160 ml) water. Season with a pinch of salt and bring to the boil. Lower the heat, cover and simmer for 10 minutes. Turn off the heat and leave it to sit, covered for 5 minutes.
Assemble the salad in a jar:
1st layer - 3 tbsp dressing

2nd layer - carrot

3rd layer - quinoa

4th layer- sweet potato

5th layer - pomegranate

6th layer - as much spinach as you can pack in!

Screw on the lid and chill until needed.

Wehn you're ready to eat: shake the salad out of the jar into a bowl, or when assembling pack the layers loosely in a larger jar so you can dig straight in!