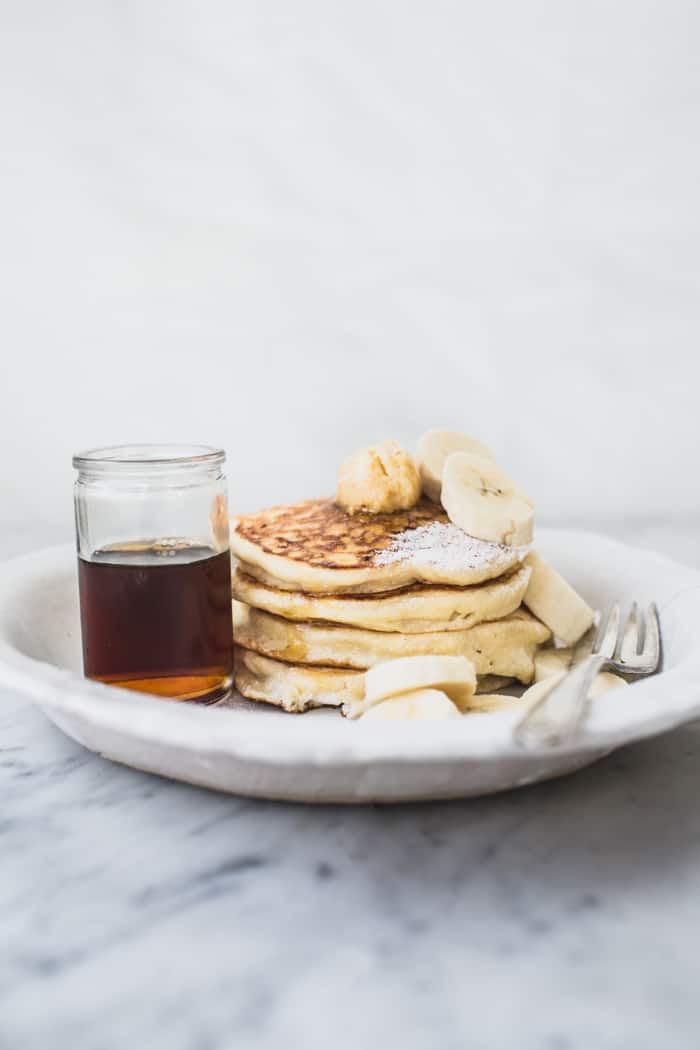 It's painfully obvious that I love breakfast. Cooking it, eating it, photographing it – all brilliant. I find that I enjoy food so much more if I've made it myself and breakfast is just one of those meals that's not so demanding to cook for. Once all that mixing, measuring, frying and flipping is done, I appreciate the effort and ingredients that I put into making the dish. It's different at restaurants though as breakfast menus can be super standard (I mean, I've only seen a breakfast burrito on one menu in London!?). It really takes something special to make me love a brunch dish at a restaurant so much that I want to replicate it at home.
Step in these ricotta hotcakes with honeycomb butter from Granger & Co, the restaurant chain owned by Bill Granger.
So that was that: I invited my friend round for a test trial and Friday brunch was planned.
We ate pancakes, took photos and styled butter with ice cream scoops (it looks so cute, right!?). I had to keep being told by my friend whilst writing out the recipe to stop calling them pancakes and I obliged because they really are not like any pancake I've ever eaten.
Unlike regular pancake batters where flour forms the bulk, these hotcakes get their body from ricotta and whipped egg whites. It keeps them sublimely light and tender but as I also said this morning whilst digging into a thick stack "They're SO filling" (it's all that protein!). With the ricotta, I find it's best if you only partially mix it in. That way you get little nuggets of creamy ricotta every so often 🙂
Turns out my suspicions were right about the honeycomb butter, it's literally crushed honeycomb candy mixed with unsalted butter. For the sake of convenience I bought a Crunchie bar, cut off the chocolate coating and used the honeycomb from that. It may not seem like this butter is necessary (I probably would have skipped past it had I not tried it at the restaurant) but I adore it here, adding a hint of vanilla to each bite.
Recipe adapted slightly from Bill Granger's recipe (found here)
Ricotta Hotcakes with Honeycomb Butter
Print
Ingredients
For the honeycomb butter:
One 40 g Crunchie bar

, (or 20 g /~1 oz of honeycomb candy)

50

g

unsalted butter

1

tsp

honey
For the hotcake batter:
4

eggs

, , separated

3/4

cup

(185 ml) milk, any kind

1

cup

(125 g) plain flour

1

heaped tsp baking powder

1/4

tsp

salt

1 1/3

cups

(300 g/10.7 oz) ricotta
Instructions
To make the honeycomb butter:
Cut the Crunchie bar into chunks and then use a sharp knife to slice off the outer layer of chocolate (you only want the middle honeycomb part). Place the honeycomb into a sandwich bag and bash with a rolling pin so that it's the texture of coarse breadcrumbs. Pour into a bowl along with the butter and honey. Cream together until well mixed then form into a log and wrap in clingfilm (or form individual scoops using a small, mechanical ice cream scoop). Chill until needed.
To make the hotcakes
In a large jug, stir together the egg yolks, milk, flour, baking powder and salt with a fork. Add the ricotta to the jug and mix just a little (seriously like 3 stirs; you want tasty ricotta lumps). In a large bowl, whisk the egg whites until stiff. Pour the contents of the jug into the large bowl and fold in using a rubber spatula. There should be some lumps of ricotta throughout.

Heat a large frying pan over a medium heat with enough vegetable oil to coat the pan. Scoop about 1/3 cup of batter into the pan to make 1 hotcake (depending on the size of your pan you can cook around 2 or 3 at a time). Use a metal spatula to check when the underside of the hotcake is golden, then flip and cook on the other side until golden as well. Remove to a plate and serve warm with the honeycomb butter, maple syrup and fresh fruit.