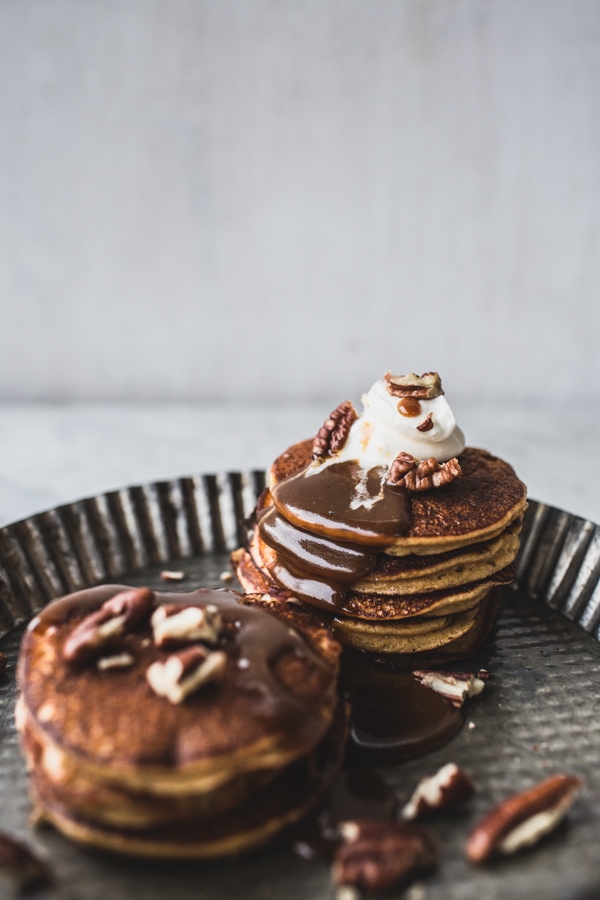 Long time no..blog, eh? So long in fact that I am yet to say happy new year to you all!!
2014 was probably one of the most draining (but awesome!!) years of my life. Exams blah university applications blah blah the cookbook blah blah. I was saying yesterday on instagram to someone that I think that by October I'd used up my quota for being able to get my shiz together! It's pretty evident from the fact that I have like 2 reviews, 2 giveaways and 4 recipes currently in my drafts to finish writing. Whoooopsie.
Although I didn't have posts up on here I did have some recipes going on in other places on the internet near the end of last year:
– Baked Oatmeal with Figs and Dates (this is so good as a make ahead breakfast) – on The Kitchn
– Vegan Swedish Cinnamon Buns (with .gifs!) – on Jamie Oliver
– My Fave Cinnamon Rolls (& process pics showing how to cut them perfectly)- on Food 52
– Chocolate Peppermint Sandwich Cookies – on The Kitchn
– Not pictured: Rugelach – on Food52 for cookie week!
And in between those days I went present shopping, sale shopping (!), met Jamie Oliver AND David Loftus (what oh my god. You better believe I fangirled for hours), ate brunch a lot and made THESE PANCAKES.
These beautiful, celestial pancakes.
I never thought I'd see the day where I found an alternative syrup for pouring on pancakes. I've always been a maple syrup monster, cos sure you can give me whipped cream or blueberry coulis but I'm going to want syrup too. Yes, I have already talked at length about my pancake feelings (cos hint: I have a lot of them) so I'll stop now for your benefit.
Inspired by that thick, butterschotchy sauce served with traditional sticky toffee pudding, I created this variation. I made the sauce using coconut sugar, an unrefined sweetener, which has a rich flavour but brown sugar will work just as well. Due to all that caramel these are quite dessert-like and I think would actually be pretty fun to serve to guests after supper (bonus cos they'd be less effort than making actual sticky toffee pudding).
The pancake recipe is my favourite gluten free batter ever so far. I added some cinnamon and ginger this time round to follow the mimicked sticky toffee pudding theme but you can leave that out if you just want regular pancakes.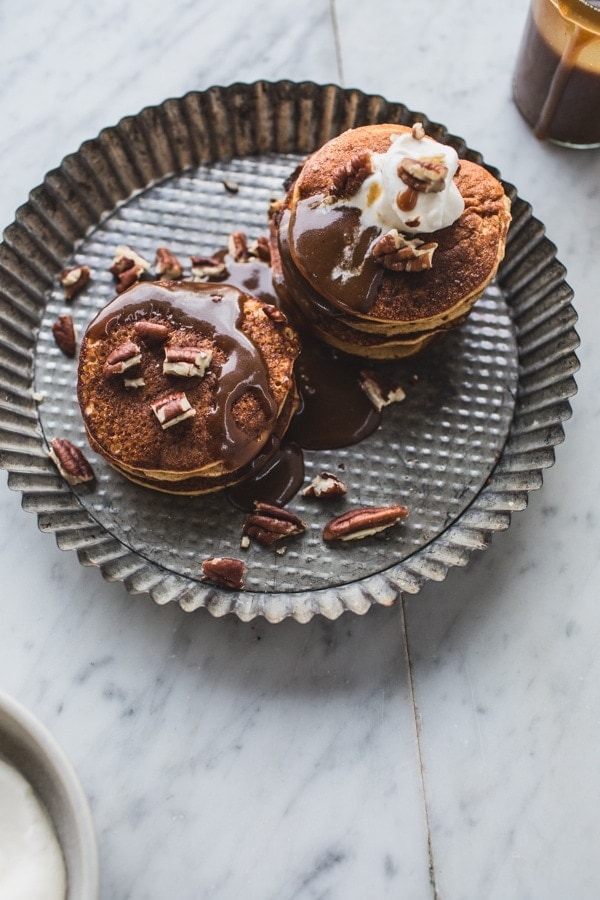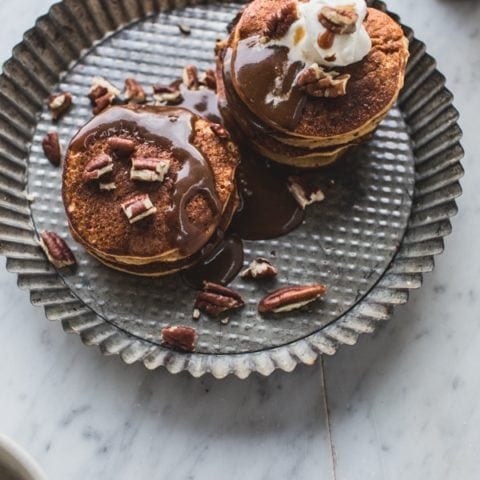 Ingredients
1

x recipe for pancakes

(see recipe above or use your favourite recipe)

1/4

cup

(55 g) unsalted butter or coconut oil

1/3

cup

(80 ml) milk or almond milk

2/3

cup

(160 ml) whipping cream, heavy cream or full-fat coconut milk

3/4

cup

(165 g) coconut palm sugar (or light brown sugar)

pinch

of salt

For serving: whipped cream + pecans

, optional
Instructions
Make the pancake batter (see recipe above) and set aside whilst you make the sauce.

Combine all the toffee sauce ingredients in a saucepan and heat on medium, stirring constantly until the sugar has dissolved.

Bring the mixture to the boil then turn down to a simmer. Keep stirring the mixture every so often for about 5 minutes. Test the thickness of the sauce by dripping a small amount of it onto a plate, leaving it for a few seconds to cool and then running your finger through it. A line should be left through the sauce when it has been cooked for long enough.

Set aside whilst you cook the pancakes (see recipe above)




Serve the pancakes with the toffee sauce (you may need to gently warm it back up before serving) whipped cream and pecans.
My Fave Gluten Free Pancakes
Print
Ingredients
2

eggs

1/2

cup

(125 ml) milk (any kind)

1/4

cup

(4 tbsp) ricotta

splash of vanilla

1/2

cup

(45 g) ground almonds

1/4

cup

(4 tbsp) buckwheat flour

1/4

tsp

ground cinnamon

pinch

of ground ginger

1

tsp

baking powder

, (gluten free if needed)
Instructions
Combine the eggs, milk, ricotta and vanilla in a jug. Stir together with a fork or a whisk then add the almonds, flour, cinnamon, ginger and baking powder. Mix until well combined - if it's a bit lumpy that's fine.

Set the batter aside to rest for 10 minutes whilst you make the sauce (See below)

In a large frying pan, heat about 1/2 tsp of coconut or vegetable oil. Pour puddles of batter into the pan, about 1 tbsp worth, and cook over a medium-low heat. The pancake is ready to be flipped when the edges of the surface start to look opaque and bubbles form and burst. Using a metal spatual, flip and cook until golden brown on the other side then remove to a platter. Repeat with the rest of the better (I like to keep the cooked pancakes warm in the oven at 100 F/ 50 C as I cook the others).