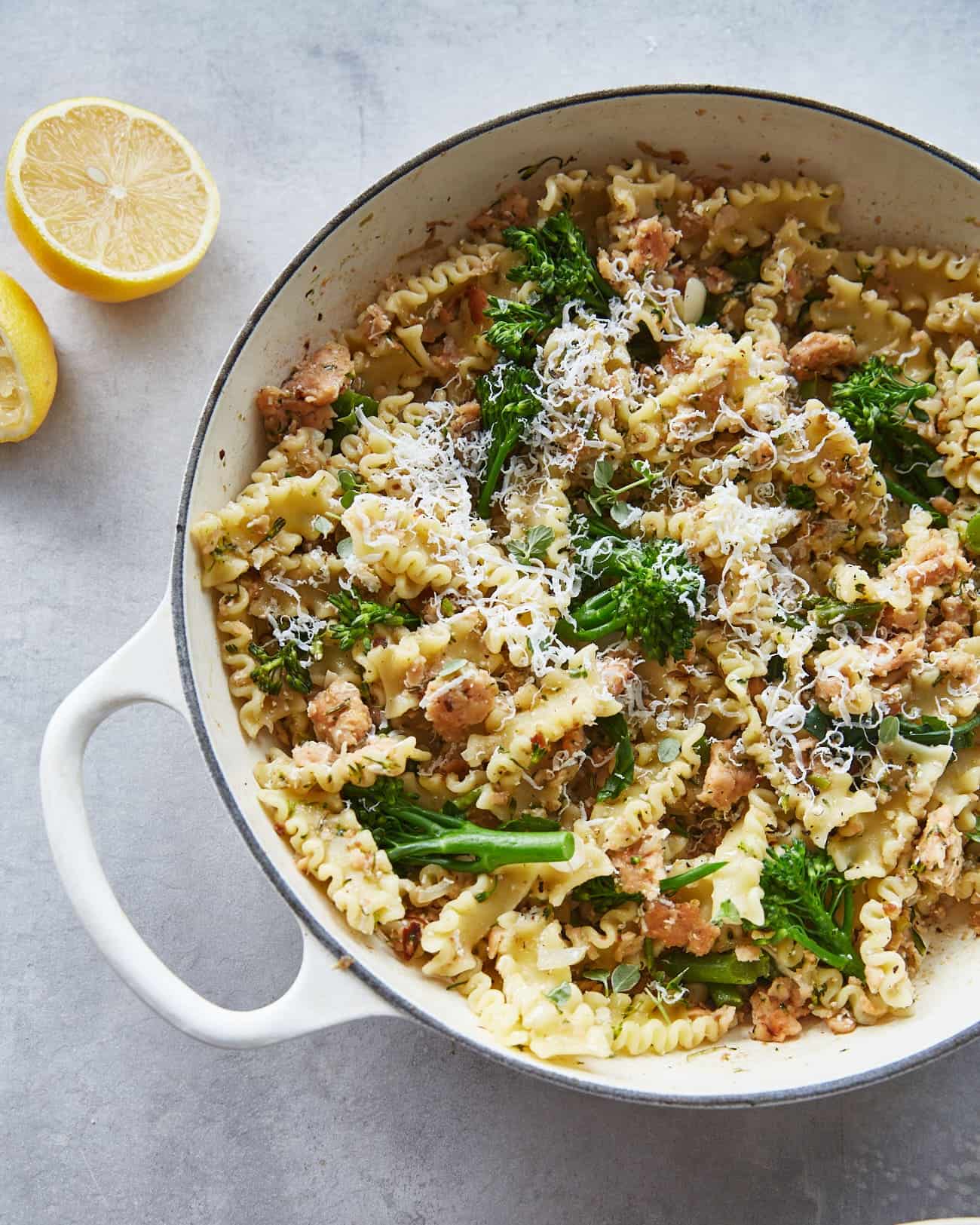 Thanks to Linda McCartney's for sponsoring this post
The pairing of fennel-seedy Italian sausages and broccoli is always delicious. Here the broccoli is cooked until super soft which, along with garlic, lemon and cheese, allows it to act as a kind of impromptu 'pesto' for the pasta.
I've used Linda McCartney's Vegetarian Sausages, amped up with the addition of chilli flakes and fennel seed, instead of using an Italian sausage here to keep things vegetarian (or even vegan if you don't use the cheese). This is a perfect weeknight dinner as it's so quick to make and only requires one pot and one pan.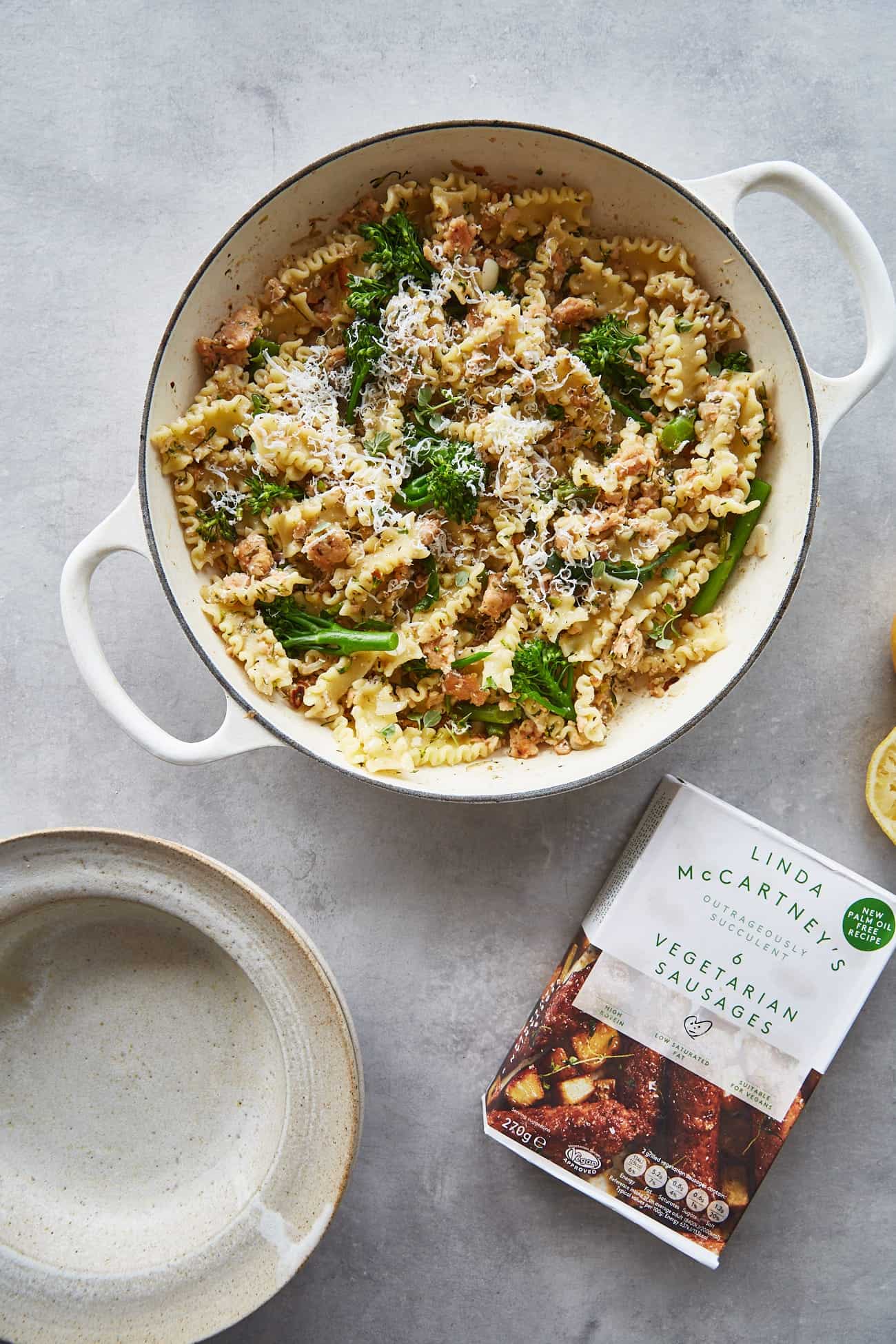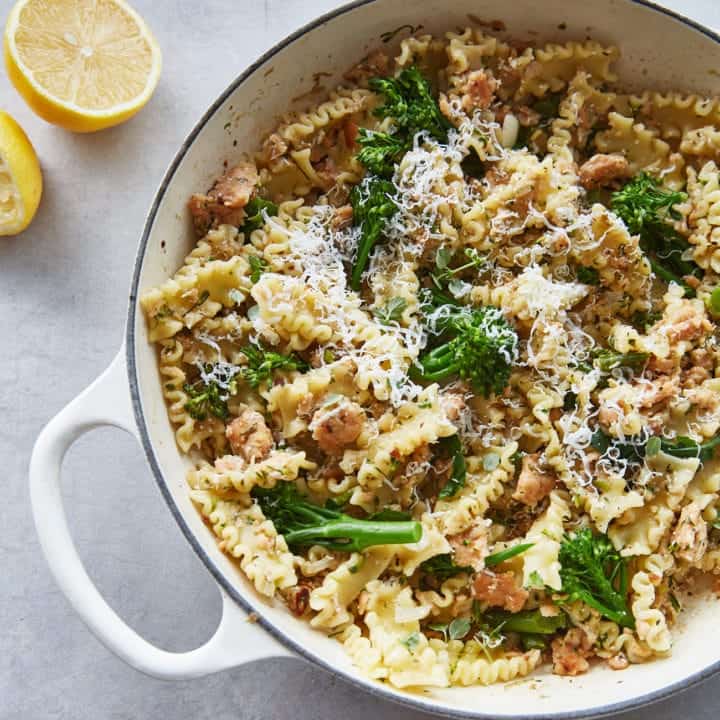 Ingredients
3

tbsp

olive oil

2

shallots

, finely sliced

1/2

tsp

fennel seed

1/4 to 1/2

tsp

chilli flakes

200

g

dried pasta

150 to 200

g

broccoli or tenderstem broccoli

3

Linda McCartney's Vegetarian Sausages

, defrosted

2

cloves

garlic

, finely sliced

20

g

ricotta or Parmesan style vegan cheese

, finely grated

Juice of 1/2 a lemon

Salt & pepper

, to taste
Instructions
Heat 1 tbsp of the oil in a large frying pan over a medium-low heat. Once hot, add the sliced shallots and cook, stirring occasionally, until lightly golden (around 5 minutes). Add the fennel seed and chilli flakes, stir, and let them warm through for 1 to 2 minutes.

Meanwhile add the pasta and broccoli to a medium pot of well-salted, boiling water. Leave to cook until the pasta is al dente (for me this was about 10 minutes). 

Break up the defrosted Linda McCartney Vegetarian Sausages into small chunks and add to the frying pan along with 1 more tablespoon of oil. Mash with the back of your spoon to break the sausage up and fry it for around 5 minutes, stirring often, to allow the sausage to brown and crisp up a bit. 

Clear a space in the frying pan and pour the remaining tablespoon of oil here. Add the garlic to this pool of oil and allow to cook for a couple of minutes until starting to turn golden. Once this happens, stir it through the Linda McCartney Vegetarian Sausage. Add a splash of pasta water to the frying pan and use your spoon to scrape up any golden bits from the base of the pan. 

Once the pasta is al-dente and the broccoli is cooked, remove the broccoli from the pot using tongs or a slotted spoon – it should be pretty soft at this point which will help it break down to form a bit of a sauce. Roughly chop the broccoli and add to the frying pan.

Use a slotted spoon to transfer the pasta to the frying pan too (or drain the pasta in a colander, reserving a mugful of pasta water, then add to the pan) and stir through, adding a splash of pasta water as needed to help make a saucy texture. Add the cheese and lemon juice, stir through and taste to check the seasoning. Add extra salt and some pepper as needed. Divide between 2 bowls and eat!