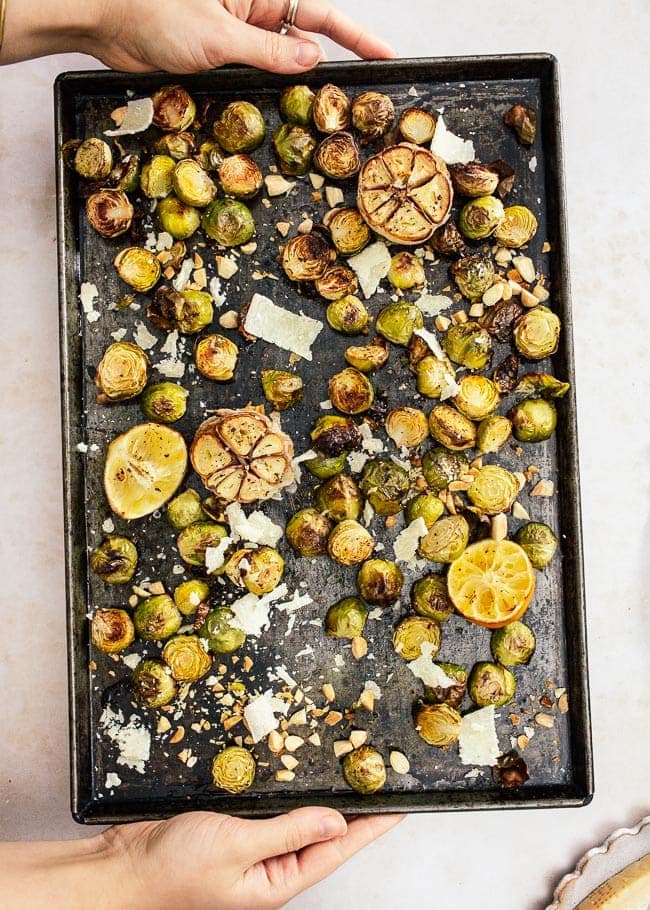 Brussels sprouts are vegetables I always forget about. Not because I hate them or don't like cooking with them, but I think in my mind they're 'reserved' for Christmas time. When I discovered roasted Brussels sprouts were a 'thing' a few years ago when they became a trendy vegetable (somehow?), they quickly went from boring side-dish to delicious-vegetable-I-could-eat-a-whole-tray-of. Even though I still find myself reaching for kale or cauliflower when the Winter hits, if sprouts catch my eye in the supermarket, I immediately know what I'm having for dinner.
That happened a few weeks ago when I was wondering what to make for a quick weeknight meal. I wandered down the vegetable aisle, spotted those little green babes, and HAD to have them. I roasted them up with lemon, parmesan and a whole bulb of garlic, with a scattering of toasted almond too (inspired by the 'crack broccoli' from Laura's blog). They're a great side dish to a hearty main (e.g. your Christmas roast?? possibly?? 😉 ) and are very hands-off to make.
As I was deciding what to have them with that evening, I realised we had all the ingredients for a veggie carbonara in the flat!!! Thus the roasted Brussels sprout carbonara was born – a very simple weeknight meal we'll be revisiting many times in the future I'm sure. I've given the full recipe for the sprouts below and a simple carbonara recipe right at the bottom of the post, if you're interested in it too 🙂
Previous Savoury Winter recipes:
Ingredients
500

g

(~1 lb) brussels sprouts

1

head of garlic

3

tbsp

olive oil

½

a lemon

Salt and black pepper

50

g

(1/2 cup) finely shaved parmesan cheese (or a vegetarian hard cheese, if needed)

4

tbsp

roughly chopped almonds
Instructions
Preheat the oven to 180oC/160oC fan/ 350oF.

Remove the base and any dirty outer leaves of the Brussels sprouts. Cut the sprouts in half and toss onto a large baking tray or roasting dish. Cut the garlic bulb in half along its equator, place onto the baking tray. Cut a lemon into quarters and toss onto the baking tray too. Drizzle with the olive oil then sprinkle with salt and pepper. Mix together using your hands to coat everything in the oil and seasonings.

Roast for 20 minutes then remove from the oven and scatter on the almonds. Roast for a further 5-10 minutes until the almonds have started to colour and smell toasty.

Remove from the oven, squeeze over the lemon juice (careful – it'll be HOT! I use tongs or a lemon squeezer to do this). Sprinkle with the parmesan. Squeeze out all of the cloves of garlic onto the tray, discarding the papery skin. Serve hot as a side or, if you're me, over a bed of bacon-less spaghetti carbonara!
(P.S: If you're keen for the carbonara recipe – 2 servings: I cooked 250g dry pasta, drained it (reserving a mugful of pasta water) then whilst still hot mixed in 4 egg yolks + 90g finely grated parmesan + enough pasta-water to make a saucy coating. Seasoned with salt + pepper, served with the sprouts!)