Hassleback squash!! Look at it!! So fancy!! Andy yet, deceptively simple to make. The idea here is that we're creating the most surface area on our butternut squash so that the garlic-sage butter (uh huh!) seeps into all the gaps for maximum coverage.
So how do we do this? First of all, you're gonna need a SHARP, LARGE knife okay! I don't want anyone hurting themselves and blunt, small knives are going to be a major hazard here – 0/10 do not reccommend.
We chop the squash in half from stem to base, one clean cut all the way through. The easiest way to do it is to cut the stalky top off first, sit the squash upright on a cutting board, and push your knife through from top to bottom.
Next, peel it all, scoop out those seeds and goop, and roast for a short while to soften it up.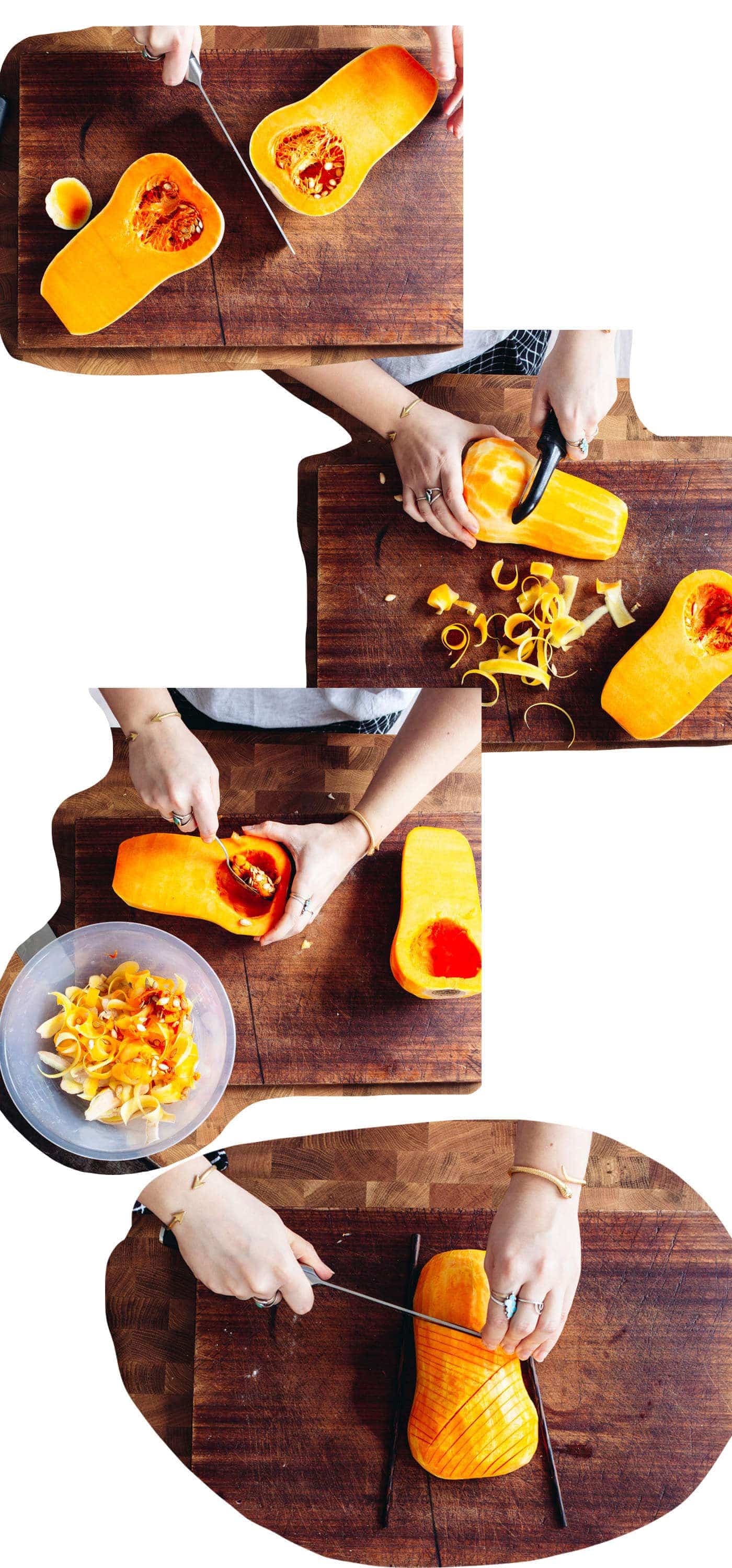 We're going to make the nice pattern in it now (i.e. what makes it 'hassleback squash') so place chopsticks or wooden spoons on either side of the squash half – this will stop your knife going all the way through if you push too hard. I like to cut the lines in this zig-zag style (as I saw GreenHouse Juice guys do their hassleback squash). But you an also just cut straight across (like Adrianna did so!) which is a lot simpler to do.
The squash gets roasted again to finish it off. Then it's smothered in a garlicky buttery sauce with crispy sage leaves!
I served this last December for my friends for Christmas dinner where we had it as a 'roast'. The squash was the main event but I also made gravy, roasted potatoes, Brussels sprouts and stuffing to go with it. Me and Andy have also had it for dinner with a bit of hummus, leaves and pita breads. You can also just serve this up as a side dish with whatever you fancy.
Other Squash recipes:
Hassleback Squash with Garlic-Sage Butter
A simple way to make butternut squash shine as a main event. It's simple but beautiful, a great one to serve at a dinner party to feed a crowd
Print
Pin
Ingredients
1

large butternut squash

2

tbsp

olive oil

salt and black pepper
For the Butter:
50

g

(1/4 cup) unsalted butter

8-9

sage leaves

3

cloves

garlic

, crushed
Instructions
Preheat the oven to 180°C (350°F).

Cut the very top off the squash. Cut the squash in half from the tip to the base. Peel the squash to remove the beige outer skin. Scoop the seeds out of each squash half. Place onto a baking sheet, cut side down, and brush with half of the oil. Sprinkle with some salt and black pepper.

Bake the squash for 15 minutes to help it soften.

Remove from the oven and lift the squash halves onto a chopping board. Place chopsticks on either side of one squash half, this will help prevent you cutting all the way through the squash. Deeply score the squash cutting across its width - you want to cut quite far down but not all the way through.

Place back onto the baking sheet, brush with the remaining oil and put back into the oven for a further 30-40 minutes until soft and it's just starting to darken in places.
About 10 minutes before your squash has finished roasting start making the butter:
In a small frying pan or pot, melt the butter over a medium-low heat. Once the butter has melted keep add the sage leaves and keep cooking until the sage leaves are darkened and crisp. Add the crushed garlic and stir over the heat for 30 seconds then remove from the heat.
Serve:
Spoon the warm sage butter over the hot, roasted squash. Serve immediately.
Notes
To make this vegan: replace the butter with vegan butter.
Serving suggestion: You can have this as the 'main event' instead of meat in a roast dinner (i.e. with roasted potatoes, gravy, peas and carrots). You can also serve it mezze style with hummus, flatbreads and some greens!