VERY belated Happy New Year to everyone! My new year started off with some crappiness – wifi + mobile data were down for 2 weeks BUT then I went skiing! I've also been working on making videos and the first one, for cinnamon-sugar pretzels, is finally ready to share 🙂
When I was younger, an auntie annie's pretzel stall opened up in the local mall. This was strange because it was like 2005 (?) so American food culture hadn't really 'hit' the UK yet. I mean, people were going absolutely crazy for this *new thing*… called Krispy Kreme donuts (hah!) at that time (If you don't live here: now there are krispy kreme shops all over the place in the UK).
But anyway, back to pretzels… I was, naturally, obsessed with the cinnamon-sugar pretzels. Every time we'd go to the cinema in that mall I'd get a pretzel to have and, man oh man, I couldn't imagine anything better. I couldn't fathom how to get more of them into my life though as the mall wasn't a place I frequented as a 8 year old. And what on earth is better than a warm pretzel from a pretzel stand??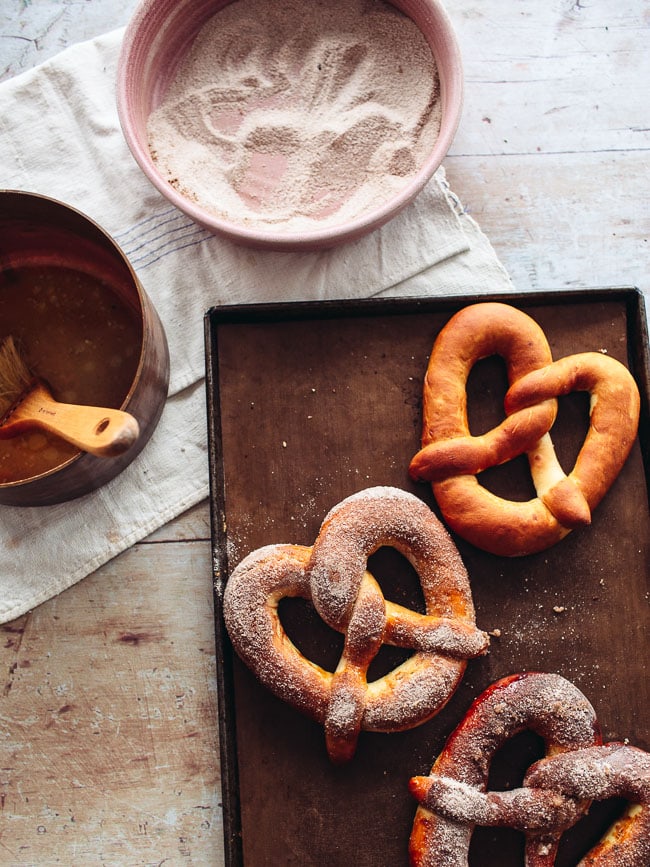 EIGHT WARM CINNAMON SUGAR PRETZELS, AT HOME, ALL FOR YOU!
Later in life I did figure out the whole make-it-at-home dealio, obviously. Recently I've been making many eggless fluffy bread doughs using the pre-cooked paste method (which I've banged on about probs 100 times before) so I thought I'd try my hand at vegan cinnamon sugar pretzels! As you can see above, I ALSO tried my hand at making a video with my face in it (with thanks to Andy for being my crew). So even if you don't end up making pretzels, maybe you'll leave here semi entertained?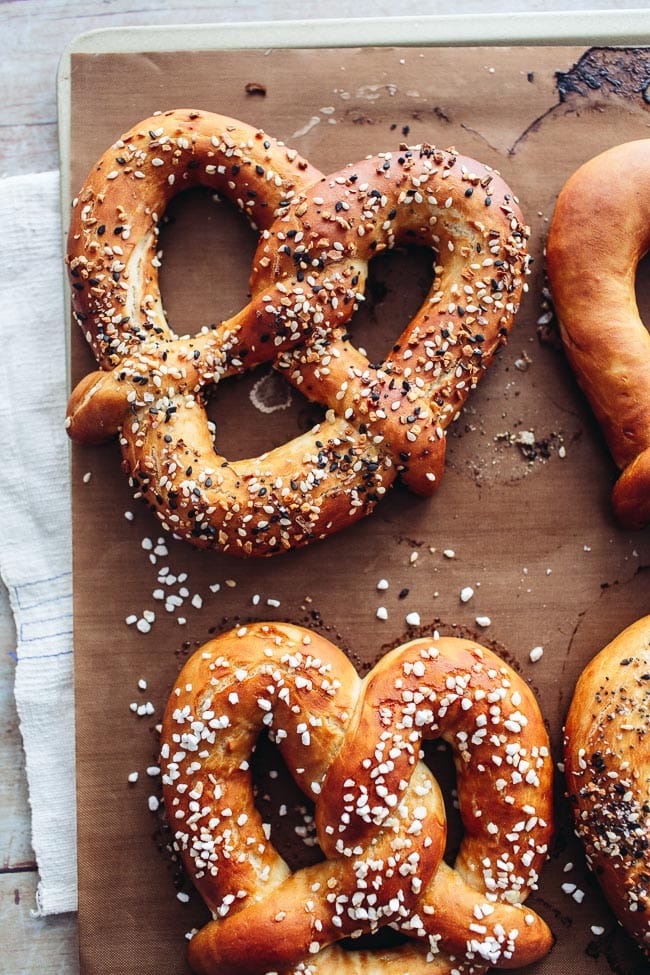 You can also try these guys with other flavourings – try sprinkling on sesame seeds, pearl sugar, 'everything bagel seasoning', or coarse salt before baking (just after you've brushed them with some baking soda-water solution).
Other cinnamon-sugar goodness: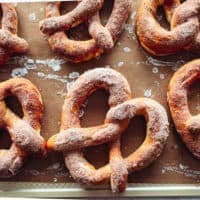 Cinnamon-Sugar Soft Pretzels (Vegan)
Soft, fluffy pretzels coated in cinnamon-sugar. Best eaten warm on the day they're made!
Print
Pin
Ingredients
PASTE:
20

g

(2 1/2 tbsp) plain white flour (all-purpose flour)

60

g

(1/4 cup) water
DOUGH:
250

g

(1 cup) lukewarm water

2

tsp

active dried yeast

50

g

(1/4 cup) granulated sugar

550

g

(4 1/2 cups) plain white flour (all-purpose flour)

60

g

(1/4 cup) vegetable oil

1

tsp

salt
BRUSH ON:
2

tbsp

bicarbonate of soda

(baking soda)

250

g

(1 cup) warm water
DIP:
70

g

(6 tbsp) vegan butter/margarine, melted

3

tbsp

ground cinnamon

200

g

(1 cup) caster sugar (superfine sugar)
Instructions
Make the paste:
In a small pot combine the paste ingredients. Cook over a low heat whilst stirring until very thick and sticky - this only takes a couple of minutes. Set aside to cool.
Make the dough:
In a large bowl, combine the water, yeast and sugar. Let it sit for 10 minutes.

After it has sat, add the cooled paste to the bowl along with the flour (reserving some for kneading), oil and salt. Mix together to get a rough dough. Tip out onto a work surface and knead until smooth and slightly sticky, dusting the dough and surface with reserved flour as needed.

Grease the bowl you were using earlier with a bit more oil, add the dough and flip it to coat. Cover with a tea towel or cling film and set aside somewhere warm to rise until doubled in size (1-2 hours) OR leave overnight for 12-14 hours in the fridge to rise.
Shape:
Tip the risen dough out onto a floured work surface. Pat down to remove excess air. Cut into eights and roll onto 8 balls. Roll each ball out into a snake about 70 cm (27 1/2-inches) long.

Take the snake of dough, pull the ends up and cross them over each other to make a loop. Twist the arms around each other once then fold down over the base of the loop to make a pretzel shape. Repeat with all the balls.

Place the shaped pretzels on a lined baking tray. Cover with a towel and let rise for 15 minutes somewhere warm until puffy. Meanwhile preheat the oven to 180°C/160°C fan/ 350°F.
Brush and Bake:
Combine the baking soda and warm water in a small bowl and mix well. Use a pastry brush to cover the pretzels all over with this solution. Bake for 15-20 minutes until dark-golden.
Coat:
Whilst the pretzels are warm, brush with the melted vegan butter/margarine. Combine the ground cinnamon and caster sugar in a wide, shallow bowl. Dip the buttery pretzel into the cinnamon-sugar to coat then place back on the baking sheet. Repeat with all the pretzels.

Eat warm! These are best the day they're made. You can also freeze them just before dipping in the butter/cinnamon sugar so you can defrost & coat as many as you'd like at a later date!
Notes
If you want to flavour them with other things, sprinkle the toppings on just after the pretzels have been brushed with the baking soda solution (just before baking). You can try this with sesame seeds, 'everything bagel' seasoning, coarse salt, grated cheese...