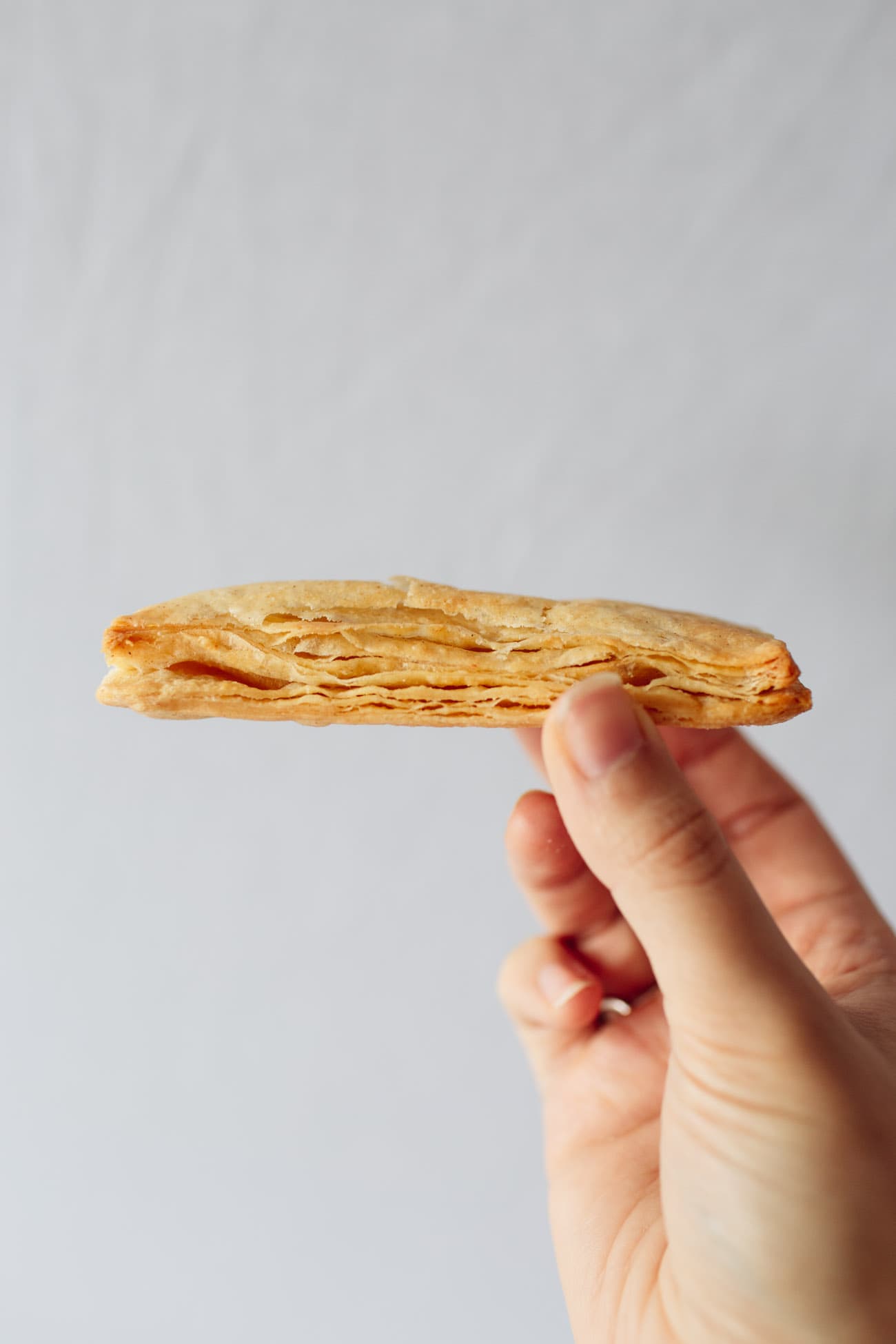 I think I've made proper puff pastry a grand total of 1 time in my life (I usually just buy it). BUT when I want a homemade alternative with amazing flavour, this rough puff pastry is where it's at.
The trick to rough puff is that instead of working a block of butter into the pastry, we're going to grate some frozen (or very cold) butter onto a slab of dough. We then roll and fold a few times in a process called lamination to make alternating layers of butter and dough.
Standard puff recipes have you chill the dough between rolls and do this quite a few times to get as many layers as possible. Here we only do a total of 3 roll and folds, as quickly as possible, and without chilling between folds. This means the dough stays cold as you work and you make the pastry super fast.
It is SUPER important that you work quickly on the roll + fold steps because as the dough sits, the butter will warm and won't stay in a nice, defined layer. That means no flaky layers!! So, if at any point the dough is getting warm (or say, you're making this in a warm room/in the summer), pop it in the freezer for 5-10 minutes to chill it. Then just pick up where you left off!
This recipe makes a block weighing just under 500g, which is the standard size of puff pastry blocks you'll find in the supermarket. After chilling you can use it right away or you can freeze the pastry in a resealable bag for up to 3 months, defrosting in the fridge before using.
Just make sure it's cold from the fridge and that you work quickly when you do decide to use it, to maintain those buttery layers! Stay tuned for a Rhubarb Tart recipe (which you can use this rough puff for!) coming your way this week.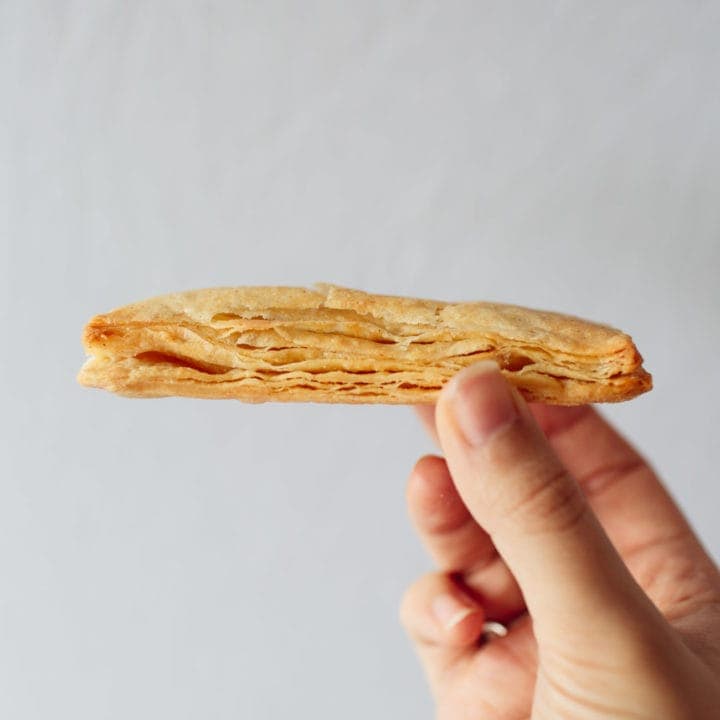 Ingredients
100

g

unsalted butter

, frozen (see notes if you don't have time for freezing the butter)

250

g

(2 cups + 1 tbsp) plain white (all-purpose) flour, plus extra for rolling

50

g

(1/4 cup) unsalted butter, very cold, cubed

1/2

tsp

table salt

75

g

ice water

(plus a little extra, if needed)
Instructions
Take the frozen butter out of the freezer and let sit at room temperature to soften slightly for 10 minutes.

While the butter is softening, tip the flour out onto a clean work surface. Scatter the cubed, cold butter over the top of the flour along with the salt. Use your fingertips to run the butter into the flour using a pinching motion between your fingertips and thumbs. Once the mixture looks evenly crumbly, you can stop.

Gather the crumbly flour-butter mixture into a mound on the work surface and make a wide well in the middle of it. Pour in half of the water and use your fingertips to gently bring flour from the edges into the centre, incorporating the water, to start making a dough.

Once it looks dry, make a well again and drizzle in the remaining water. Keep gently kneading until you get a dry but cohesive dough. You may need to drizzle some extra water in if the dough is looking too dry - do this 1 tablespoon at a time until there are only a few floury patches remaining in the dough. Set aside.

Take the frozen butter that's been sitting out and grate on a box grater, using the side with the largest holes.

Roll the dough out into an 8 x 13 inch (20 x 33 cm) rectangle, dusting with flour if needed to prevent the dough sticking to the surface.

7. With a long edge facing you, scatter the butter over the left two-thirds of the dough. Pat down to compact the butter and give it a gentle roll with your rolling pin.

8. Grab the right third of dough (which has no butter on it) and fold it over the centre third of the dough. Grab the left third of the dough and fold it over the centre third of the dough so you have a small, neat rectangle.

9. Dusting with flour as needed, roll this dough rectangle out again into an 8 x 13 inch (20 x 33 cm) rectangle. Fold into thirds again like a business letter.

10. Repeat step 9 again to make a total of three rolls and folds.

11. Wrap the dough in a resealable sandwich bag and chill for at least an hour before using.
Notes
you can also use *very* cold butter for the grating part if you don't have time to freeze butter. It'll just clump together a bit more when grating. Once you've grated it, place on a plate and then into in the freezer for 10 minutes so it can chill nicely.
This pastry can also be frozen for up to 3 months, just defrost in the fridge before using.