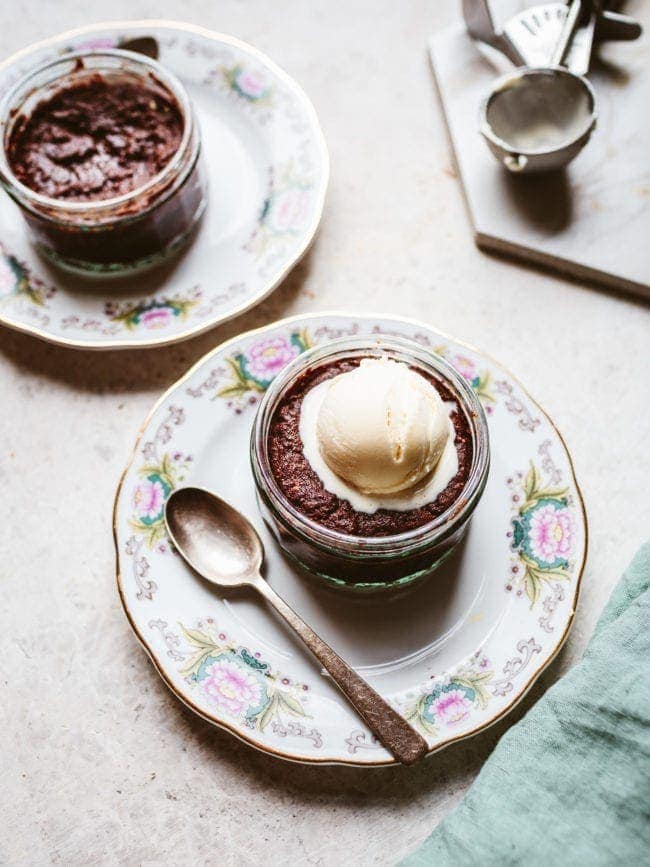 Is there one dessert that you will always order if it's on a menu? For me, it's always molten chocolate cakes (especially if there's a scoop of vanilla ice cream involved). After having them once in a restaurant when I was younger, I became hell bent on finding a recipe to make them at home. After trying quite a few out I settled on my favourite – Delia Smith's recipe. It makes 8 puds so I'd usually quarter it to bake two for me and a friend as a quick dessert.
I hadn't made them in a while until someone sent me a message on instagram asking if I had a veganised version. I told them I didn't but that I'd get to work trying it out. With the recent discovery of aquafaba (chickpea water) which can mimic egg whites extremely well, I thought they might be useful! After 4 different versions I finally managed to make my ideal recipe. This makes 2 smallish cakes (when they were larger I'd end up feeling a bit sick after eating them as they're so rich. That said, if you know you'll want big'uns you can always double the recipe!) which are perfect for dessert for Valentine's day… or just bake one for yourself and put the other in the fridge for up to 5 days so you can bake it up when you want it.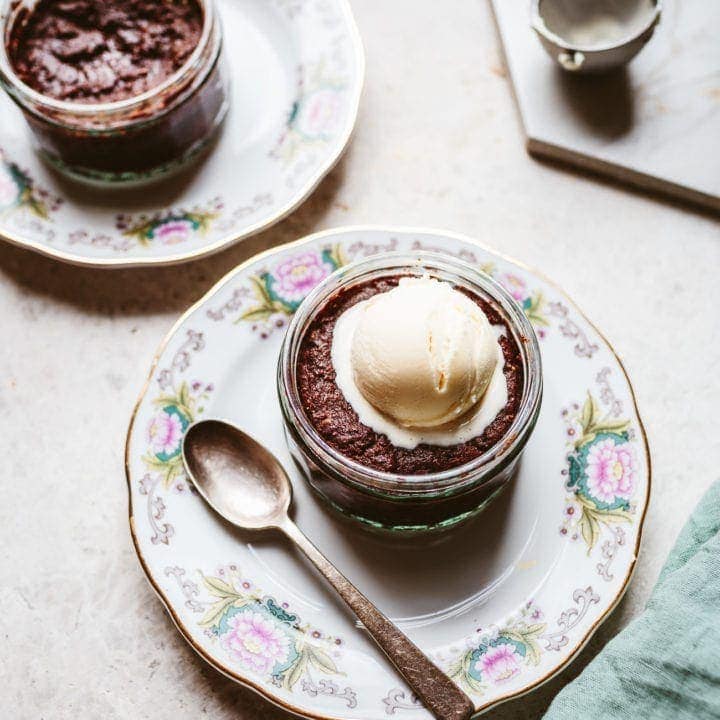 Ingredients
45

g

(3 tbsp) aquafaba (the liquid from a can of cooked chickpeas)

a pinch salt

20

g

(1 tbsp + 1 tsp) granulated sugar

50

g

(1.7 oz) dark chocolate (70% cocoa solids)

15

g

(1 tbsp) oil (I use refined olive oil)

1

tbsp

non-dairy milk

1

tsp

vanilla extract

1/4

tsp

baking powder

10

g

(1 tbsp) plain white flour

20

g

(2 tbsp + 1 tsp) ground almonds
Instructions
If baking now - preheat the oven to 180oC (350oF). You'll need 2 small ramekins for this recipe.

Place the aquafaba in a large bowl. Whisk with an electric whisk until it starts to froth up. Add the salt and keep beating for 1 minute. Slowly stream in the sugar a little at a time as you continue to whisk - keep it going until you get stiff peaks in the mixture (this will take a bit longer than whisking egg whites usually does - just keep going and it'll get super fluffy and stiff).

In a microwave safe bowl, melt the chocolate on a low heat in the microwave, taking it out to stir every 20 seconds to prevent it burning. Mix in the oil, vanilla and milk. Pour the chocolate mixture around the inside edge of the bowl of whisked aquafaba.

Sift the flour, baking powder and ground almonds into the bowl of whisked aquafaba. If you have some pieces of ground almond which didn't get through the sieve you can pour those into the bowl too.

Fold everything together gently, taking care to deflate the aquafaba as little as possible. Once no white streaks remain, divide the mixture between 2 small ramekins

If baking now - place the ramekins on a baking tray and into the oven. Bake for 8-12 minutes until the edges are set but the centre is still gooey. Eat immediately (with non-dairy ice cream!)

If not baking now - place into the fridge for up to 5 days. (When you do bake as usual - you'll need 10-12 mins).