After going on my sourdough brownie quest last year, I then ended up adding sourdough starter into other bakes to see what would work. The next thing I tried was a banana bread – I subbed some into Milli Taylors IG-famous banana bread but it didn't seem right in the context of such a buttery loaf. I then tried it out in my regular banana bread which I thought was a much better fit. By that point, I had run out of bananas and completely abandoned my banana bread experiment!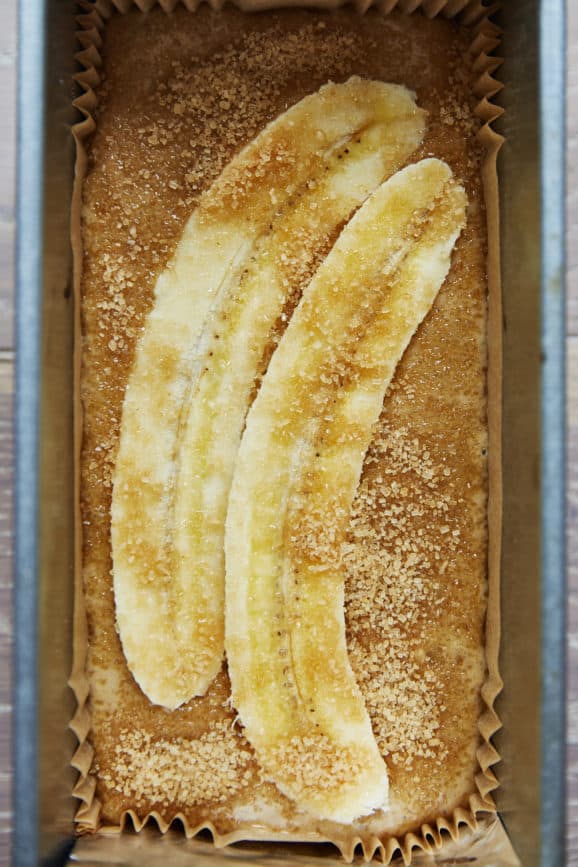 Fast forward to now when everyone is baking either sourdough or banana bread and it seemed like it would be the right time to pick my testing back up! I used a vegan banana bread recipe from my first book and altered things to make use of my discard which had been collecting in the fridge. It worked fabulously and I tried it a few more times, changing and testing a few things along the way. So, I have some notes!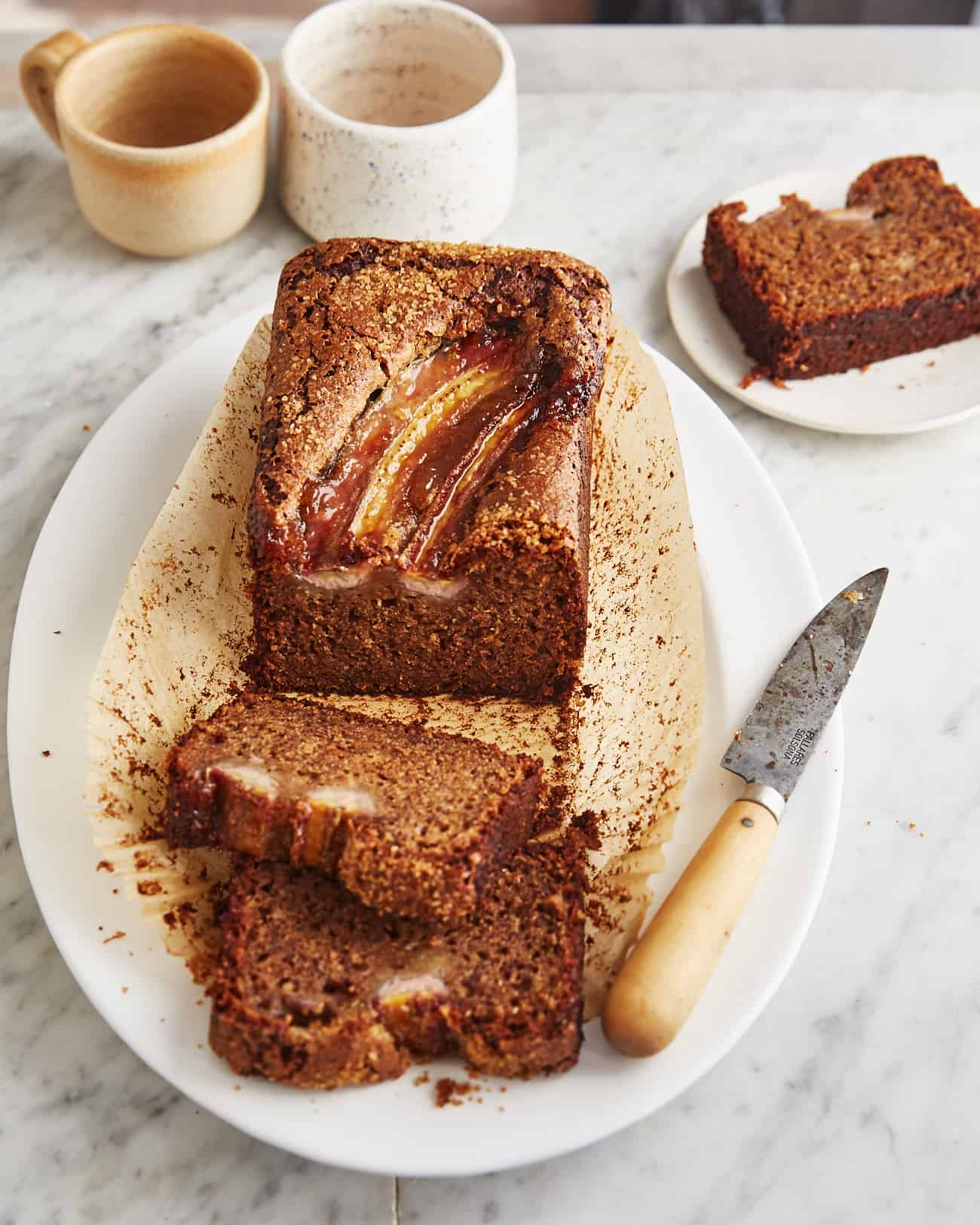 You can bake this as a loaf or as muffins. I think I prefer muffins as loaves are more prone to sinking, I find, mostly because it's harder to tell when a loaf is baked! Also loaf tins vary WILDLY so the baking times can vary a lot more. Muffins seem to be more consistent but it's up to you and your preferences/which baking tins you own. If you're a beginner baker and have a muffin tin, I would opt for them first, then try a loaf out another time.
You can leave the batter in the fridge to actually ferment. Leaving it for ~6 hours seems to make it taste sweeter but an overnight rest (8-12 hours) means you get more of a tang in there.
You can use many types of flour in the batter, as long as your sourdough is a mostly wheat-based starter (I use a 50:50 white wheat flour : dark rye flour blend for my starter). I've tried this with just buckwheat, a mixture of buckwheat & gram flour, and just straight up plain white flour and they all worked well.
I like to decorate the top of a banana bread loaf with a sliced banana which is definitely optional and is mostly for aesthetics. I also sprinkle the top with demerara sugar for that crispy crust and that's also optional (but recommended!!) – make sure you sprinkle a good amount on the sliced banana surface so they get nicely caramelised in the oven.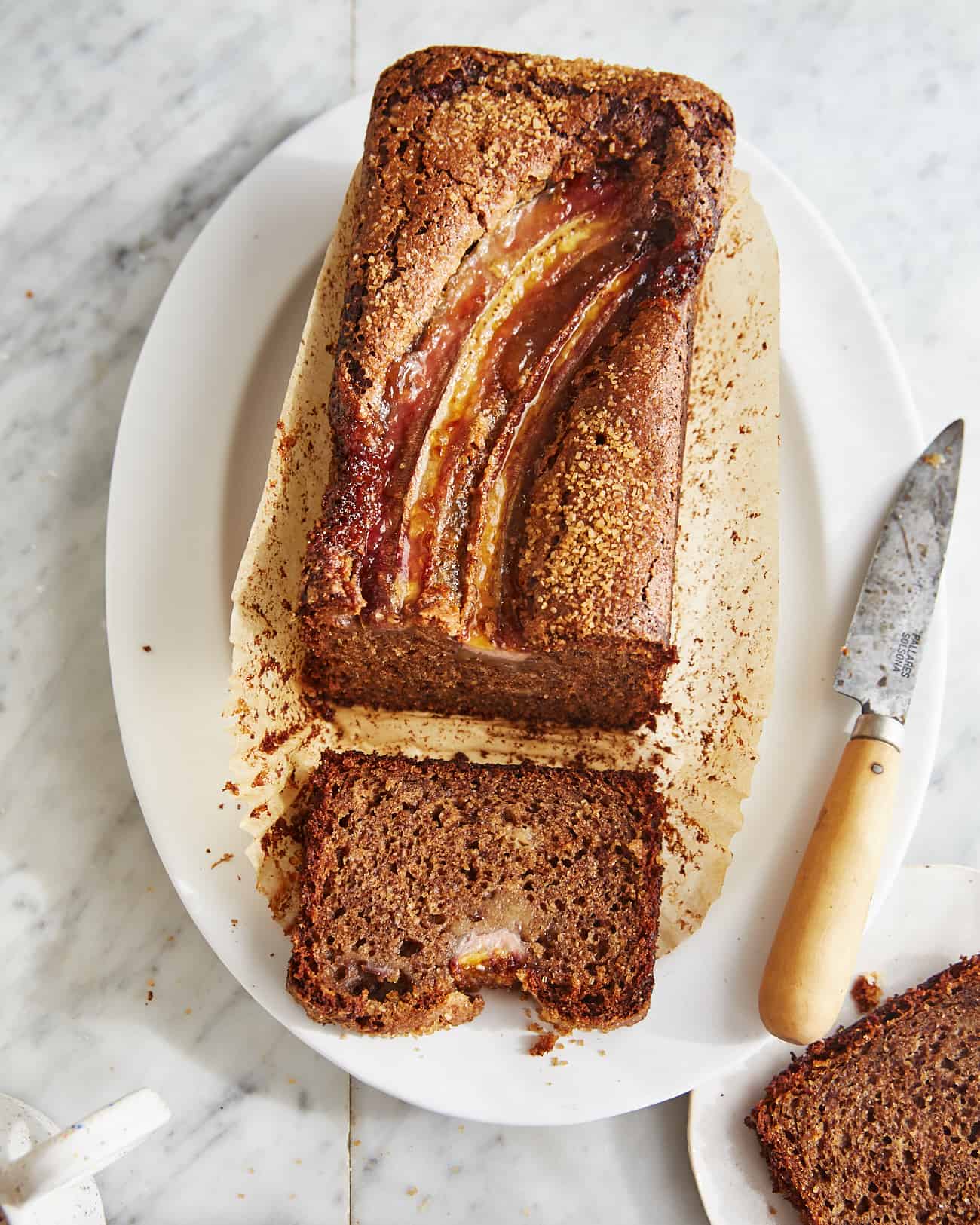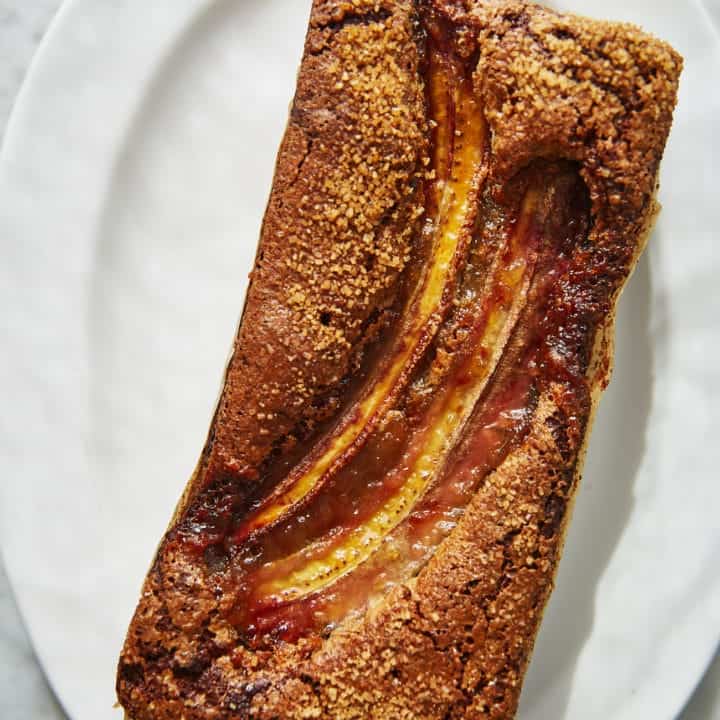 Sourdough Banana Bread (vegan option)
Total Time:
1 hour
10 minutes
Ingredients
2 medium or 3 small overripe bananas (220-240g peeled weight* see notes for cups and for if you don't have enough banana)
150g (3/4 cup) light brown sugar, granulated sugar or caster sugar
90g (1/3 cup + 2 tsp) neutral oil or light olive oil
1 tsp ground cinnamon
1/4 tsp fine table salt
150g (3/4 cup) sourdough starter/discard (100% hydration)
120g (1 cup) plain white flour (see notes for subs)
1 tsp bicarbonate of soda (baking soda)
Topping (optional):
1 small banana, peeled & halved down its length
2 tbsp demerara (raw) sugar
Instructions
Preheat the oven to 180°C fan (350°F). Grease a 2lb loaf tin with some oil and line with a sling of baking paper.

Hand mixing method:
Peel the bananas and place onto a large plate or cutting board. Use the back of a fork to mash them until you get a glossy paste which only has a few small lumps remaining. Scrape all of the mashed banana into a medium bowl.
Add the sugar, oil, cinnamon and salt. Stir together until smooth.
Add the sourdough starter, flour and bicarbonate of soda (baking soda) to the bowl. Stir together until combined but try not to overmix.

Food processor mixing method:
Add the bananas, sugar, oil, cinnamon and salt to the bowl of the food processor. Blitz until smooth. Add the sourdough starter, flour and bicarbonate of soda (baking soda) and blitz until just combined. Scrape down the sides of the food processor to make sure everything is incorporated

Bake the loaf:
Pour the batter into the prepared loaf tin. If using the toppings, decorate the top of the loaf with the sliced bananas (placing them on cut side-up) and sprinkle the top of the batter all over with the demerara sugar. Put the loaf tin on a baking tray (I like to do this just in case any batter overflows).
Bake for 55-70 minutes until a toothpick inserted into the centre of the loaf comes out clean - try to avoid the sliced banana on top when inserting the toothpick so you're only testing the batter. If the loaf looks like it's browning too much but is not cooked through yet, tent the top with foil for the last 20 minutes of baking.
Allow to cool before removing from the tin, slicing and serving.

For muffins:
Line a 12-cup muffin tin with paper muffin liners. Divide the batter among the muffin liners. You can sprinkle the tops with demerara sugar and coins of banana, if you'd like.
Bake for 25-30 minutes, until a toothpick inserted into the centre of the muffins comes out clean
Notes
Mashed bananas - cups measurement: the volume of banana needed, once mashed into a glossy paste, should be around 3/4 cup plus 2 or 3 tablespoons (i.e. a scant cup).
If you don't have enough banana, make up the missing weight/volume with some yoghurt (non-dairy if you're vegan).
Fermented version: if you want that tang of sourdough here, combine all the ingredients EXCEPT the bicarbonate of soda as instructed. Leave the batter for 8-12 hours in the fridge. Once ready to bake, preheat your oven and stir the baking soda into the batter. Bake as usual. The resting period allows the sourdough microorganisms to ferment the sugars in the batter to form acid which will give your loaf a bit more tang!
Non-Vegan option: use 100g butter, melted, in place of the oil.
Flour: you can use a blend here or even an alt flour. I've used all buckwheat flour and all chickpea flour before which has worked well. I think rye or spelt flour (and obviously wholemeal pastry flour) would also work. The main flours I would avoid for this would be any type of bread flour which will make the loaf too dense. Please ask me if you need help with substitutions!
Sourdough starter: I have a 100% hydration, wheat & rye sourdough starter. I save up the discard in the fridge for a few weeks and then bake with it for this banana bread (so your starter doesn't need to be recently fed in order to make this recipe).