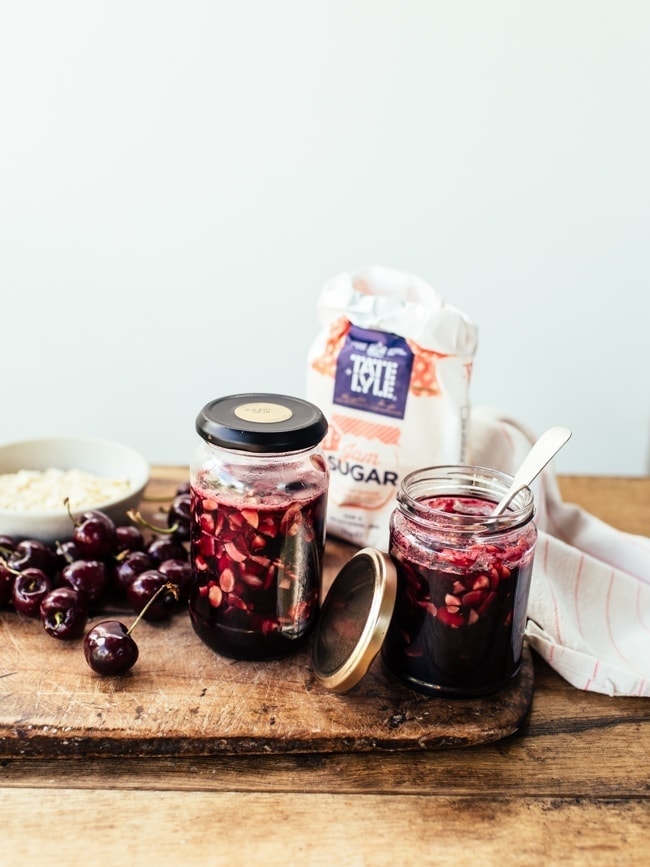 When I was at secondary school, I took Food Technology as one of my GCSEs. There were only 5 of us in the class (everyone obviously hated cooking hahah) but we got recruited to help make jam to sell at the school's Christmas Bazaar. I remember having to stir up huge vats of the stuff and we made some delicious jars of classic preserves – lemon curd, mango chutney, strawberry jam…
One which struck me by surprise was an apricot jam we made using dried apricots with flaked almonds stirred in right at the end. I'd never seen that before but it stuck with me.
So that's partially where the inspiration for this jam came from – a little twist on the classic cherry jam! In the UK we have a delicious pastry called Bakewell tart which, if you haven't heard of it before, is a shortcrust pastry case with a layer of cherry jam topped with frangipane (an almondy, buttery cake). It is delicious as that pairing of almond with stone fruits works so amazingly together so I thought 'why not make a Bakewell-flavoured jam!?'. And man, it is SO GOOD on toast with a bit of almond butter underneath too.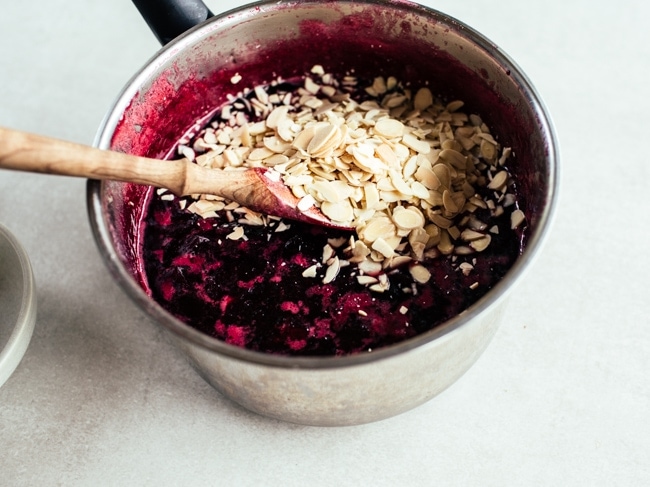 My dad and I always use Tate & Lyle's Jam Sugar for jamming because it contains added pectin so it's perfect for low-pectin fruits (e.g. loganberries which my dad grows on his allotment!) to help the jam gel and set. #FoodScienceFact – pectin is actually a form of dietary fibre and is mainly found in something called the 'middle lamella' which is a kind of jellyish bit situated between plant cells to stick them together – it's really high in the white pith of citrus fruits! Also of course you need the sugar to preserve the jam (another #FoodScienceFact – sugar helps with preservation by lowering something called the 'water activity' which is essentially the amount of water which is available to microorganisms to use for energy. Salt also does this which is why high salt/high sugar foods keep well).
This year Tate & Lyle are launching their 'Great British Jam Awards' to inspire the UK to get their jam on – open from June 14th – July 6th (winners announced on July 12th). So if you're in the UK make sure you give jam making a go this summer so you can enter their contest and win some great prizes!
For more information check out WeLoveBaking on Facebook, full terms and conditions here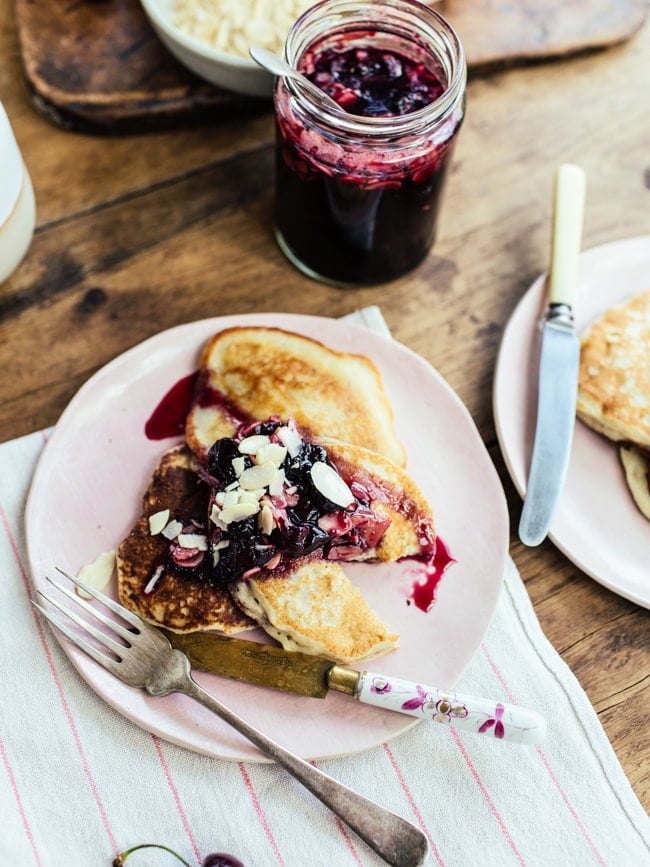 Ingredients
1.2

kg

fresh cherries

(or 1 kg frozen, pitted cherries)

1

kg

Tate & Lyle Jam sugar

1

lemon

, juiced

80

g

flaked almonds

2

tsp

almond extract
Instructions
Remove any stems from your cherries. To pit the cherries, place them over the open mouth of a clean, empty glass bottle (e.g. a beer bottle) facing upwards. Use a chopstick to poke through the cherry so that the pit pops out straight into the bottle. Repeat with the rest of the cherries - you should end up with roughly 1kg of cherries.

Place the pitted cherries into a large pot with the sugar and lemon juice. Place over a low heat and stir occasionally until it starts to bubble. As you start to see juice coming out of the cherries, turn the heat up. Keep stirring occasionally until the jam just starts to simmer then turn the heat down to low and leave to simmer. Let it simmer for 20-30 minutes until it has thickened and will coat a wooden spoon with a jammy layer.

You can test if the jam is done by placing a small plate into your freezer for 5 minutes so it gets nice and cold. Scoop a spoonful of jam onto the plate. Let it sit there for a minute to cool then push with a finger - if the jam wrinkles and leaves a clear line it's done, if it is still liquidy it needs to be cooked for longer.

Remove from the heat and stir in the almonds and almond extract. Divide between sterilised glass jars and leave to cool. Store at cool place for up to 3 months.
*Thanks to Tate & Lyle for sponsoring this post, and you guys for supporting my blog! All opinions are my own 🙂