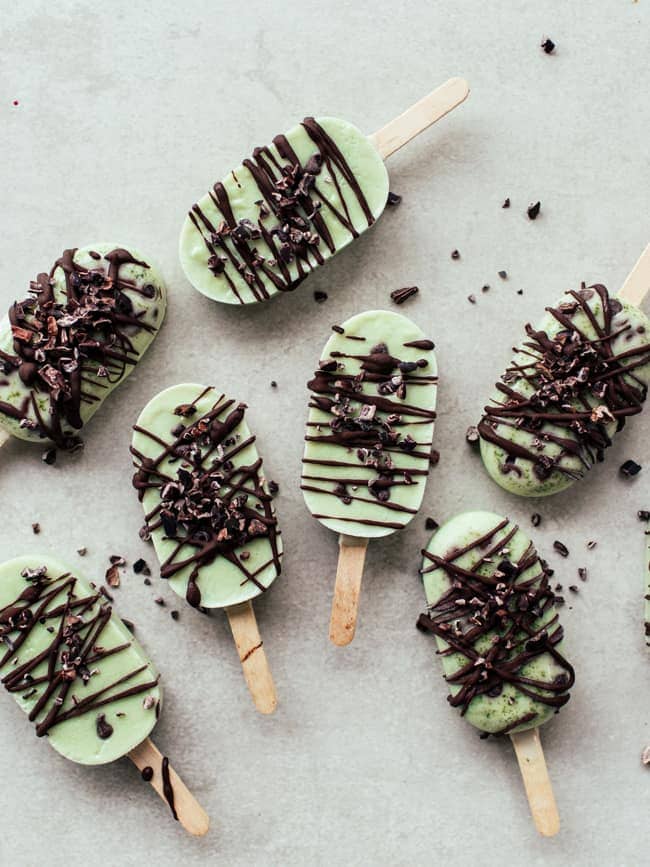 I've been in New York for a week doing promo for The Savvy Cook which was really fun but also HOT. I've never experienced summer in New York before so now I totally understand why people try to get the heck outta town when it heats up! The only positive thing about weather this warm is that ice cream and iced coffee are appropriate every day.
I made these popsicles just before I went away because I was planning ahead for the annual popsicle week that Billy organises! and have been thinking about them a lot – I knew I still had some in the freezer to come home to which was great because London has been having a heat wave, too. They're extra refreshing because of the fresh mint in there and because they're popsicles, they're a lot easier to make! I added matcha too, just for that pale green colour, but leaving it out is just as good too.
As it's popsicle week, there are a huge number of other new popsicles floating around the internet right now so check them out over here! My past popsicle week posts can be found here, here and here! And if you make these popsicles & post to social media, don't forget to tag me (@izyhossack) so I can see them 🙂
Ingredients
a pinch salt

1/4

cup

(50g) granulated sugar

a 14oz can

(400ml) coconut milk

1/2

cup

(a large handful) fresh mint leaves

2

tsp

matcha powder

, (optional)

1/3

cup

(50g) mini dark chocolate chips

1

oz

(30g) dark chocolate, melted

3-4

tbsp

cacao nibs

(or more mini chocolate chips)
Instructions
In a medium pot, heat the salt, sugar, and coconut milk over a medium-low heat, stirring occasionally. Once the mixture is gently steaming take it off the heat and add the mint leaves. Set aside for 30 minutes.

Place a strainer (sieve) over a medium bowl and pour the coconut milk mixture through it to remove all the mint leaves. Press on the leaves to push out all that goodness. Discard the leaves.

If using the matcha powder (just for colour, really) - place it into a small bowl or mug and gradually stir in a few table spoons of hot water to get a smooth mixture. Pour this into the bowl of coconut milk mixture and stir through. Leave to cool completely.

Pour the cooled popsicle mixture into your popsicle moulds. Drop in the chocolate chips, dividing them between all the wells of the popsicle moulds. Freeze for at least 4 hours (inserting the popsicle sticks about an hour in).

Remove the frozen popsicles from the moulds and place onto a lined baking tray. Place the melted chocolate into a sandwich bag, snip off one tip and use like a piping bag to drizzle over the popsicles - decorating with the cacao nibs immediately after drizzling as the chocolate sets super fast. Place back into the freezer/eat!