Summer heat is taking over London at the moment! I think we're all pretty confused in the UK because we can't complain about it being cold and rainy? Also I've been watching some of the Wimbledon tennis here & there and man, the poor tennis players must be having peak times in the 30-degree heat :/
I'm finally getting a few days to myself with no work to do and just being able to see my friends from home for a bit. Also got my exam results and am SO relieved that they went well so I can officially relax for the summer time. Summer for me always involves copious amounts of iced coffee, lots of courgettes from my dad's allotment and strawberries!! The strawberry & cream pairing is an iconic summer flavour in the UK, especially around Wimbledon.
I made a trio of strawberry recipes for M&S which I'm reposting here for your guys to see. First up are these strawberry & rye scones. My favourite basic scone dough with fresh strawberries layered in. They're best served warm with salted butter (and jam if you want more sweetness!).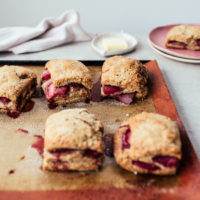 Ingredients
200

g

(7oz) strawberries, hulled

180

g

(1 1/2 cups) plain white flour (all purpose flour), plus extra for dusting

120

g

(1 cup) dark rye flour

3

tsp

baking powder

1/4

tsp

salt

3

tbsp

granulated sugar

, plus extra for sprinkling

100

g

unsalted buter

, cold, cubed

2

eggs

100

ml

(1/3 cup plus 1 tbsp) plain yogurt, plus extra for brushing
Instructions
Preheat the oven to 180 C (350 F), line a baking tray with baking paper. Slice each strawberry into 3 or 4 slices.

In a large bowl, combine the flours, baking powder, salt and sugar. Add the butter to the bowl and use your fingertips to rub the butter into the dry ingredients until it's mostly fine-textured with some pea-sized lumps of butter remaining.

Make a well in the middle of the ingredients and crack in the eggs and add the yogurt. Stir together just until you've mixed in most of the flour but there are still floury patches remaining. This is a very moist, soft dough!!

(See pics above for this step!) Dust a clean work surface well with flour and tip the contents of the bowl out onto it. Dust the top of the dough with more flour and roll it out into a rectangle roughly 40 x 20 cm (you should really be able to pat the dough out with your hands given how soft it is, in fact!). Lay half of the sliced strawberries down the middle third of the dough. Fold the left third of the dough over the top of the strawberries to cover them. Lay the rest of the strawberries onto the flap of dough you just folded over. Fold the right third of the dough over these strawberries to cover them. You should end up with alternating layers going: dough, strawberries, dough, strawberries, dough.

Cut into 8 equal rectangles using a large knife or bench scraper. Spread them out over the baking paper so they aren't touching. Brush the tops of the dough with a little yogurt and sprinkle with the extra sugar. Bake for 20-25 minutes until dark golden. Serve warm.