Crispy, warmly spiced and golden-hued waffles for the spooky season! Gotta get as much pumpkin spice into your mouth hole before everyone starts talking about Christmas, right?
As the batter is flavourful for these crispy pumpkin waffles, I prefer minimal toppings. A bit of maple syrup, some pecans, maaaaybe a bit of yogurt. But really just salty butter + syrup are perfect on here.
I first made these waffles at an event that Rachel Khoo hosted last year to celebrate the launch of her book, the Little Swedish Kitchen. We used butternut squash puree on the day but here I've used canned pumpkin puree to make life easier. If you happen to have some roasted or steamed squash (or even sweet potato/ carrot) you can blend that up into a homemade puree and use in the recipe below.
I've tweaked the recipe slightly from Rachel's by using vegetable oil instead of butter (just so I have one less dirty dish), using slightly more yoghurt instead of buttermilk. Of course I also added pumpkin spice to the batter for that extreeeeme Autumnal flavour. I know it's impossible to get pumpkin spice mix in the UK so I've got suggestions at the bottom of the recipe for a substitute (plus a DIY version).
Other Pumpkin Spice Goodness:
– Pumpkin Spice Pour-Over Coffee
– Salted Caramel Pumpkin Spice Cake
– Pumpkin Spice Baked Doughnuts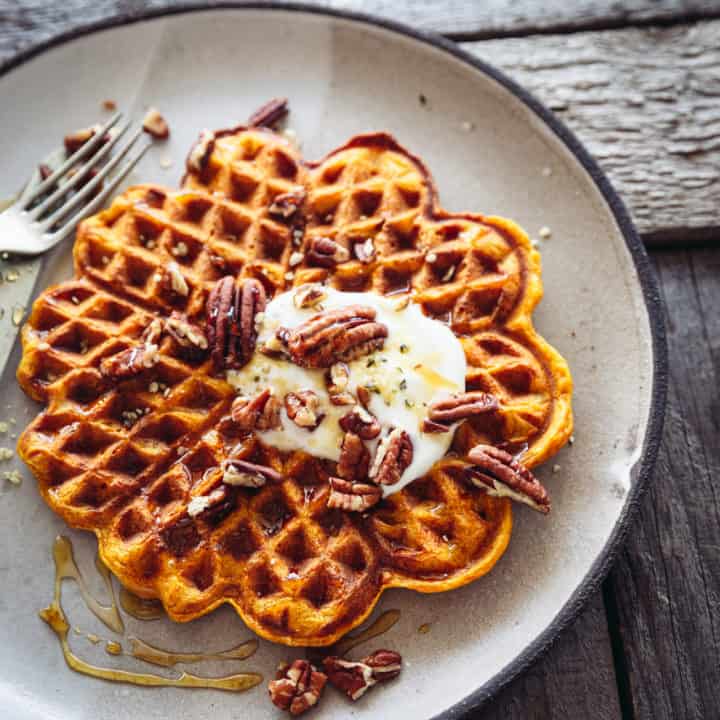 Ingredients
300

g

(1 1/4 cups) pumpkin puree

60

g

(1/4 cup) vegetable oil or melted butter

250

g

(1 cup) plain yoghurt

150

g

(2/3 cup) milk

2

medium UK eggs

(large US eggs)

1/2

tsp

fine table salt

2

tsp

pumpkin spice mix

(see notes)

200

g

(1 2/3 cups) wholemeal (wholewheat) pastry flour (see notes)

2

tsp

baking powder
Instructions
In a large bowl, combine the pumpkin puree, vegetable oil, yoghurt, milk, eggs, salt and pumpkin spice mix. Stir until smooth. Add the flour and baking powder and fold together until just combined.

Preheat your waffle iron. Brush with a bit of vegetable oil and scoop in some of the batter (usually 1/3 cup/80ml is right for my waffle iron). Cook according to the manufacturers instructions - for me, this batter takes 4-5 minutes to cook through. Repeat until all the waffle batter has been used up.

Keep waffles warm on a baking tray in a low oven, until you're ready to serve them. Serve warm with salty butter and a drizzle of maple syrup
Notes
1. Recipe very slightly adapted from Rachel Khoo
2. Pumpkin Spice Mix:
- if you're in the UK it's hard to find pumpkin spice mix. You can use 'mixed spice' which is pretty similar or make your own spice blend by following this recipe: 1/2 tsp ground cloves,  1/2 tsp ground allspice,  1 tsp freshly grated nutmeg,  1 tbsp ground ginger,  3 tbsp ground cinnamon. Store in a lidded jar, using as needed.
3. You can use plain (all purpose) flour in the batter if you don't have wholemeal.