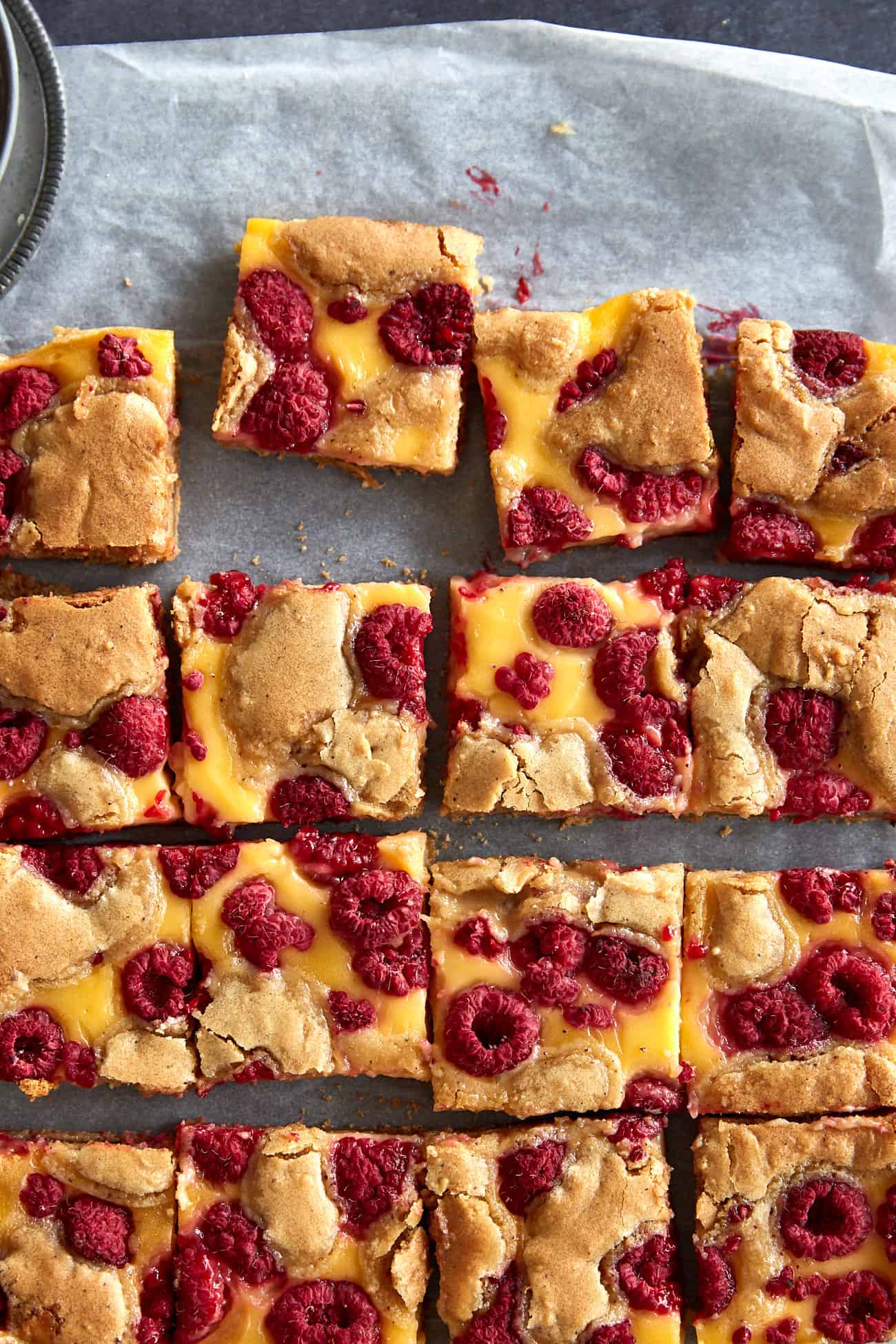 A fudgy vanilla blondie batter swirled with tart raspberries and creamy custard.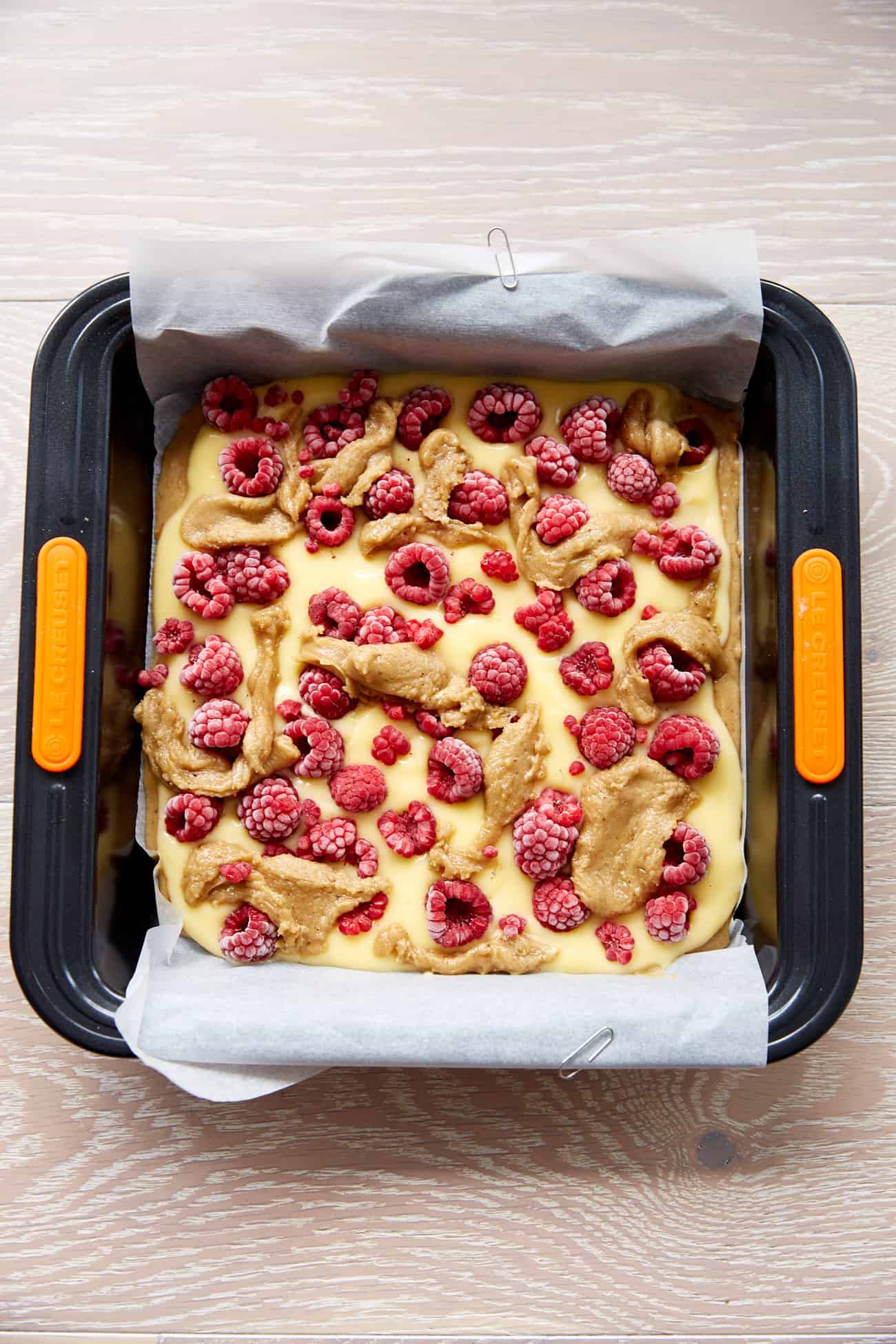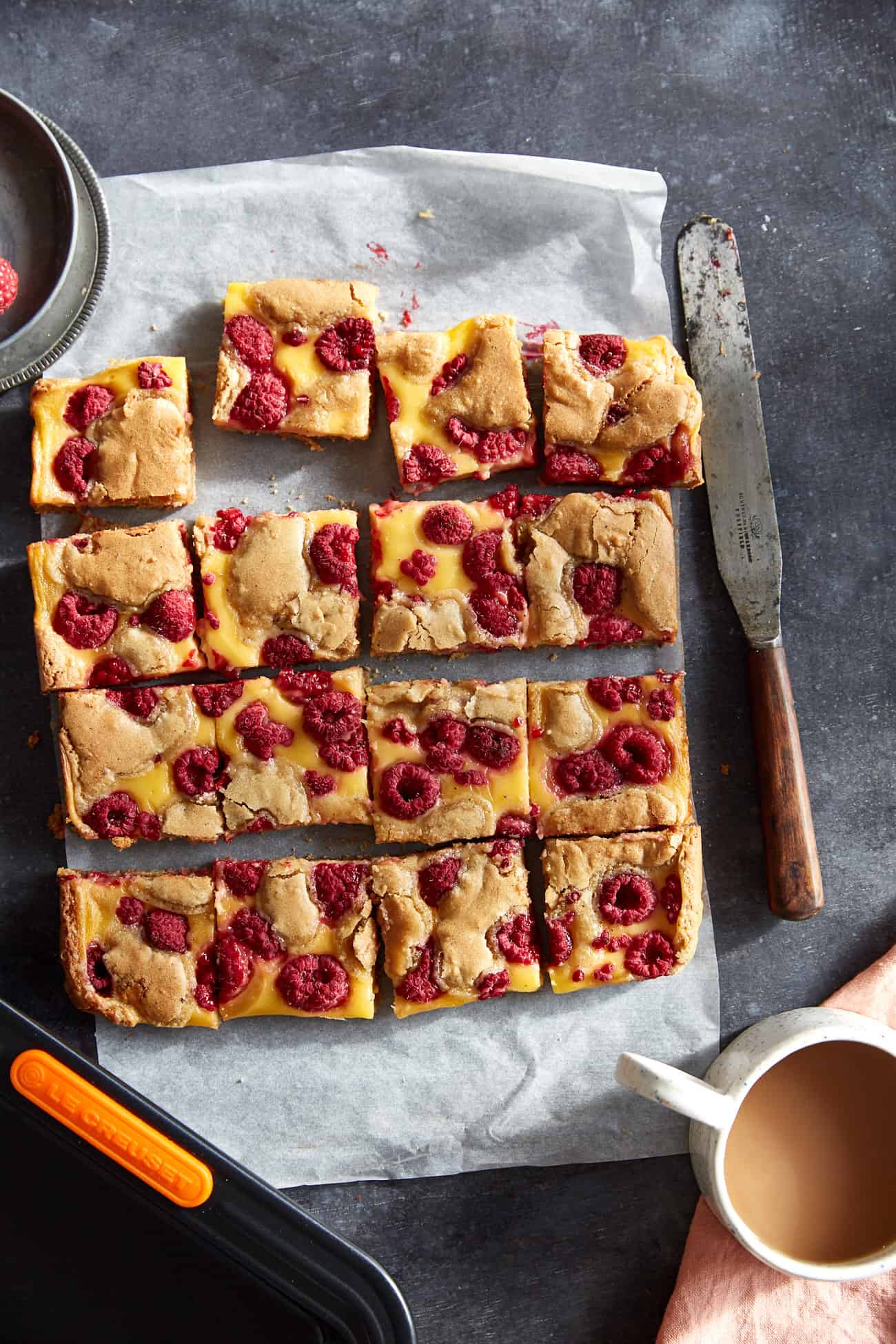 I made these tasty numbers for a collaboration with Le Creuset I'm doing on instagram at the moment. I thought it would be a shame not to share the recipe on here too so it's easily accessible for all!
The batter comes together in a pinch, just melted and stirred together on the stove top. I use custard powder for a very quick (and nostalgic) custard which goes in the middle of the bars. If you want you can make custard from scratch or buy the pre-made stuff from the fridge section of the supermarket! The tangy raspberries really help to offset some of the sweetness from the batter and makes these casual bars feel a bit more dessert-y.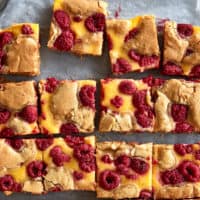 Ingredients
Custard:
200

ml

(3/4 cup plus 1 tbsp) whole milk

3

tbsp

instant custard powder
Batter:
110

g

(1/2 cup) unsalted butter

220

g

(1 cup) light brown sugar

1

medium UK egg

(large US egg)

Zest of 1 lemon

125

g

(1 cup) plain white flour

¼

tsp

fine table salt

150

g

(5.3 ounces) raspberries
Instructions
Preheat the oven to 200°C / 180°C fan/ gas mark 4 / 350°F and line your Le Creuset 23cm (9-inch) square cake tin with baking paper.

Make the custard:
Combine the milk and custard powder in a medium saucepan. Heat over a medium-low heat, whilst whisking to prevent lumps, until thickened. Pour into a bowl and set aside to cool.

Make the batter:
Rinse out the saucepan you were using for the custard and place back onto the stove. Add the butter to the saucepan and allow to melt over a low heat. Keep cooking until the butter foams up and smells nutty, then stir to prevent the milk solids from sticking to the bottom of the saucepan. Once the foaming subsides, remove from the heat and set aside to cool.

As you wait for the butter to cool, combine the light brown sugar, egg and lemon zest in a medium mixing bowl. Whisk together until smooth and slightly pale. Add in the cooled, melted butter and stir until combined. Add the flour and salt and stir in to make a thick batter.

Assemble and bake:
Pour most of the batter into the prepared tin, reserving a few tablespoons for topping later on. Spread the batter out into an even layer then pour the cooled custard over evenly. Sprinkle on the raspberries and randomly dot with spoonfuls of reserved batter on top.

Bake for 25-35 minutes, until golden brown on top but still slightly squidgy (the custard will remain slightly gooey so a skewer test won't work here). Allow to cool then slice into 16 squares and store in an airtight container in the fridge for up to 5 days.



Notes
Allergens: milk, wheat, gluten, eggs