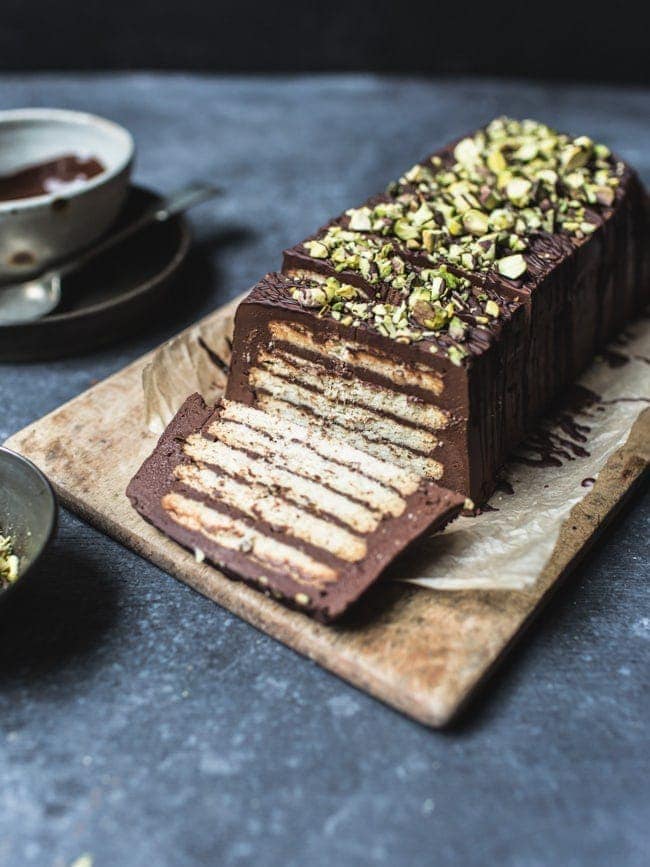 Sometime this week, amidst running to the supermarket between lectures, stuffing my face with butternut squash, hunting for pinhead oats and writing my first lab report, I made cake.
I say cake with an air-quotey undertone because it was this fridge cake.
Fridge cake, a.k.a. tiffin isn't really cakey, just sliceably soft. In normal fridge cake recipes, digestive biscuits are crumbled and bathed in a rich mixture of melted chocolate, butter and occasionally nuts or dried fruits. You then leave it in the fridge to set, hence the name. It's the British interpretation of an ice-box cake (although not quite the same).
The thing is, I always find fridge cake waaaay too cloying. It's pretty much like eating a massive chunk of chocolate truffle punctuated with stupid, chocolate-ruining raisins. SO what if we remove some of that intense fattiness by replacing the butter with tofu?? WIZARDRY IS WHAT. I wasn't sure how it'd set-up, having only seen tofu used like this in various vegan chocolate 'cream' pies before where all the photos look like goo-central. BUT I used quite a high ratio of tofu: chocolate and it worked like a dream!
For my fridge cake, I stuck to using good old plain digestives (as McVities kindly sent me a pack of them along with some chocolate & nuts) but if you're not eating dairy, any plain dairy-free cookie will do! Heck, even chocolate cookies would be buff as in this. I mean you can always add some raisins too if you must, just don't tell me you did it.
Notes:
you may only need to add the golden syrup of you are using chocolate with a very high cocoa content. As I was using Green & Blacks 85%, I added the golden syrup. If you use a chocolate with a cocoa content of 60% or lower, you probably won't need it.
To veganise: use vegan vanilla or chocolate cookies (store bought or homemade) in place of digestive biscuits.
Ingredients
220

g

(8 oz) firm silken tofu

2

tbsp

golden syrup or maple syrup

, (see notes)

200

g

(7 oz) very dark chocolate (I used 85%), melted

1

tsp

vanilla extract

pinch

of salt

2 to 4

tbsp

of water

10 to 15

digestive biscuits
To Decorate:
20

g

dark chocolate

, , melted

handful of pistachios

, , chopped
Instructions
Cut the tofu into 3 or 4 slabs. Place the slabs on a paper towel-lined plate or cutting board and cover with more paper towels. Place another plate or cutting board on top and then place something heavy (like a saucepan filled with water) on top of that. Leave the tofu to drain for 30 minutes.

Place the drained tofu into a blender with the golden syrup, chocolate, vanilla and salt. Add 2 tbsp of water and blend again. The mixture should have the consistency of a thick-yet-spreadable ganache - blend in the remaining water if the mixture seems too thick.

Line a small loaf tin or small round cake tin with cling film (plastic wrap). Spoon a few tablespoons of the tofu ganache into the base of the tin and spread it out into an even layer. Add a layer of digestive biscuits (I could fit 2 into the base), then layer with the ganache. Continue layering biscuits and ganache until you've used up all the ganache. (You may need to break biscuits in half to get them to fit into the pan!). Chill the cake for at least 4 hours, preferably overnight.

Unmould the cake and remove the cling film. If desired, use a hot palette knife (dip it into boiling water for a few seconds then wipe dry) to smooth the outside of the cake. Drizzle with the 20 g of melted chocolate and quickly sprinkle with the pistachios then leave to set. Finally, slice & serve! Store any leftovers in the fridge.