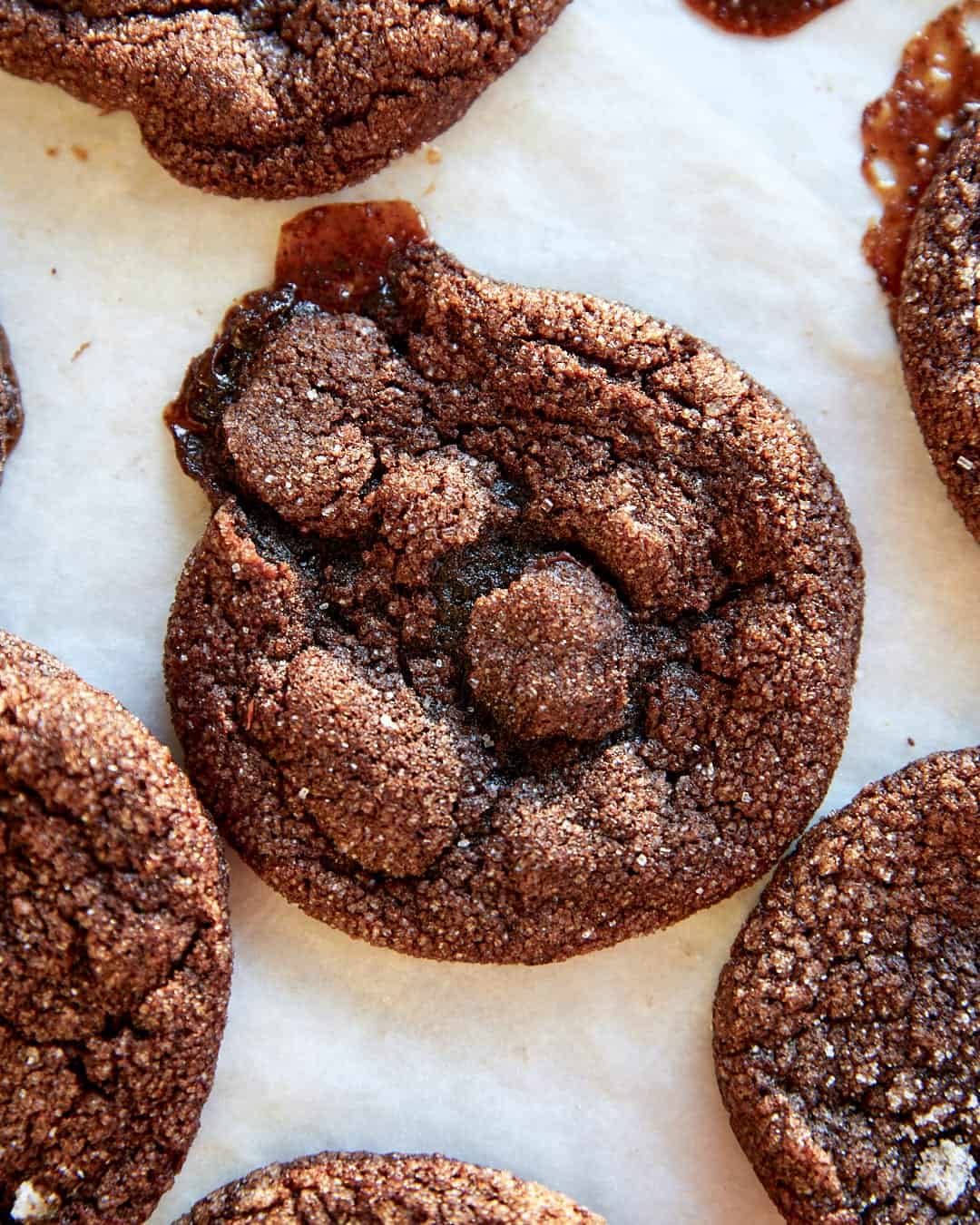 Thanks to Pact coffee for sponsoring this post
Around Christmas time I love baking cookies which bring me back to my childhood. One of my mum's classics was a chocolate-cinnamon crinkle cookie, rolled in granulated sugar to give them a chewy crust and sparkly appearance. They're almost like a chocolatey cousin of a ginger cookie in that sense, and the hint of cinnamon in there gives them that warm spiced flavour.
I've used the recipe for that base dough here but made things extra special by cooking up a soft caramel infused with ground coffee beans (from Pact Coffee) which I stuffed into each cookie dough ball before baking. The result is an even chewier cookie with patches of coffee caramel layered within.
Pact Coffee is a flexible coffee subscription service which champions high quality beans and treating farmers fairly (paying them 25-125% above Fairtrade rates!). As I have a coffee grinder (thanks to my incredibly generous neighbour who gave us one a few months ago), I opted to try their wholebean coffee. However, you can order whichever form of coffee you need, from different grinds to Nespresso-compatible pods. If you like a specific type of coffee you can also refine your search as you browse their site to filter by roast, flavour profile or origin. If, like me, you don't really know *what* to look for, you can try out a coffee, give it a rating and, based off of that, they'll select your next coffee.
If you want to give pact a go yourself, you can use my discount code of 'IZY' to get £5 off your first bag of coffee! (NB. I don't get a kickback from this, it's just for you to enjoy).
The coffee I used in the caramel was the Christmas blend, which has tasting notes of Christmas pudding (think cosy spices and molasses-y dried fruits). It was the perfect pairing for the bitterness of the cocoa and the warmth of the cinnamon. I have to say that the experience is made even better if you have a cup of the same coffee alongside the cookies so you really taste all the flavours!! The Christmas blend is available for a limited time and was created to support Mental Health Foundation, donating 50p from every bag sold to the charity. 
I hope you give the cookies (and coffee) a go and that they bring you a little bit of cosy comfort this winter!
Mocha Caramel Cookies
A chewy chocolate cookie, packed with chocolate chips and filled with a coffee caramel centre.
Print
Pin
Ingredients
Caramel:
75

g

granulated sugar

20

g

golden syrup

20

g

water

75

ml

single cream

(or soy cream)

10

g

unsalted butter or vegan butter

10

g

ground Pact Christmas Blend coffee beans
Cookie dough:
110

g

unsalted butter or vegan butter

, softened

100

g

dark brown sugar

50

g

granulated sugar

1

tsp

ground cinnamon

½

tsp

fine table salt

4

tbsp

aquafaba

(or 1 egg)

40

g

unsweetened cocoa powder

80

g

golden syrup

210

g

plain white flour

1 ½

tsp

bicarbonate of soda

100

g

dark chocolate chips

~50g granulated sugar

, for rolling
Instructions
First make the caramel:
Line a loaf tin with baking paper and set aside.

Place the sugar, golden syrup and water into a medium pot and place over a medium heat on the stove. Stir only until the sugar dissolves then leave to bubble away – you want it to reach 116°C.

Meanwhile, place the cream, butter and ground coffee beans into a small pot and bring to a simmer. Take off the heat and leave to infuse.

Once the sugar mixture is up to temperature, strain the cream mixture through a fine mesh sieve to remove the majority of the coffee grounds. Add the cream to the hot caramel and stand back as it may bubble up.
After the bubbles have subsided, mix together and put back on the heat. Bring the mixture up to 116°C again then remove from the heat and pour into the lined loaf tin. Leave to cool then freeze so the caramel sets up.
Make the cookie dough:
Cream the butter and sugars together in a large bowl until smooth. Stir in the cinnamon, salt, aquafaba (or egg), cocoa powder and golden syrup. Lastly mix in the flour, bicarb and chocolate chips to get a soft dough.

Chill the dough for at least 30 minutes or up to 24h to help it firm up.

Once the dough has chilled, line two baking trays with baking paper and preheat the oven to 180C fan.

Remove the caramel from the freezer and cut into 20 chunks.

Scoop 2 tbsp worth of cookie dough and roll into a ball. Make an indent in the centre and pop the piece of caramel in there, squeezing the cookie dough around it to cover and seal the caramel within the dough. Repeat with all the cookie dough and caramel

Place the 50g of granulated sugar into a shallow dish and roll each cookie dough ball lightly in the sugar. Set the cookie dough balls onto the baking trays spacing them about 6cm apart to allow for spread.

Bake for 10-12 minutes until the edges are set but the centres are still soft. Leave to cool on the tray for 5 minutes before removing to a cooling rack.

Store in an airtight container for up to 1 week.