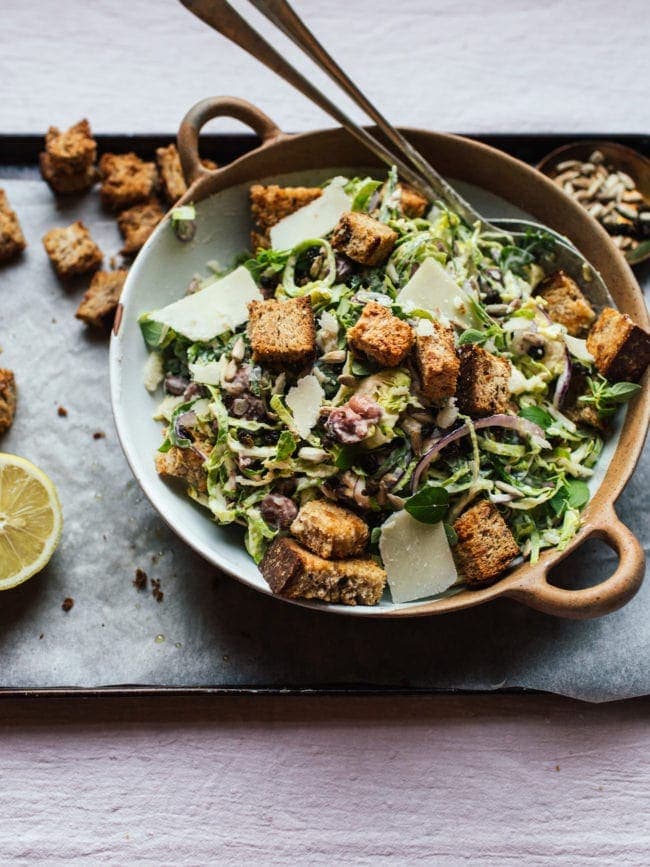 Did you know that I used to hate salads? I just didn't see the point of eating a bowl of leaves which a) didn't taste of anything and b) didn't fill you up. It's not surprising this was my view as the only time I'd tried it was at school where 'salad' meant a bowl of iceberg lettuce – no dressing, no additions. Literally just the worst leaf you could possibly use in an undressed salad too. Bleugh.
Now, don't worry, I've had many a delicious salad since (with dressing! hooray!) which have of course converted me.
A few summers ago I was in New York for a while when I did an internship at Food52. I had a lot of time on my hands, a lotta places I wanted to go (eat) and luckily, so many internet friends to meet up with! On one very hot morning I took the subway over to Brooklyn and visited Hetty of Arthur Street Kitchen who had just moved to the neighbourhood from Australia. She is an amazing salad wizard who has authored 2 salad-themed cookbooks which my mum and I adore. It was brunch time and instead of having eggs or French toast, Hetty had made a morel mushroom & grain salad with pickled radishes for us to share. Of course it was incredibly delicious and packed with flavour – I didn't mind having a brunch salad at all! That's what all of Hetty's recipes are like, including this Brussels Sprout Caesar Salad which is from her newest book, Neighbourhood*. I wasn't sure if I'd be down with raw sprouts given that I hate raw kale but shredded up and coated in a creamy dressing is hands-down my favourite way I've eaten Brussels sprouts.
I've adapted it slightly to suit my taste – Hetty's dressing is a mixture of mayonnaise and sour cream but I usually find mayo too heavy for my liking so I swapped the two for full-fat greek yogurt. I also added some white miso to the dressing for extra salty flavour and I fried my capers (as that's the only way I like them!) instead of adding them straight in.
This would be a delicious side to have at Thanksgiving (whooo's excited for pie!?) or Christmas. To make it more of a substantial main dish, I think some lightly seared paneer cubes (or my fave, halloumi!) placed on top would be just perfect. Also – to me this was best eaten soon after making. When I let it sit and ate it again at dinner time, the texture was drier. So if you want to make ahead, just assemble the salad minus the dressing + croutons and then just mix it all up 20-30 minutes before serving so it has a lil bit of time to soften up.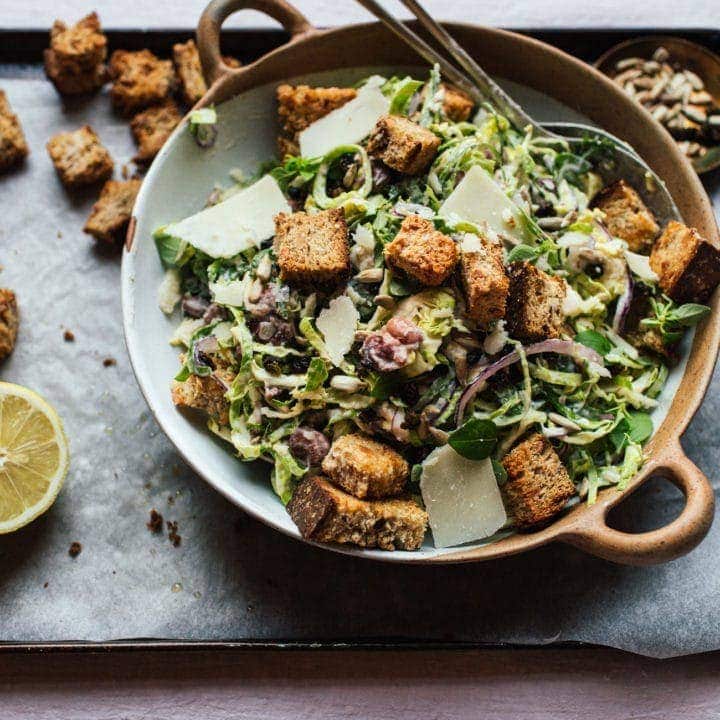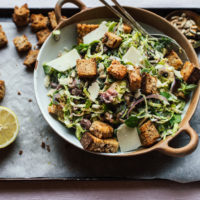 Brussels Sprout Caesar Salad (vegetarian)
Slightly adapted from Neighbourhood by Hetty McKinnon 
Print
Pin
Ingredients
150

g

bread

3

cloves

garlic

(unpeeled)

2

tbsp

extra virgin olive oil

1

tbsp

capers

250

g

brussels sprouts

1

tbsp

refined olive oil or rapeseed oil

1/2

red onion

, very thinly sliced

1

can

(230g/8oz drained weight) (1 cup) cooked borlotti beans

~50 g

(1/4 cup) sunflower seeds, toasted

a handful fresh basil

, roughly torn

a handful fresh parsley

, roughly chopped

shaved parmesan cheese

(see notes)
Dressing
125

ml

(1/2 cup) full fat yogurt

1

tbsp

white miso

(optional but delicious!)

1/2

lemon

, juiced

generous pinch fresh black pepper
Instructions
Preheat the oven to 200oC (400oF). Tear or cut the bread into bite-sized chunks and place onto a baking tray along with the garlic cloves. Drizzle with the extra virgin olive oil. Bake for 15-20 minutes until deep golden. Leave to cool.
Make the dressing:
Take the cloves of garlic which you just roasted and peel them. Discard the skins and place the sticky flesh into a small bowl. Mash with a fork then mix in the yogurt, miso, lemon juice and black pepper. If you're not using miso, season with salt to taste. Thin out with a tablespoon or two of water to make a drizzleable dressing. Set aside.
Prep the salad:
Heat the refined olive oil in a small pot or frying pan over a high heat. Place the capers onto a piece of kitchen towel and pat dry. Add the capers to the hot oil and fry until darkened and 'popped'. Remove to a piece of kitchen towel to drain.

Use a slicing attachment of a food processor or a mandolin to thinly slice the Brussels sprouts (you can also do this by hand with a sharp knife but it's time consuming af).

Place the sliced Brussels sprouts into a large bowl along with the red onion, borlotti beans, half the sunflower seeds, the basil and parsley. Pour the dressing in and toss it all together. Let sit for at least 20 minutes to soften up.

Pour the contents of the bowl onto a serving plate. Top with the remaining sunflower seeds, the fried capers, shaved capers and croutons then serve!
Notes
- Parmesan cheese isn't technically vegetarian so if you need to, replace the parmesan with a vegetarian hard cheese of your choice.
- to make vegan: leave out the cheese. Instead of yogurt: soak 1/2 cup cashews in boiling water for 1 hour. Drain then blend with the juice of 1/2 a lemon + 1/4 cup to 1/3 cup (50 to 80ml) of water in a high speed blender until you have a thick cream.
*affiliate link