Continuing on from a recent post's theme of me being ill, I had planned to make these pumpkin ricotta pancakes a few weekends ago when my friend came to visit me in Leeds. That was when I came down with the flu so instead of pancakes she made me a Lemsip and I managed to force myself to eat some toast. Man, losing your appetite and then sense of taste is a major bummer.
I finally had enough time to make these just for myself – bonus cos then I kept the leftovers in the fridge and had pancakes for breakfast for the next few days B).  It's quite nice on the weekend as my housemates don't usually come downstairs until midday so I've got my own peaceful Sunday ritual. Listening to a podcast – usually Don't Salt My Game – and making my breakfast which I can eat slowly without the stress of rushing out the door to lectures.
These pumpkin ricotta pancakes are a definite weekend-only venture as they require whisking egg whites. I know, it's a pain in the arse but it does make the these nice and thick whilst also being super light. They've also got a whole tub of ricotta in there to boost the fluffiness (and protein content) a la the ricotta hotcake recipe I made a while back. It's post-Halloween now so of course PUMPKIN (and mixed spice) is making an appearance. These pancakes are a great way to use up any decorative gourds you may have bought! Call pumpkin spice basic, I don't care, it's delicious. Get a lil bit of shredded apple, creme fraiche and chopped pecan on there. Almost done. Don't forget the hefty drizzle of maple syrup. Happy weekend!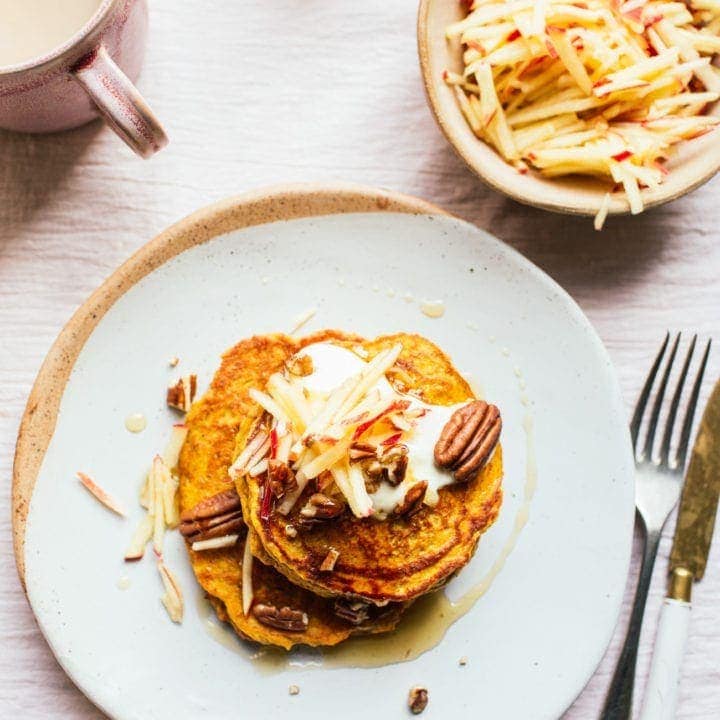 Ingredients
4

large eggs

, separated

200

g

(a scant cup) ricotta cheese

200

g

(3/4 cup) pumpkin puree

1 1/2

tsp

mixed spice

(or pumpkin pie spice)

1/4

tsp

salt

120

g

(1 cup) wholemeal (whole wheat) plain flour

1

heaped tsp baking powder

2

tbsp

granulated sugar
Instructions
Place the egg yolks into a medium bowl. Add the ricotta, pumpkin puree, mixed spice and salt - mix together until smooth. Add the flour and baking powder to the bowl and gently fold in (you don't need it fully mixed) leaving a few streaks of flour.

Place the egg whites into a large clean bowl and whisk until they start to foam up. Add 1 tbsp of the granulated sugar and whisk that in. Add the last tbsp of sugar and whisk the egg whites until you get medium-soft peaks - where if you lift the whisk up the mixture creates a peak which slumps over to the side.

Add 1/3 of the whisked egg white to the bowl of pumpkin mixture. Stir in to loosen the mixture. Add the remaining whisked egg white and fold in gently using a silicone spatula.

Heat a large non-stick frying pan over a medium-low heat. Spray with oil or add enough to thinly coat the base of the pan. Once hot, add a few heaped tablespoons of batter to the pan to make one pancake. Cook until golden underneath then gently flip over. Cook until the other side is golden and the pancake, when poked in the centre, springs back. Repeat with the rest of the batter.

You can keep the pancakes warm by placing them in a single layer on a baking tray in a low oven (around 100oC/ 200oF).

Serve the pancakes warm with maple syrup, chopped pecans, shredded apple and creme fraiche, if desired.
Notes
If you can't get canned pumpkin puree (NOT pumpkin pie filling) just roast a halved pumpkin or butternut squash for 60-90 minutes at 180 C (350 F). Scoop out the seeds and discard them. Scoop the flesh from the skin and place into a food processor - blend until smooth. You can also use a hand blender to blitz it up. If not using immediately I'd recommend freezing it in a lidded container.