I've been thinking about this French Apple Tart ever since I saw Ina make it – I'm usually not a tart kind of person because lining a pastry tin is not my idea of fun, but this recipe is SO simple, there's no faffing around.
You roll out a flaky pastry into a rectangle, top with sliced apples and sugar and bake. Now, Ina brushes the apples with an apricot jam glaze (a trick my mum always uses too) but I opted for a tahini caramel sauce instead – drizzled over the tart whilst still warm.
It's a little bit nutty and isn't too sweet but if you're daunted by caramel making you can always stick with the jam if you want!
Tahini Caramel Apple Tart
An easy tahini caramel sauce drizzled over a simple apple tart with homemade flaky pastry!
Recipe adapted from Ina Garten
Print
Pin
Ingredients
For the pastry:
2

cups

(240g) plain white (all-purpose) flour

1

tbsp

granulated sugar

½

tsp

salt

¾

cup

(165g) unsalted butter, cold, cubed

up to 1/2 cup

(125ml) ice water
For the caramel:
1/3

cup

(65g) granulated sugar

2

tbsp

water

2

tbsp

(30g) unstalted butter

generous pinch salt

½

tsp

vanilla extract or vanilla bean powder

3

tbsp

tahini

4

tbsp

milk
For the top:
3 to 4

Bramley apples

, peeled and cored

¼

cup

(50g) granulated sugar

2

tbsp

unsalted butter

, cut into little cubes
Instructions
Make the pastry:
Place the flour, salt, sugar and butter into the bowl of a food processor. Pulse to cut the butter in – you want a mealy mixture with a few pea-sized lumps of butter remaining. Drizzle in the water (start with 4 tablespoons) and pulse in, adding more water a tablespoon at a time if needed. The mixture should be moist enough so that if you squeeze some together, it'll stick.

Tip the pastry mixture out onto a piece of cling film. Pat together with your hands into a rectangle then wrap and refrigerate for 1 hour.
Meanwhile make the caramel:
Place the sugar and water in a large saucepan (silver/white ones a best so you can see the colour change). Place over a medium heat on the stove and stir just until the sugar dissolves then stop stirring. Let the mixture cook, tilting and swirling the pan, until it has reached an even, golden colour.

Turn the heat all the way down, add in the butter, salt and vanilla. Let that butter melt a bit before picking the spoon back up and mixing it in. Once smooth, add the tahini and milk and stir through until smooth. Take off the heat and set aside.
Rolling and baking:
Once the pastry has rested, preheat the oven to 200°C (400°F) fan.

Cut the apples in half and then slice into half-moons about ¼-inch (5mm) thick.

Cut a piece of baking paper to fit a large baking tray. Unwrap the pastry, place onto the baking paper and dust with flour. Roll the pastry out into a rectangle slightly smaller than the piece of baking paper. Trim the edges so they are straight then transfer the pastry (on the baking paper) onto the baking tray.

Place overlapping slices of apples diagonally down the middle of the tart and continue making diagonal rows on both sides of the first row until the pastry is covered with apple slices. Sprinkle with the 1/4 cup of sugar and dot with the butter.

Bake for 35-45 minutes until the tart is dark golden around the edges and the apples have coloured slightly. Drizzle with the caramel (you may need to re-warm it over a low heat on the stove to get it drizzle-able again) then allow to cool before slicing and serving.
Notes
if you want to speed this recipe up, you can use a block of puff pastry or shortcrust pastry in place of making your own.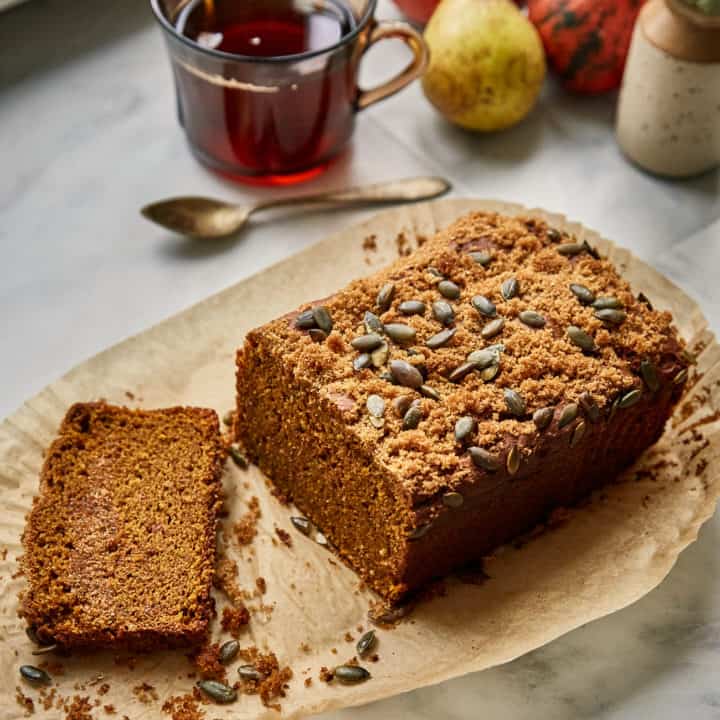 Sourdough Pumpkin Bread (Vegan)
A warmly spiced vegan pumpkin bread which uses sourdough discard!
Print
Pin
Servings:
1
loaf (serves 12)
Ingredients
200

g

(3/4 cup plus 1 tbsp) pumpkin puree*

(SEE NOTES if using homemade)

150

g

(3/4 cup) light brown sugar*

90

g

(1/3 cup + 2 tsp) neutral oil or light olive oil

2

tsp

ground cinnamon

1/2

tsp

freshly grated nutmeg

1/2

tsp

ground ginger

1/8

tsp

ground cloves

zest of 1 orange

, finely grated

1/4

tsp

fine table salt

150

g

(3/4 cup) sourdough starter/discard

(100% hydration)

120

g

(1 cup) plain white (all-purpose) flour

1

tsp

bicarbonate of soda

(baking soda)
Topping (optional):
2

tbsp

light brown sugar

3

tbsp

pumpkin seeds/pepitas
Instructions
Preheat the oven to 180°C fan (350°F). Grease a 2lb loaf tin with some oil and line with a sling of baking paper.

In a large bowl, mix the pumpkin puree, sugar, oil, spices, orange zest and salt until smooth.

200 g (3/4 cup plus 1 tbsp) pumpkin puree*

,

150 g (3/4 cup) light brown sugar*

,

90 g (1/3 cup + 2 tsp) neutral oil or light olive oil

,

2 tsp ground cinnamon

,

1/2 tsp freshly grated nutmeg

,

1/2 tsp ground ginger

,

1/8 tsp ground cloves

,

zest of 1 orange

,

1/4 tsp fine table salt

Stir in the sourdough starter. Lastly, add the flour and bicarbonate of soda. Fold together until just combined.

150 g (3/4 cup) sourdough starter/discard

,

120 g (1 cup) plain white (all-purpose) flour

,

1 tsp bicarbonate of soda

Pour the batter into your lined loaf tin. Sprinkle with the topping of light brown sugar and pumpkin seeds, if using.

2 tbsp light brown sugar

,

3 tbsp pumpkin seeds/pepitas

Bake for 55-70 minutes– a toothpick inserted into the centre should come out clean. If the loaf looks like it's browning too much but is not cooked through yet, tent the top with foil for the last 20 minutes of baking.

Allow to cool before removing from the tin, slicing & serving.
Notes
Adapted from my
Sourdough Banana Bread (vegan)
Amount of sugar: use 150g for a slightly less sweet loaf or 200g if you prefer things sweeter
If using homemade pumpkin puree: it is essential that your pumpkin puree is drained before weighing & using in this recipe. To do this, line a sieve (mesh strainer) set over a bowl with 2 layers of cheesecloth. Fill with your homemade pumpkin puree and leave to drain for 2-3 hours. After this time, gather up the edges of the cheesecloth and twist together at the top. Gently squeeze the bundle of puree to remove any last bit of water – don't squeeze too hard or the puree may start to seep through the cheesecloth! The texture should be very thick just like canned pumpkin puree. You can now measure it out and use it in the recipe.
To make homemade pumpkin puree: cut your pumpkin in half. Place cut side down on a baking tray and roast at 180C fan (350F) for 1-2 hours until completely soft. Remove from the oven, flip over and scoop out the seeds then discard them. Scoop the flesh into a blender/food processor/bowl with sitck blender, discard the skin. Blitz the flesh until smooth then drain as instructed above.
What is 100% hydration sourdough starter? This means that when feeding your starter, you're using an equal weight of flour & water (e.g. feeding it with 50g flour & 50g water each time).
Non-Vegan option: use 100g butter, melted, in place of the oil.