My mum (who's American) was the blueberry muffin baker in our house. She'd sometimes make that internet-famous 'Jordan Marsh from scratch' recipe for weekend breakfasts and – between the 4 of us – the whole dozen would inevitably be gone by Sunday afternoon. She taught me how to make them as well and through my own trials and internet reading, I've come up with my best blueberry muffin: soft & fluffy (not tough), not too sweet & packed with blueberries but not soggy!!!
I've got a few secret ingredients up my sleeve too which make these taste SO blueberry-y (almost like a Starbucks muffin?!). Lastly, they've gotta have the crunchy cinnamon-sugar on top (DUH!) – fun fact, that's the reason my site is called Top with Cinnamon – it's because I loved the cinnamon topping on blueberry muffins (and coffee) so much.
My secret ingredients for these blueberry muffins:
This muffin recipe contains all the usual suspects – plain flour, butter, eggs & granulated sugar. I use baking powder & soda to leaven them but you can just use self-raising flour instead if that's what you've got. I make them without vanilla extract as I find it redundant when using my secret flavour boosting ingredients (however if you're not adding the secret ingredients, you can whack 1 tsp of vanilla extract in the batter!).
I use a couple of secret ingredients which really enhance flavour of the muffins (but which can also be easily replaced, although the substitutes just won't give as much flavour).
My first flavour enhancer is frozen wild blueberries – I know these are common in America but in the UK I've only just discovered them. I've seen them in Whole Foods (so only available if you're in London) but have found out that Picard (a French frozen food brand) sells them on Ocado (the supermarket delivery service). Anyway, wild blueberries are smaller, so you can pack more into each muffin, and they have a more concentrated flavour. If you can't get them, just go for standard frozen blueberries which will also be delicious.
My second special ingredient is blueberry yoghurt – It's only a small amount of yoghurt in these (100g) so you don't get TOO much blueberry flavour but I find that this really is the KEY to adding the most blueberry-y flavour in an easy way. It happens because the yoghurt contains a natural blueberry flavour extract so, when stirred into the batter, it really boosts these muffins to the next level. I've used Liberté blueberry yoghurt (it's a 0% fat one, but works perfectly here) in mine. If you can't get blueberry yoghurt, go for a plain yoghurt, sour cream or even buttermilk.
My last special ingredient is ground coriander seed – I found this trick via Stella Parks on Serious Eats and also from the River Cottage. The flavour of the coriander seed enhances the flavour compound found in blueberries. That's some cool food science for ya! If you're not keen, just leave it out!
Fresh or frozen blueberries – which is better?
I always opt for frozen blueberries when baking muffins. You need to mix them into the batter still frozen (so DON'T thaw them!). I like frozen ones for a few different reasons:
Frozen blueberries are a LOT cheaper in the UK than fresh ones. I know this may not be the case in some places so go with what fits your budget better. You can always freeze the fresh blueberries.
Frozen are great quality all year round. They're usually harvested in season and then frozen and stored for months so you get a great flavour from them.
They mix into the batter a lot more easily. The frozen bluebs hold up to the mixing motion so they don't all get smushed when you stir up the batter.
Now all that said, you CAN use fresh blueberries in your muffins. You just need to follow the directions in the heading below.
How do you stop the blueberries bleeding when mixing into the batter?
A lot of the time when you're stirring blueberries into batter, they'll 'bleed' causing the batter to discolour and turn purpley-blue. You can remedy this by tossing the blueberries in a bit of flour before mixing them in and ALSO by stirring gently. Using frozen blueberries helps too as they're less likely to squish when stirred. However' I've found that even if they do bleed when mixing, the purple batter will usually revert back to a cake-y colour once baked so don't panic if your batter turns blue!
How do you stop the blueberries sinking?
A common myth is to toss the blueberries in flour to stop them sinking. This doesn't actually work, it mainly prevents them bleeding into the batter (see above). To prevent them sinking you need to have a thick batter (like this recipe)! And/or layer your blueberries into the batter instead of mixing them in – to do this, half fill the muffin cups with batter, sprinkle on half the blueberries, top with remaining batter and finally remaining blueberries.
Ingredient substitutions
If you want to make these with self raising flour: replace the full weight/volume of plain flour with self raising flour. Do not add the baking powder/baking soda.
If you want to make these without yoghurt you can use milk (cow's or non-dairy) with 1 tsp of vinegar added so it can curdle before using it in the batter.
If you don't have frozen blueberries (only fresh): don't fold the fresh blueberries into the batter – the batter is THICK and if you try this, the fresh blueberries will end up smashed. Instead, half-fill each muffin case with the plain batter. Sprinkle half your blueberries over the batter in the cups. Top with the remaining batter and sprinkle with the remaining blueberries, pressing them down slightly into the muffin batter.
If you want to use vegetable oil or coconut oil: instead of the butter, use 100g (3.5 ounces) of melted virgin coconut oil or vegetable oil. You'll also need to add an extra tablespoon of water to the muffin batter.
If you want to use oats: oats can add a nice texture to these muffins. To use them here, replace 60g (1/2 cup) of the plain flour with 40g (1/2 cup) rolled oats.
Are these vegan/can they be veganised?
Whilst this muffin recipe isn't vegan (it contains eggs & dairy) you can easily veganise it. Replace the butter with melted vegan block butter. Replace the yoghurt with a soy-based, dairy-free yoghurt. Replace the eggs with 2 tbsp ground flax seed mixed with 6 tbsp hot water, mixed in a small bowl and left until gelatinous, before adding to the batter.
Storing/freezing blueberry muffins:
You can store blueberry muffins at room temperature overnight – they'll last like this for up to 4 days. Just keep them in an airtight tupperware box and they'll stay moist & delicious. You can even warm them up in the oven (180C/350F for 5 minutes) or microwave if you prefer.
As for freezing them, just pop them into a resealable sandwich bag and freeze for up to 3 months. You'll want to let them defrost at room temperature overnight before eating, though.
Other muffin recipes: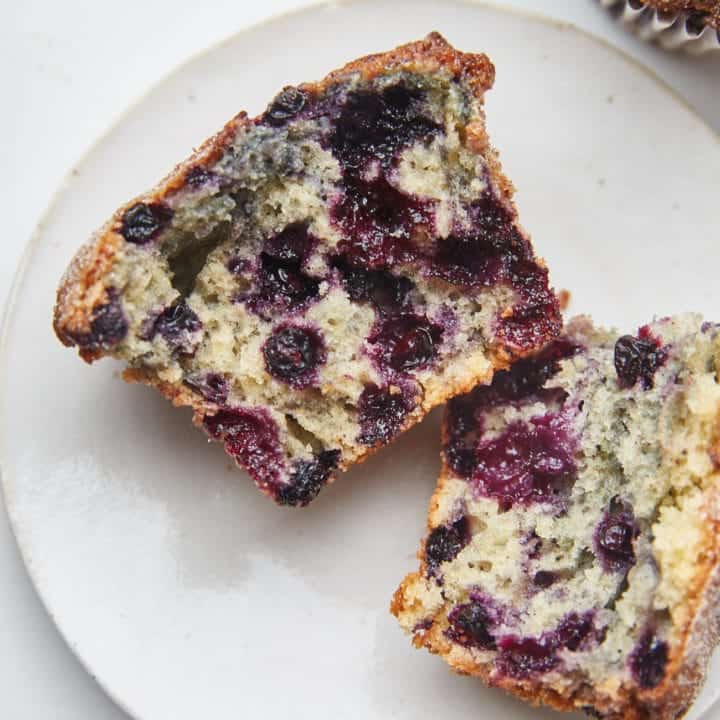 Blueberry Muffins
These blueberry muffins couldn't get any easier! A simple batter to mix up by hand to make moist & fluffy muffins, packed with blueberry flavour (just like Starbucks!).
Print
Pin
Ingredients
230

g

(2 cups minus 1 tbsp) plain white flour

(all-purpose flour)

160

g

(3/4 cup) granulated sugar

1/4

tsp

ground coriander seed

1 1/2

tsp

baking powder

1/2

tsp

bicarbonate of soda

(baking soda)

1/2

tsp

fine table salt

115

g

(1/2 cup) unsalted butter, melted

100

g

(1/4 cup plus 2 tbsp) blueberry yoghurt

(or plain yoghurt if you can't get blueberry)

2

tbsp

water

2

large eggs

200

g

(1 3/4 cups) frozen blueberries, preferably wild
Sugar topping:
2

tbsp

caster sugar

(superfine sugar)

1/2

tbsp

ground cinnamon
Instructions
Preheat the oven to 180°C (350°F) fan. Line a standard muffin tin with 9 paper muffin liners.

Place the flour, sugar, coriander seed, baking powder, baking soda and salt into a large bowl. Stir with a whisk to combine.

230 g (2 cups minus 1 tbsp) plain white flour,

160 g (3/4 cup) granulated sugar,

1/4 tsp ground coriander seed,

1 1/2 tsp baking powder,

1/2 tsp bicarbonate of soda,

1/2 tsp fine table salt

Pour in the melted butter and stir with the whisk until the mixture becomes too clumpy to stir. Then use your fingertips to rub the butter into the dry ingredients until you have a sandy mixture with a crumbly texture (try to break up any large clumps of mixture).

115 g (1/2 cup) unsalted butter, melted

In a medium bowl whisk the yoghurt, water and eggs together until smooth. Pour this into the crumbly mixture in your large bowl. Stir together well until combined (try to make sure there are no large clumps of the sandy mixture remaining). The batter should be quite thick!

100 g (1/4 cup plus 2 tbsp) blueberry yoghurt,

2 tbsp water,

2 large eggs

Add the frozen blueberries and fold into the batter. They will most likely bleed and make the batter turn purple but this is absolutely fine! Just try not to smash up the blueberries as you fold.

200 g (1 3/4 cups) frozen blueberries, preferably wild

Divide the batter between the muffin cups. Mix the caster sugar & ground cinnamon together in a small bowl and sprinkle the mixture over the top of each muffin. Bake for 25-30 minutes until cracked on top – a toothpick inserted into the centre of a muffin should come out without any batter attached to it (but will probably have some blueberry juice on there).

2 tbsp caster sugar,

1/2 tbsp ground cinnamon

Allow to cool in the tin for 10 minutes before eating.

To store: keep in an airtight container for up to 4 days. To freeze, pop into a resealable sandwich bag and freeze for up to 4 months, letting them defrost overnight at room temp before eating.
Notes
No butter? use 100g vegetable oil or melted coconut oil instead and add an extra tablespoon of water to the batter No baking powder/soda? Use self-raising flour instead of the plain flour No yoghurt? Use buttermilk or sour cream instead. If you don't have those either, use an equal amount of milk mixed with 1 tsp vinegar and let it sit until curdled before adding to the batter. Vegan: use melted vegan butter, use a soy-based yoghurt & use 2 tbsp ground flax seed mixed with 6 tbsp hot water instead of the eggs.