It doesn't seem like summer time is over yet, really. I'm pretty freaked out that somehow 4 months have gone by since I started my holidays! Yet the leaves are losing their chlorophyll-green tint and that autumnal light – dull and diffused yet still bright – is here. I'm not mad at it.
During this transition from summer to autumn, I tend to get a bit confused. Do I need to wear a jumper or is it sunglasses-weather today? Do I want a light, vibrant salad or a soupy, stewy, carby dish? OR do I need all of the above because they're all appropriate!?
I can rock the jumper with sunglasses look. And I can combine a stew and a light, summery dish….like this recipe!
As I've mentioned many times previously, over the past year I've been cutting down my consumption of animal products in general. At uni I didn't buy meat or fish at all but at home I've had sustainable British fish a couple times a month (cos my parents were buyin 😉  ).
Usually it's too expensive for me to buy fish which is fresh and from the UK, but I found out that Lidl actually sources their mussels from the Isle of Mull (in Scotland)! They're sustainably rope grown in A-grade water and only cost £1.49. Plenty of room in my student budget for that!!
One of the only ways I've ever had mussels before has been in 'moules mariniere'  – a French dish where mussels are steamed with wine, shallots and garlic then topped with a hell of a lot of chopped parsley and some cream or creme fraiche. I changed up the ingredients but stuck to that template – going with black bean sauce, ginger and coriander for the flavour plus coconut cream for richness. Served with some steamed pak choi, soba noodles and lots of spring onion it was the perfect combo of light, warming and hearty all at the same time! It's an incredibly quick dish to make – the main time consuming task is removing the little 'beards' from the mussels and you only need to do that if you're using fresh mussels, not cooked ones – so it's even appropriate as a weekday dinner. WIN.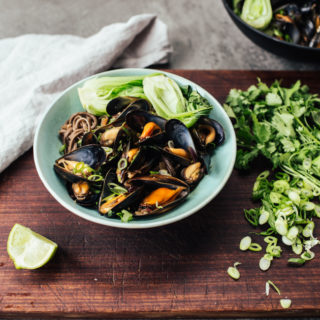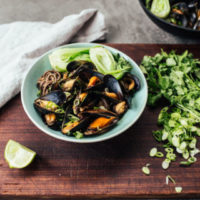 Ingredients
1

kg

cooked mussels

, (see notes)

2

tbsp

olive oil

1

red onion

, , roughly chopped

2

tsp

freshly grated ginger root

1/2 to 1

green chilli

, , finely chopped (you can leave the seeds in if you like it hot!)

2

tbsp

soy sauce or tamari

3

tbsp

Chinese black bean sauce

3

tbsp

Shaoxing rice wine

juice of 1 lime

125

ml

coconut cream

4

heads of pak choi

, , sliced down the middle

2

spring onions

, , finely sliced (white & green parts)

handful of coriander

, (cilantro), roughly chopped

200

g

to 300g soba noodles
Instructions
In a large pot, heat the olive oil over a medium heat. Once hot, add the red onion and cook, stirring often, until translucent - about 5 minutes. Stir in the ginger and chilli then cook for 1 minute then add the soy sauce, black bean sauce, rice wine, lime juice and coconut cream. Stir together until combined.

Turn the heat up to high and bring the liquid up to the boil, add the mussels to the pot and top with the pak choi. Cover with a lid and leave to cook for 4-6 minutes until the bok choi is steamed through.

Meanwhile bring a large pot of water to the boil and add the soba noodles. Cook according to the directions on the packet (I cooked mine for 5 minutes) then drain and immediately rinse with cold water.

Divide the noodles, mussels and pak choi between bowls and top with the spring onion and coriander. Ladle over the broth from the mussel pot and serve hot.
Notes
- I used cooked mussels in garlic butter sauce from Lidl for this recipe. I just melted off the butter first by soaking them in hot water then rinsed the mussels and used in the recipes
- you can also use fresh mussels in this recipe. Just rinse the mussels in the sink and remove any 'beards' (little bits of rope attached) by tugging on them. Discard any open mussels and any mussels which have a broken shell.
- to make this gluten free: make sure the soba noodles you use are certified gluten-free OR serve the mussels with rice noodles instead!
*Thanks to Lidl for sponsoring this post!