A simple peanut butter cookie dough, made without flour, only needs smooth peanut butter, sugar & eggs! The cookies are topped with squares of milk chocolate whilst still warm for the most delicious combo.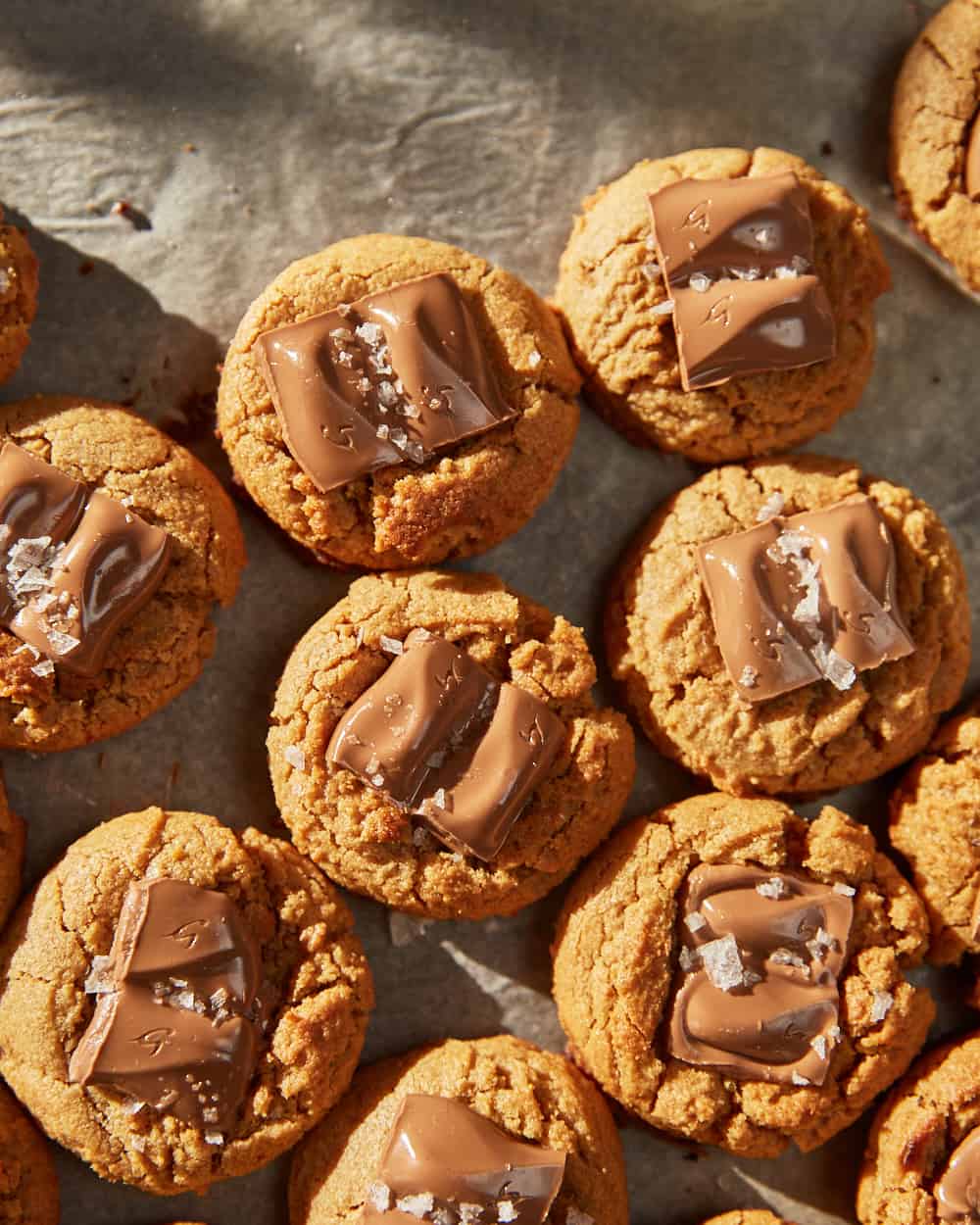 I've been making peanut butter blossom cookies since I was a kid – a peanut butter cookie dough, rolled in sugar & baked then adorned with a hershey's kiss chocolate whilst still warm. They have that perfect combo of salty peanut butter and sweet milk chocolate but, since Hershey's kisses are hard to come by in the UK, I've made my own English version!
First off, the cookie dough – this is the famous 3-ingredient peanut butter cookie dough that probably everyone has now made. There are various versions out there with slightly different ratios of ingredients but it comes down to smooth peanut butter, sugar & eggs. It's great because it's easy to make and uses basically a whole jar of peanut butter in the process so you get a very peanutty flavour in the end. It also produces a very fudgy, soft, moist cookie with a crispy crust (unlike the original peanut blossom cookie recipe which I always found a bit dry).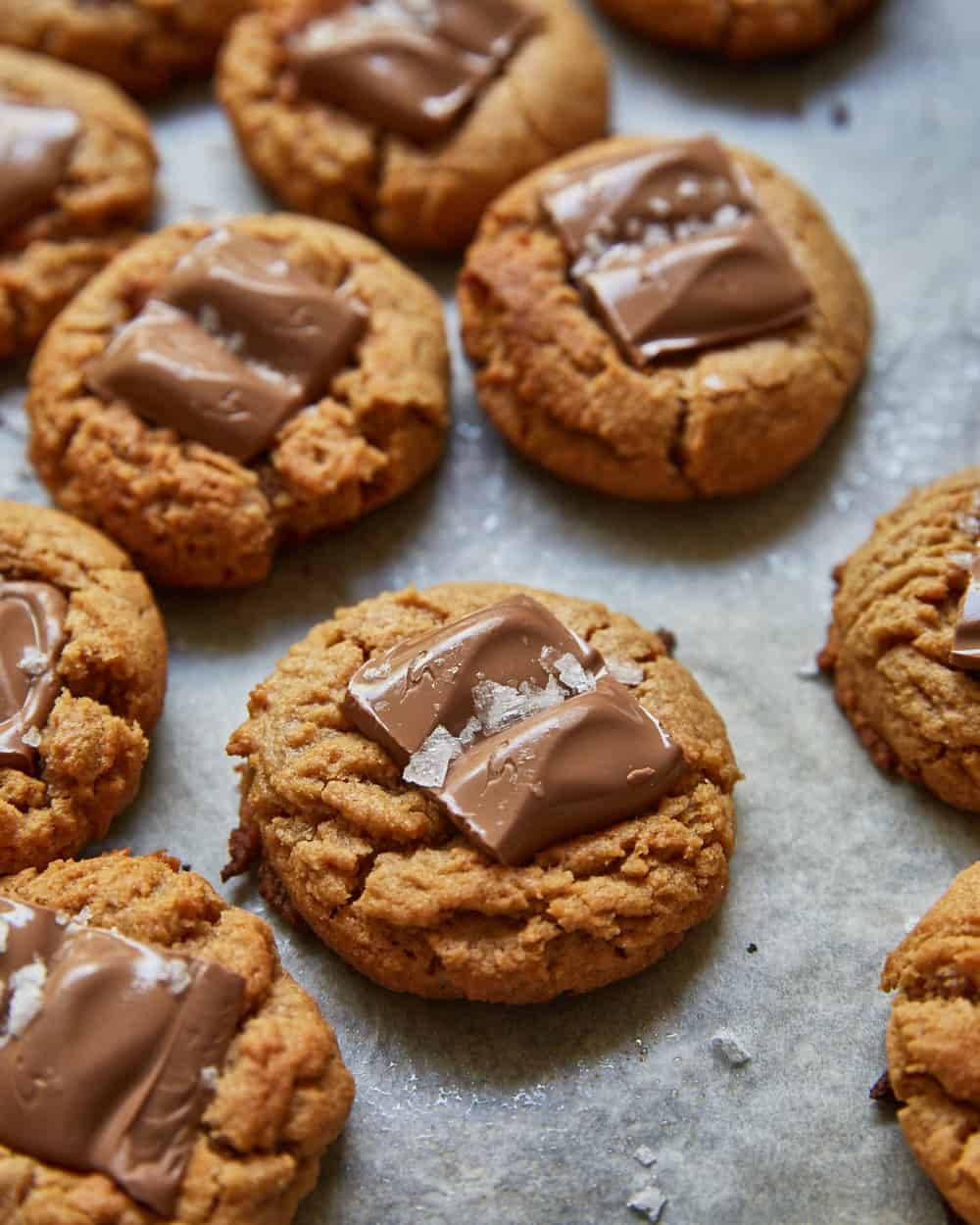 Next, the chocolate. I wanted a milk chocolate for sure and needed in in bar form so I could use nice chunks on top of each cookie. I thought about going for Cadbury's but settled on Galaxy as I prefer how the squares look. It's totally up to you to choose the type of chocolate you want – go with something you like eating on its own. You can even do dark chocolate or white chocolate if you prefer.
4-Ingredient Peanut Butter Chocolate Cookies
A simple peanut butter cookie dough, made without flour, only needs smooth peanut butter, sugar & eggs! The cookies are topped with squares of milk chocolate whilst still warm for the most delicious combo.
Print
Pin
Ingredients
420

g

smooth peanut butter

250

g

light brown sugar

2

medium

eggs

200

g

chocolate bar

whatever type you like

flaky salt, for sprinkling

optional
Instructions
Preheat the oven to 160°C fan (180°C non-fan) and line a baking tray with baking paper.

Mix the peanut butter and sugar in a large bowl until smooth. Mix in the eggs until smooth.

420 g smooth peanut butter,

250 g light brown sugar,

2 medium eggs

Scoop heaped tablespoons of cookie dough and roll into balls, slightly flatten onto the baking tray spacing them a few cm apart (if using a cookie scoop, just scoop straight onto the tray).

Bake for 10-14 minutes until golden on top and the edges are set but the centres still a bit soft.

Break the chocolate bar into chunks – you want around 24 pieces so if the chocolate bar is divided into small squares, have them as two-piece chunks. If the chocolate bar is divided into large squares, break each square in half.

Press the chunks of chocolate into the tops of the warm cookies. Let them sit so the chocolate can melt a bit then, if you like, sprinkle with a bit of flaky salt.
Video
Notes
Double Chocolate Peanut Butter Cookies: add 3 tbsp unsweetened cocoa powder to the cookie dough along with the sugar. Dairy-free: choose a chocolate which is dairy free
How does the 3-ingredient peanut butter cookie dough work?
It may seem weird that the cookies work without adding ingredients you usually have in cookie dough but there are a few reasons it works here.
Firstly, there's no flour (making these cookies gluten-free) which is possible because of the solids which peanut butter contains. If you think about it, ground almonds (a common sub for flour in GF baking) are basically a few minutes away from being almond butter if you blend them in a food processor. So nut pastes are actually a bulky ingredient to incorporate into doughs/batters. Because of this, you can of course replace the peanut butter with an alternative, smooth nut butter of your choice! Perfect for varying the flavours or for if you have a peanut allergy.
You'll notice there's no butter or oil in the recipe and that's simply because the peanut butter has enough fat in it (plus the egg yolks) to give the richness the dough needs.
There are no raising agents in the dough – whilst you could add bicarbonate of soda or baking powder, you don't need it here. The eggs do provide a bit of lift and the resulting cookies are deliciously fudgy because they're not so airy.
Why are my peanut butter cookies dry and crumbly?
This is most likely down to overbaking the cookies – you only want to bake them until the edges are set. You can test this by gently pressing on the sides of a cookie to see if it feels dry, firm and slightly crisp. If you press on the top of the cookie, the crust should feel firm but the centre should be soft still. Remember that as cookies cool they firm up, so when they're straight from the oven they'll feel a lot softer than they actually are.
With other peanut butter cookies, a common culprit can be from adding too much flour which dries the dough out. That's why I think the recipe above is a better version to make is they are more consistently moist than many 'regular' peanut butter cookies I've tried.
Why can't you use natural peanut butter in cookies?
I've found that the cheap, smooth peanut butter which is sold by many supermarkets under their own brand works best for baking with. It has a consistent texture all the way through (no separated oil) so is easy to mix into the dough. It also has some fat pre-mixed into it so it generally ends up producing a softer cookie. It's also an incredibly standardised product so works again and again in exactly the same way.
What does brown sugar do for a cookie?
As the cookie dough here is SO simple, we want to get the best out of the ingredients we're using. That's why I like to use a light brown sugar here instead of granulated sugar – it has more flavour as it contains a bit of the treacle/molasses to produce that lovely caramelised flavour. The molasses in the sugar also incorporates a bit more moisture into the dough so it helps the cookies stay soft & moist.