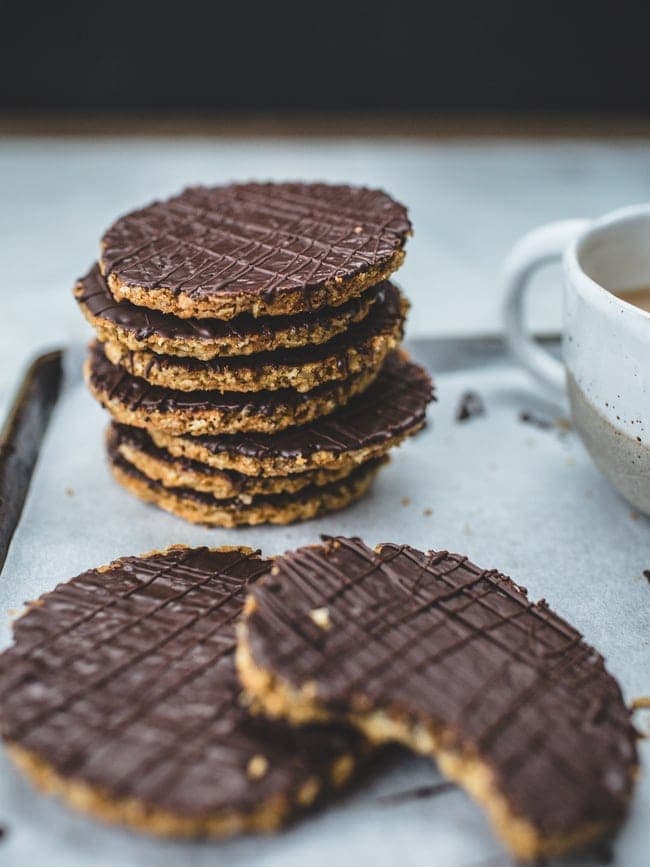 Did you know you can make hobnob biscuits at home!?? I KNOW!
NOTE: when I say biscuit in this post, I'm referring to the British word for cookie. I think of a biscuit as a certain type of cookie: one which is thin and always dry and crunchy, never soft or chewy. What I do not mean by biscuit is a scone-type-thing. Okay. Cool. Let's proceed.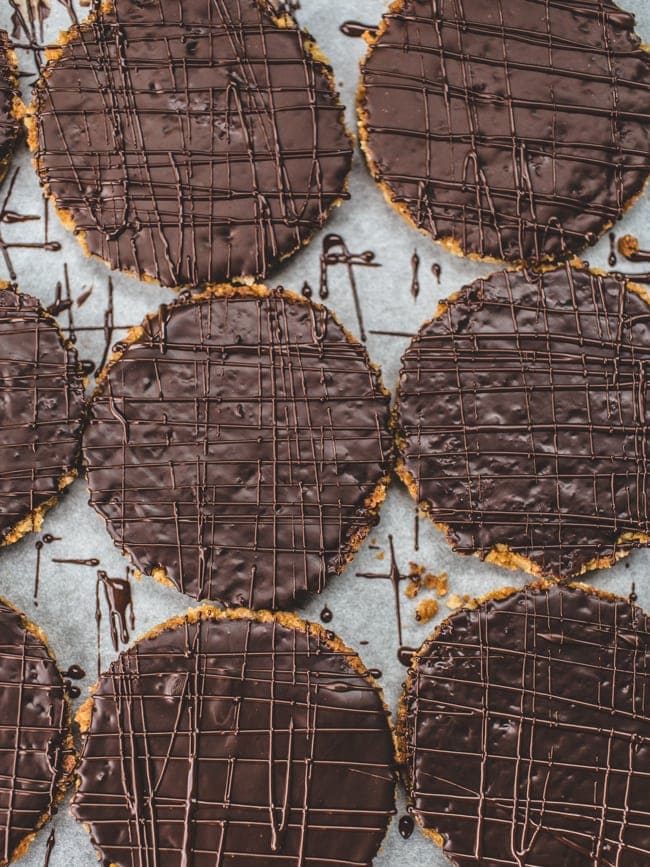 Whenever I go abroad, I bring a packet of HobNobs with me. In fact, when I was in New York a few months ago and I FORGOT to bring them with me, I coerced my friend who was visiting me into buying some in the airport. I had to ration them out for that month, keeping them in the fridge due to the fact it was regularly getting to 30 degrees in the apartment. But a cold hobnob pairs perfectly with a cup of Earl Grey tea (that's another thing I bring with me always. Tea bags.).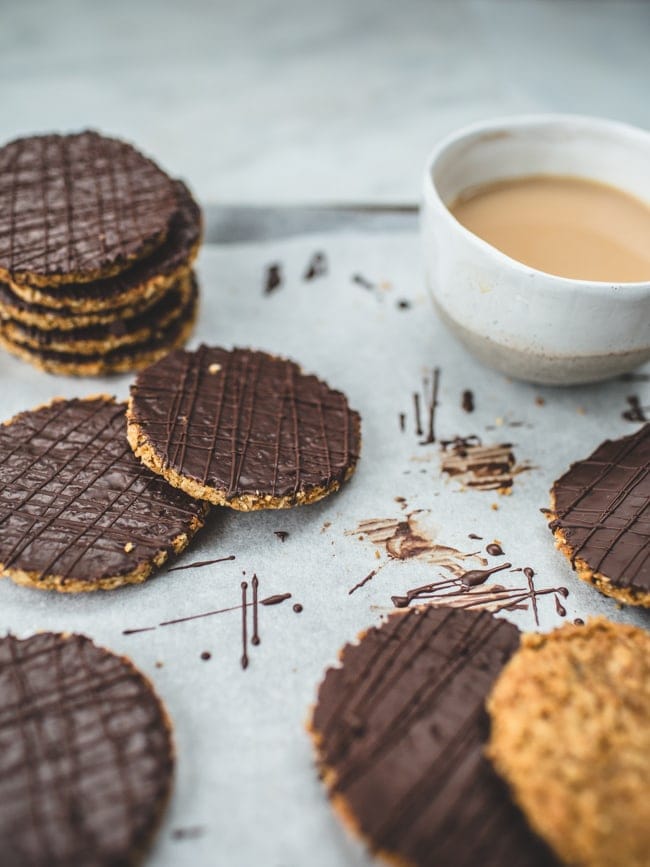 Why am I so fanatical about these biscuits?? Because they're probably My Favourite Tea-Dipping Biscuit. A sturdy, oat base flavoured simply with golden syrup and held together with a coating of chocolate. Once dipped the chocolate melts and the biscuit doesn't become utterly soggy – it retains some bite. Okay so you may read this thinking I'm crazy but the dunkability of a biscuit is SERIOUS business in England. There's nothing more disastrous than dipping a biscuit into your cup of tea and watching it disintegrate as it falls to the bottom of the mug.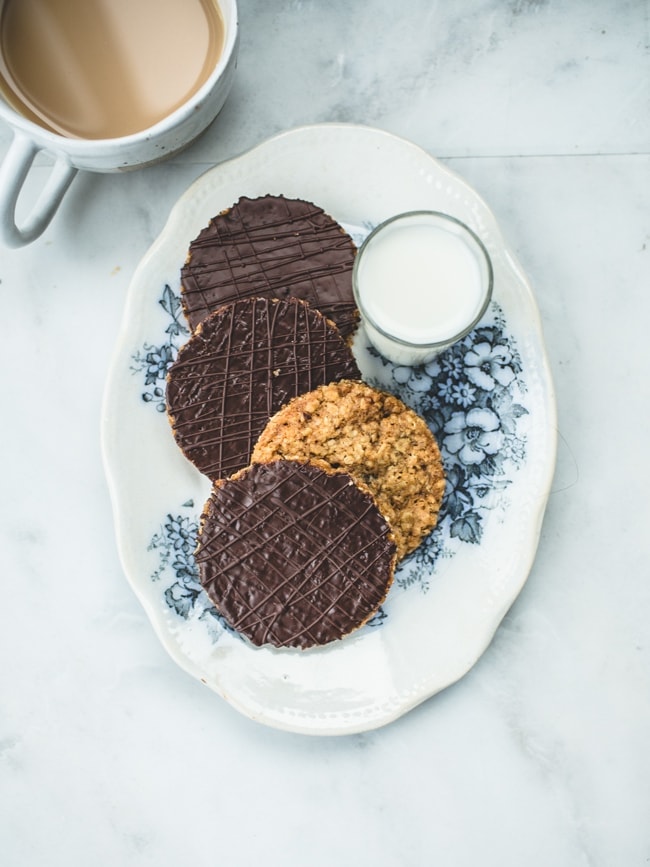 Cue Kate Doran's (a.k.a. The Little Loaf) new cookbook Homemade Memories*. I flicked through the pages and this hobnob recipe caught my eye immediately. How hobnobs were made had always been a mystery so I was keen to give  the recipe a go. I have to say, I was incredibly tempted to make the soft-serve frozen yogurt (which uses egg whites to create the right texture…oooh) and the jam-packed doughnuts, too.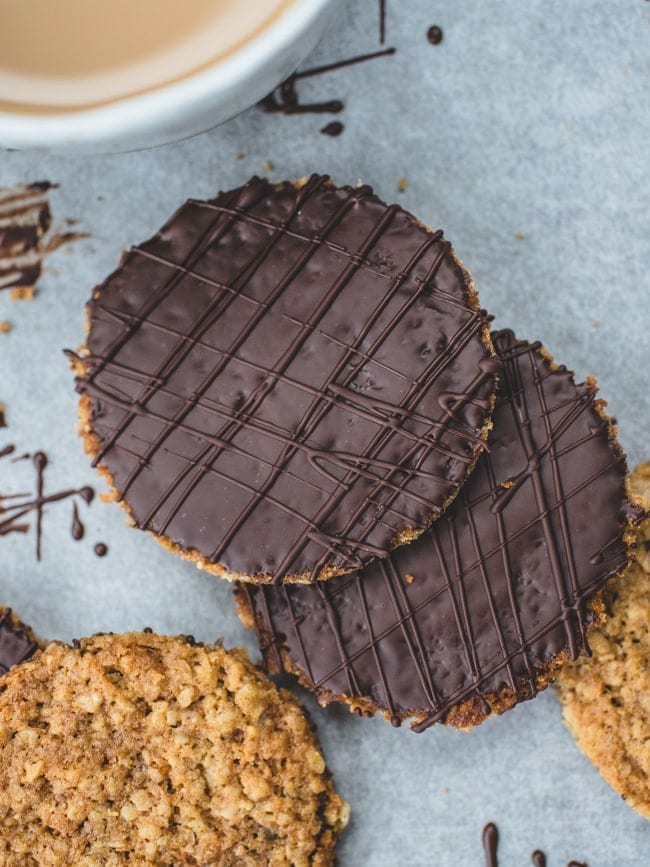 The hobnobs turned out amazingly well, probably even better than the shop-bought version because these used butter (not palm oil) so had even more flavour! They're oaty, crisp and dunkable! As chocolate hobnobs usually have a kind of cross-hatched drip pattern on them (not sure how else to describe it ) which I couldn't recreate, I just drizzled them with extra chocolate for a decorative effect. That step is completely optional, as is actually coating them with chocolate – plain HobNobs are a thing  – but, to be honest, why would you go for plain if there's a chocolate option?
Notes:
-recipe adapted slightly from Homemade Memories by Kate Doran* (affiliate link)
– I also made these biscuits using Hjorthornssal (a.k.a. Baker's Ammonia) instead of the baking powder. It made even lighter, crisper biscuits but I know it's a weird ingredient to find. I'm just letting ya know so if you happen to have some in your cupboard you can use it here!
– In case you're wondering how my biscuits all look so even: while the biscuits were still hot from the oven, I used a pastry ring to cut each one into a perfect circle. This is just me being weird and it's totally unnecessary.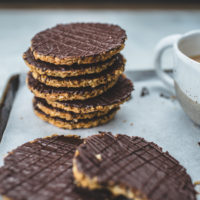 Ingredients
Biscuits:
125

g

(4.5 oz / 9 tbsp) unsalted butter

80

g

(2.8 oz / 1/3 cup plus 1 tbsp) light brown sugar

2

tbsp

golden syrup

80

g

(2.8 oz) (1 cup) quick cooking oats

4

tbsp

wheat germ

, (or use more oats)

100

g

(3.5 oz / 1 cup minus 2 tbsp) wholemeal flour

1/2

tsp

bicarbonate of soda

, (baking soda)

1/2

tsp

baking powder OR bakers ammonia

1/2

tsp

salt
To coat:
100

g

dark

, (plain/semi-sweet) chocolate, chopped

1

tsp

coconut oil or butter
Instructions
Preheat the oven to 180 C (350 F). Line two baking trays with baking paper.

In a large bowl with a wooden spoon or stand mixer fitted with the paddle attachments, cream together the butter and sugar for 2-3 minutes until pale and smooth. Add the golden syrup and beat to combine. Stir in the oats and wheatgerm followed by the flour, baking powder, bicarbonate of soda and salt.

Take about two teaspoons of dough and roll into a ball. Place onto one of the prepared trays and press down lightly in the middle so that it spreads to about 4cm wide. Repeat with the remaining dough, leaving a few centimetres between each ball as they will flatten and spread as they bake.

Bake for 10-12 minutes until golden brown and the kitchen smells like toasty oats. Remove from the oven and leave to cool on the tray for a few minutes then transfer to a wire rack. Don't worry if the biscuits feel slightly soft; they should firm up and become crunchy as they cool.

Melt the chocolate and coconut oil together in a heatproof bowl set over a pan of simmering water. Spoon a little bit of chocolate onto the top of each biscuit and use a palette knife, butter knife or the back of a spoon to spread it over the surface. Set them aside to harden. Place any remaining chocolate into a sandwich bag and cut the tip of one corner off. Use like a piping bag to drizzle chocolate over the chocolate-coated biscuits in a cross hatch pattern. Leave to set again.

Store in an airtight container for 3-4 days.