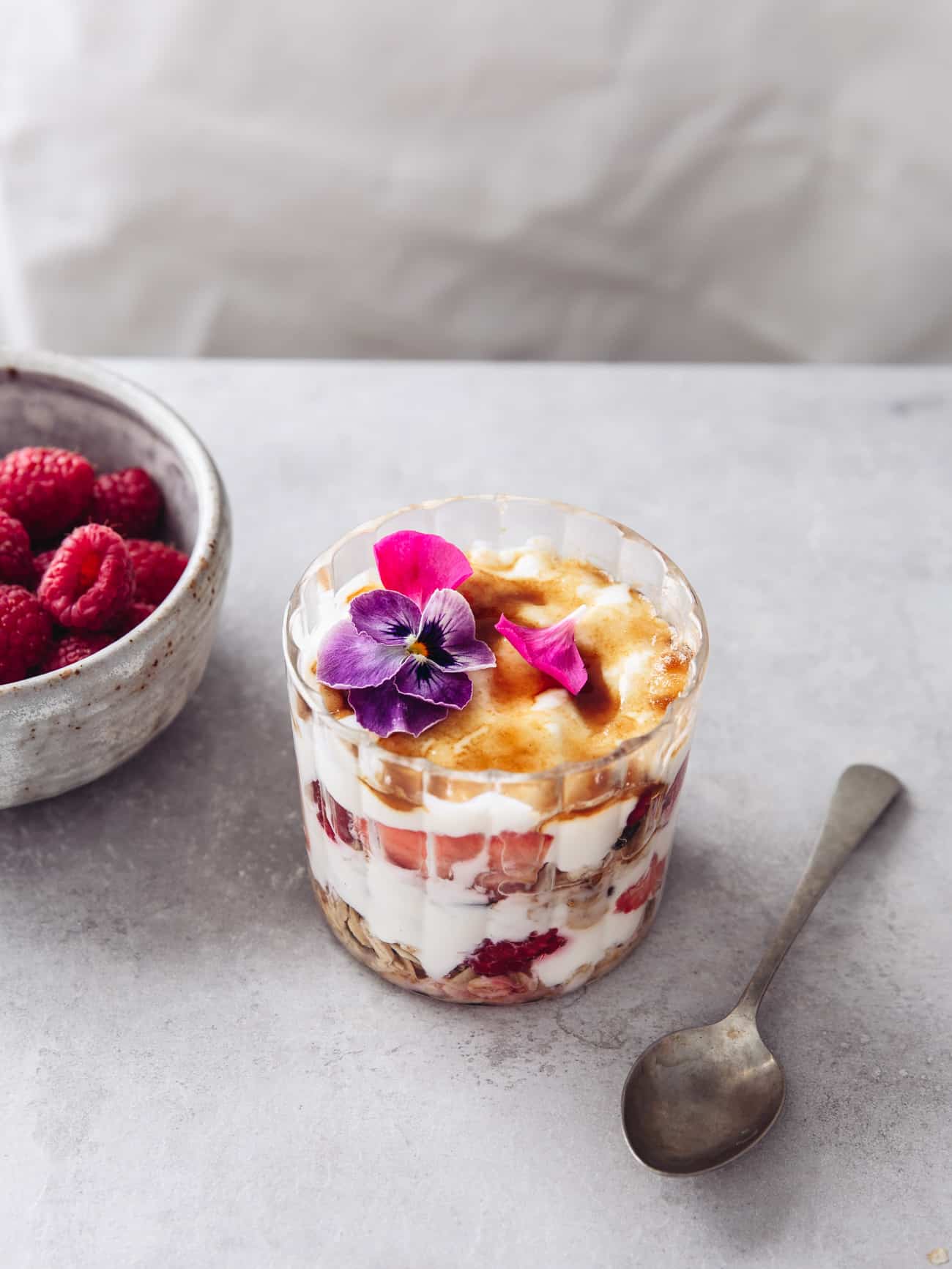 Tangy yogurt layered with crisp granola and fresh fruit, plus a chance to pull out the blowtorch at breakfast time? HELL YES. Meet the yogurt brûlée – your new favourite brunch dish.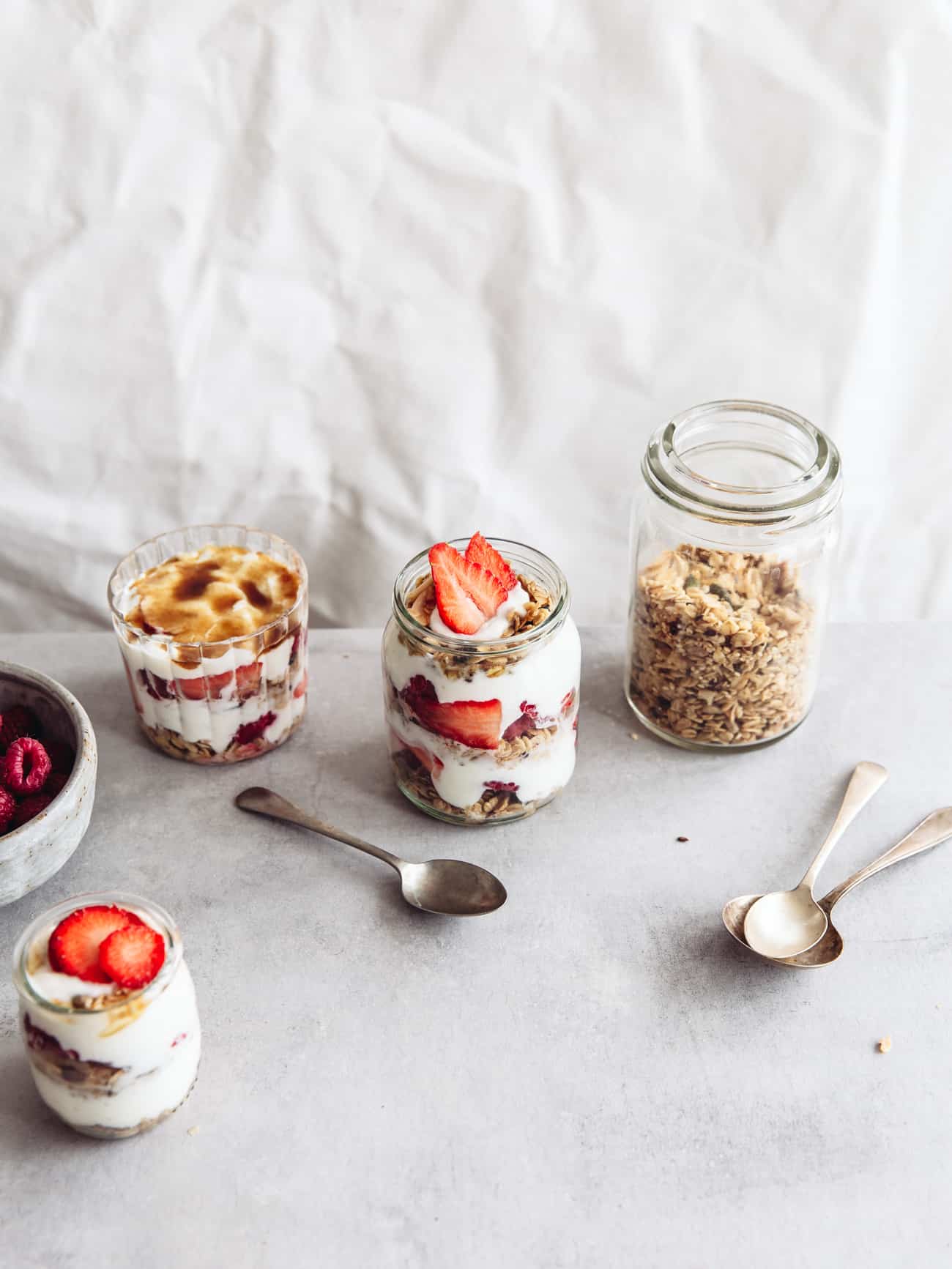 I've never really been a fan of custard-based desserts (I mean, except ice cream but that's a whole different ballgame really), I think mainly due to the texture. I can't abide by a fully smooth dessert! I need crispy, crunchy bits and texture to get my teeth into. Creme brûlée is edging on acceptable but still, the crisp layer on top is never enough for me.
This yogurt brûlée is my version of an ideal brûlée. There are layers of toasty granola, with coconut and seeds for extra crunch, which I make on the stove top in 10 minutes (very much a win). Then fresh berries which I eat in abundance exclusively when they're in season (which makes me appreciate them even more!). Then plain yogurt – no need to have the hassle of making a custard and worrying about it splitting. No water bath needed. You just have to assemble the lot and go.
The fact these are so easy to make means they are an excellent brunch dish to serve to a crowd. They look hella fancy but, in reality, are made of bog-standard ingredients with little prep needed.
The sugar layer on top which is brûléed (is that a real verb?) is a light brown sugar for its golden colour – when I tried granulated sugar on these basically nothing happened!
The sugar melts and caramelises slightly but, in my experience, doesn't get crisp. I think mainly due to the yogurt being wetter than a custard so it readily dissolves the sugar. It is purely there to sweeten the whole dish and add the caramelised flavour. Luckily all the other textures in this parfait make up for any sugar crunch which is lacking.
If you're feeling even more *extra*, add a few edible flowers to the top of your yogurt brûlées before serving!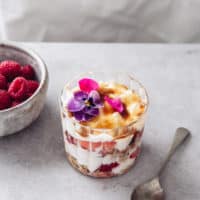 Ingredients
200

g

(8 ounces) mixed berries (I used strawberries and raspberries)

400

g

(scant 2 cups) natural yoghurt (plain yogurt)

2

tablespoons

light brown sugar

3/4

cup

(80g) Stovetop granola (recipe below) or your favourite granola
Instructions
Prep your berries: remove any stems and cut larger fruit up into bite-sized pieces.

Take 4 clean jars or drinking glasses (roughly 200ml / 8 ounce capacity). Place a layer of granola at the bottom of the jar (about 1 tablespoon), top with a few pieces of fruit and then a layer of yoghurt (about 2 tablespoons). Repeat this layering of granola, fruit, yoghurt twice more so you have 3 layers of each component in each jar.

Sprinkle 1/2 tablespoon of light brown sugar over the yoghurt in an even layer. Use a blowtorch to melt and caramelise the sugar layer on top (see notes for if you don't have a blowtorch)
Notes
If you don't have a blow torch: assemble the layered brûlée in ovenproof ramekins instead of jars. Place on a tray, sprinkle with the sugar, then place under the grill (broiler) in your oven on the highest rack and leave until the sugar has melted and is bubbling - this will happen quickly so keep an eye on it.
Ingredients
120

g

(1 1/2 cups) old fashioned oats

20

g

(1/2 cup) coconut flakes (a.k.a chips)

4

tablespoons

mixed seeds

2

tablespoons

unsalted butter or refined olive oil

4

tablespoons

maple syrup
Instructions
Tip the oats, coconut flakes and mixed seeds into a large frying pan/skillet. Place this over a medium heat on the stove and dry toast, stirring often, until it starts to smell toasty and nutty.

Turn the heat down to low, make a hole in the centre of the oats and place the butter (or olive oil) and maple syrup in the hole. Let the butter melt (if using) then stir everything together so all of the oats are coated with the fat and syrup.

Toast over a low heat, stirring constantly for another 2 minutes to help it crisp up - the texture will still be quite soft but as it cools it will harden.

Tip the granola out onto a large plate or tray and set aside to cool and get crispy.

NOTE: this makes excess granola so once cooled, store in an airtight jar.