Our third year house in Leeds is finally starting to feel a bit more like 'home'. I ordered some plants to liven up my room a bit – btw eBay seems to be the best place to buy some cool house plants if you need to (way cheaper than those flower delivery companies or trendy plant shops). I was listening to a podcast ('Suprisingly Awesome' if you wanna know) recently about the house plant business – apparently there are companies who professionally furnish offices with house plants! They rent the plants out, replace them if they die and choose the right plants for the space. Sounds a bit more sophisticated than how I chose my plants – by knowing the name of ONE (monstera obvs) and then searching through ebay shops which sold them for other plants to buy. I've ended up with a string of pearls succulent, a string of hearts plant and a prayer plant! …I really hope they survive the Northern winter..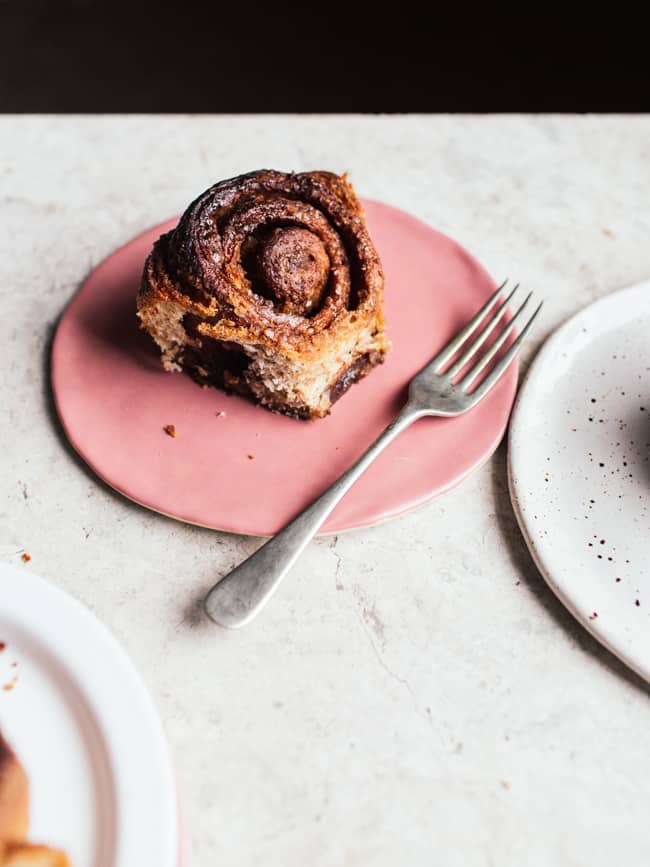 I've also baked a few of times now – some bread, millionaire's shortbread and THESE rolls. I feel like baking cinnamon rolls is like christening a house haha. They're just the epitome of comfort for me and probably my favourite baked good. I was gonna add ground cardamom to the dough too but, when it came to making them, I just ended up leaving it out because all I wanted was a super simple cinnamon roll. Speaking of the dough – this is eggless (I used the paste method to replace the need for eggs) and I didn't use milk or butter in there either just to keep the dough SUPER easy to deal with. I have used melted butter in the filling but if you were to replace that with a slick of refined olive oil or melted vegan butter, you could make the rolls vegan too! P.S. if you wanna reheat one roll, just pop it on a plate and microwave for a minute. I thought this would be too obvious to write but my housemate Cas thought it was a good tip (?) so there ya go.
Ingredients
Paste:
3

tbsp

wholemeal bread flour

50

g

(1/4 cup) water
Dough:
150

g

(scant 2/3 cup) lukewarm water*

50

g

(1/4 cup) granulated sugar

1 1/2

tsp

fast action dried yeast

(a.k.a easybake/ instant)

240

g

(2 cups) wholemeal (wholewheat) bread flour

160

g

(1 1/3 cups) white bread flour, plus more for dusting

3/4

tsp

salt

30

g

(2 tbsp) olive oil or rapeseed oil
Filling:
100

g

(1/2 cup) melted butter

200

g

(1 cup, not packed) light brown sugar

a pinch salt

1

tbsp

ground cinnamon
Instructions
Make the paste:
Place the paste ingredients in a small pot and set over a medium heat. Stir together and cook until very thick. Remove from the heat and set aside to cool.
Make the dough:
In a large bowl combine the cooled paste and lukewarm water. Sprinkle over the yeast and stir into the liquid. Add the sugar, yeast, both flours, salt and oil to the bowl. Stir to get a rough dough then tip out onto a work surface dusted with flour. Knead for 10 minutes, dusting with more flour as needed to stop the dough sticking (but don't go craaazy on the dusting). Return the dough to the bowl you were using, pour a little oil over the dough in the bowl and turn it to coat. Cover with a tea towel or plastic wrap and set aside somewhere warm for 1-2 hours until doubled in volume.
Shape the buns:
Dust a work surface with flour and tip the risen dough out onto it. Dust with more flour and gently roll out into an 30 by 40 cm (12 by 16 inch) rectangle. Spoon the melted butter over (reserve some for greasing the baking pan). Mix the brown sugar, cinnamon and salt in a small bowl then sprinkle this mixture all over the buttered dough. Starting at a short end, roll the dough up into a tight cylinder.

Cut the length into 8 equal pieces, grease a 20cm (8-inch) square or 23cm (9-inch) round pan using the remaining butter. Place the cinnamon rolls cut side up into the pan. Cover loosely with plastic wrap and leave in a warm place for 30 minutes to rise - after 20 minutes, start to preheat your oven to 180 C (350F).
Bake:
Once the buns have risen, remove the plastic wrap and bake them in the preheated oven for 35-40 minutes until well browned and risen.
Notes
-*lukewarm water shouldn't feel hot or cold, just roughly body temperature
- to make vegan: use 1/3 cup + 1 tbsp olive oil or melted vegan margarine in place of the butter in the filling.
- You can also make life easier by using a stand mixer to make the dough. Just attach the dough hook and follow the recipe on from 'Make the dough' using the stand mixer instead of a large bowl. Knead for 6 minutes on medium.