From living in Leeds for the best part of 3 years now, I've come to deeply appreciate the beauty that is forced rhubarb thanks to easy access to the Rhubarb Triangle.
It pops up at the market, gloriously pink with those yellowy, shrunken leaves in contrast. It comes juuust in time to save me from the inevitable boredom of eating apples for the past few months.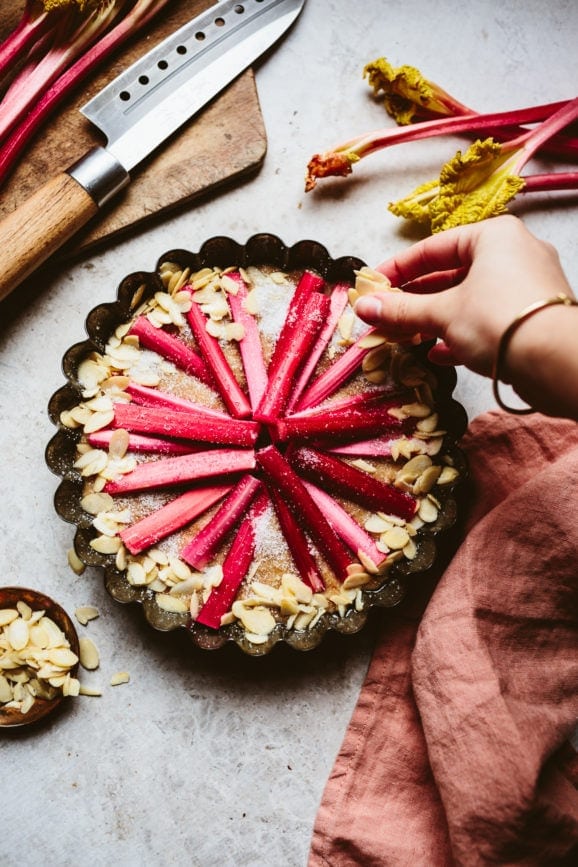 £1.50 a lb. Every time I tell my dad this he sends me a crying emoji (in London its about 5x this price). I bundle it up in my rucksack – each stalk is so long that it doesn't *quite* fit so I carry it home with the leaves poking out the top, peeking over my shoulder.
There's so much you can do with this stuff – my favourite being to roast it with sugar & vanilla to keep in the fridge for spooning over porridge. I have a habit of buying it en masse and chopping it up to freeze for later. Here I snuggled pieces into an almond spiked cake batter and sprinkled it with glittering sugar and flaked almonds. It's a perfect tea-time snack as is (OR microwaved with a scoop of yogurt or vanilla ice cream).
Ingredients
85

g

(6 tbsp) unsalted butter (or refined olive oil)

1/4

tsp

salt

1

tsp

almond extract

125

ml

(1/2 cup) milk (dairy/non-dairy)

1

large egg

100

g

(1/2 cup) granulated sugar, plus more for sprinkling

60

g

(1/2 cup) ground almonds

125

g

(1 cup) wholemeal (whole wheat) pastry flour

1 1/2

tsp

baking powder

200-300

g

(7-11oz) rhubarb (force rhubarb is best here)

3

tbsp

flaked almonds
Instructions
Preheat the oven to 180oC (350oF). Grease a deep 8-inch (20cm) cake tin with oil or butter.

In a medium pot, melt the butter over a low heat until just melted. Remove from the heat and stir in the salt, almond extract and milk. Add the egg, granulated sugar and ground almonds - stir again until well combined. Add the flour and baking powder and stir together until just combined.

Pour the batter into the prepared cake tin. Cut the rhubarb into lengths roughly 7-10cm (3-4 inches) long . Use them to decorate the top of the cake in a radial pattern. Sprinkle the flaked almonds around the edge of the cake. Sprinkle the whole surface of the cake with 1-2 tbsp of granulated sugar.

Bake for 40-50 minutes until well risen and a skewer inserted into the centre of the cake comes out clean (the surface of the centre may still look a bit gooey due to the moisture from the rhubarb but will be cooked underneath). Leave to cool in its tin on a wire rack for at least 10 minutes before slicing and serving.
Notes
For a vegan adaptation use the olive oil instead of butter and non-dairy milk. Replace the egg with a flax egg (1 tbsp ground flaxseed + 3 tbsp water).