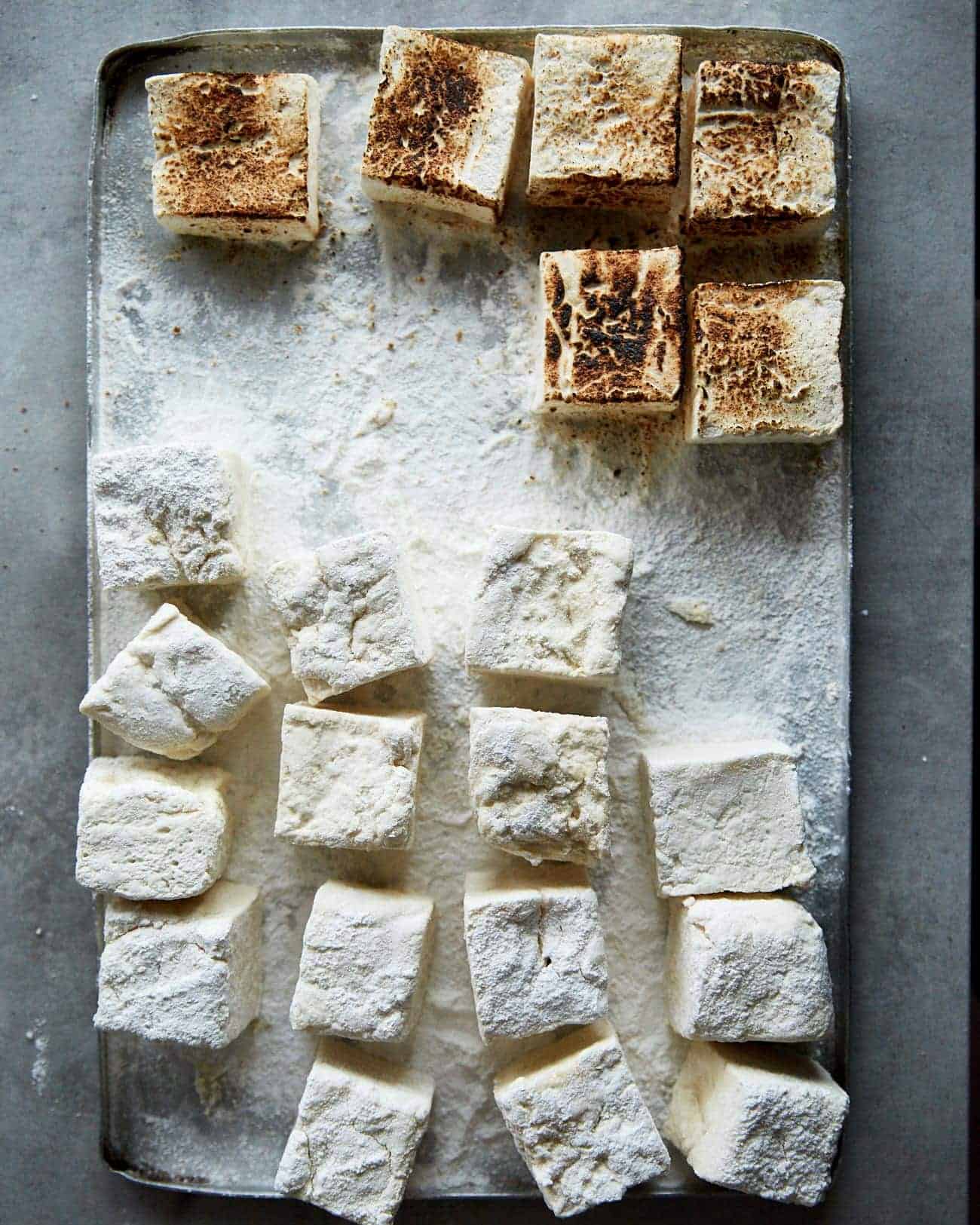 Making marshmallows can seem like a little bit of magic, watching everything whip up into a fluffy, wobbly foam and letting it set into perfect little clouds. I started what turned out to be a very challenging adventure of making vegan marshmallows a few weeks ago and finally, after about 20 trials, came up with something I was happy with!
Experiments with agar
First I started with the standard vegan sub for gelatine, agar agar, which is made from seaweed. I found that when using this, my marshmallows just weren't setting properly and would collapse as soon as pressure was applied to them. Increasing the amount of agar just lead to unpleasantly gummy/dense marshmallows that wouldn't toast properly. So back to the drawing board I went!
I had posted about my marshmallows on instagram and talked to Ellie from Kinda Co about it. She uses carageenan to make melty vegan cheese and recommended I try that instead of the agar (which also wasn't melting satisfyingly in a toasted marshmallow).
Moving on to vege-gel..
I had spied a 'vegetarian' gelatine replacement in the supermarket called 'vege-gel' from Dr Oetker and had picked some up to see if it would work. My initial experiments with it had been using a teaspoon or so along with the agar and when that hadn't worked, I gave up on using the it. However after my convo with Ellie, I read the packet again and realised that vege-gel contains carageenan and locust bean gum. I also talked to a food scientist on instagram about it and she told me how these two ingredients work synergistically together, meaning they form a stronger gel together than they would apart.
So now that I was back on the carageenan track, I tried using JUST the vege-gel (with xanthan gum to stabilise the aquafaba foam). I used quite a lot of the vege-gel stuff in the end, two packets, which is 13g of the stuff!! But it is cut with dextrose to standardise the batches they make as I read that the strength of carageenan/LBG can vary batch to batch. At least because it's a standardised ingredient it should work exactly the same for everyone who uses it.
I found these vegan marshmallows have a nicely fluffy texture, they toast properly with a blowtorch and kind of melt; if you leave them in a hot choc for a few minutes they soften up but there's not a super duper melty effect, I think from the LBG. I found that after toasting they'll be a bit melty under the surface but not all the way through SO if you want them more melty, I think cutting the marshmallows a bit smaller (and maybe putting them under an oven grill?) should help.
If you can't get vege-gel
I knew loads of people who may read this won't live in the UK/Europe so can't get vege-gel. So I bought some plain carageenan and LBG, played around with the amounts, and ended up with a vegan marshmallow that was just as good. A word of warning though – if you ARE using pure carageenan/LBG instead of the vege-gel I think there is a variance in strength between brands. Therefore I have linked in the recipe notes to the specific ones I used for testing the recipe so you can get the same ones. However if you can't get those brands, try it out with ones you can get and see how it goes. If they're too soft, increase the amounts a tiny bit and try again. If they're too firm, decrease it!
Make sure your measuring spoons are accurate
One last thing – I used weights for the whole recipe when I was testing as I wanted to be as accurate as possible. I used micro scales to measure my xanthan gum, carageenan and LBG but I have given teaspoon measurements as I know hardly anyone will have these scales. You must have accurate measuring spoons if you're using volumes though; I recommend these ones from OXO which I tested on the micro scales with water to see if the volume was accurate. I had also tested some crappy metal ones I own and they were WAY off which is why I'm warning you about it now.
Ingredients
100

g

aquafaba

(chickpea water)

1

g

(1/4 level tsp + 1/8 level tsp) xanthan gum

2

tsp

vanilla extract

175

g

water

(yes, weigh it)

200

g

granulated sugar

65

g

golden syrup

, corn syrup or liquid glucose
For dusting:
icing sugar

(powdered sugar)

starch for dusting

(I prefer potato starch, superfine white rice flour or glutinous rice flour as they work the best. Cornstarch also works but not as well).
Instructions
Read through all instructions and gather your ingredients + equipment before starting this recipe.
Grease an 8 or 9-inch (20 or 23cm) square cake tin with a bit of vegetable oil. Line with baking paper and then brush the baking paper with a thin layer of vegetable oil too. Set aside.

Place the aquafaba into the heatproof bowl of a stand mixer with the whisk attachment fitted. Sprinkle the xanthan gum over the surface of the aquafaba and then immediately start whisking the mixture on a high speed (if you let it sit around before whisking the xanthan may make clumps). Leave to beat until very thick and pale (similar to egg whites beaten to a stiff peak consistency). Once it reaches this thickness you can beat in the vanilla extract and then turn the mixer off.

Meanwhile combine the granulated sugar, golden syrup (or glucose/corn syrup) and 75g of water in a large pot. Set aside.

In a small bowl, place the vege-gel. Gradually pour in the remaining 100g of water whilst stirring with a whisk to get a smooth, slightly goopy mixture. Set aside.

Place the large pot of sugar mixture on the stove on a medium-high heat. Stir constantly until the sugar has dissolved and then stop stirring but keep heating the mixture until it reaches 120°C (248°F). Take off the heat, pour in the goopy vege-gel mixture and quickly stir together (I like to use a small whisk for this step). Return to the heat and bring back up to 100°C (212°F).

Immediately remove from the heat and, with the mixer running on a medium speed, pour the hot sugar mixture into the aquafaba foam in a steady stream. It should remain fluffy! Once you've poured it all in, increase the speed to maximum for a few seconds to make sure it's all mixed together. Stop the mixer and pour the marshmallow mixture straight into the prepared cake tin as fast as possible! This is very important as the mixture will start to set really quickly so if you don't get it into the pan it wont set flat. Try to spread it out into as even a layer as possible. You can also press a piece of oiled baking paper over the top of the marshmallows in the pan to help smooth it out if you need to.

Leave to set for about 30-60 minutes.

In a small bowl, mix equal volumes of icing sugar and your preferred starch (I like potato starch here the best). You'll probably need around 5 to 8 tablespoons of each.

Dust a work surface with the icing sugar/starch mixture using a small seive/sifter. Gently flip the set marshmallows out onto this and peel away the baking paper. Dust the top of the marshmallows with more icing sugar/starch mixture. Use a sharp knife to cut the marshmallows into squares (you may need to wipe the blade occasionally to keep things neat). Roll each marshmallow in more starch to coat them all over.

Line a baking tray with baking paper and then dust with a bit of the icing sugar/starch mixture. Place the marshmallows on the tray and allow to sit out, uncovered, at room temperature for around 12-24 hours. You'll notice a lot of the starch will have disappeared at this point and they'll be a bit tacky. Re-roll the marshmallows in icing sugar/starch and then return to the tray to let them 'cure' for a further 12-24 hours. Now you should be able to pop them into an airtight container or, as I prefer, leave them out uncovered at room temp as they'll develop more of a sugary crust to them.

They should keep for about 2 weeks like this. You may find that if they're in a sealed container that they will need to be re-coated with starch but will become less sticky over time (even though they may appear 'shiny' and so you may think they're sticky, they won't be when you poke them).
Notes
1. When testing this recipe I used Dr. Oetker vege-gel which is a pre-blended mixture of carageenan and locust bean gum (carob gum). You can get this in the baking aisle in UK supermarkets (I got mine from Sainsbury's) and it comes in packs containing 3 sachets. I know not everyone will be able to access this so I tested the recipe with straight up carageenan and guar gum. So if you can't get vege-gel, you can use:
1 g (1/2 level tsp) carageenan
1g (1/4 level tsp + 1/8 level tsp) locust bean gum
Just mix them together and use as you would vege-gel in the recipe as usual.
If using volumes instead of weights, make sure you have accurate measuring spoons (I like
these ones by OXO
which I've tested the accuracy of with my micro scales).
I used THIS carageenan and THIS locust bean gum brand. I haven't tested with other brands which may have varying strengths so I can't say whether it will work first time with different brands. You may have to adjust the levels yourself after testing the recipe with your own ingredients if you have different ones to me.