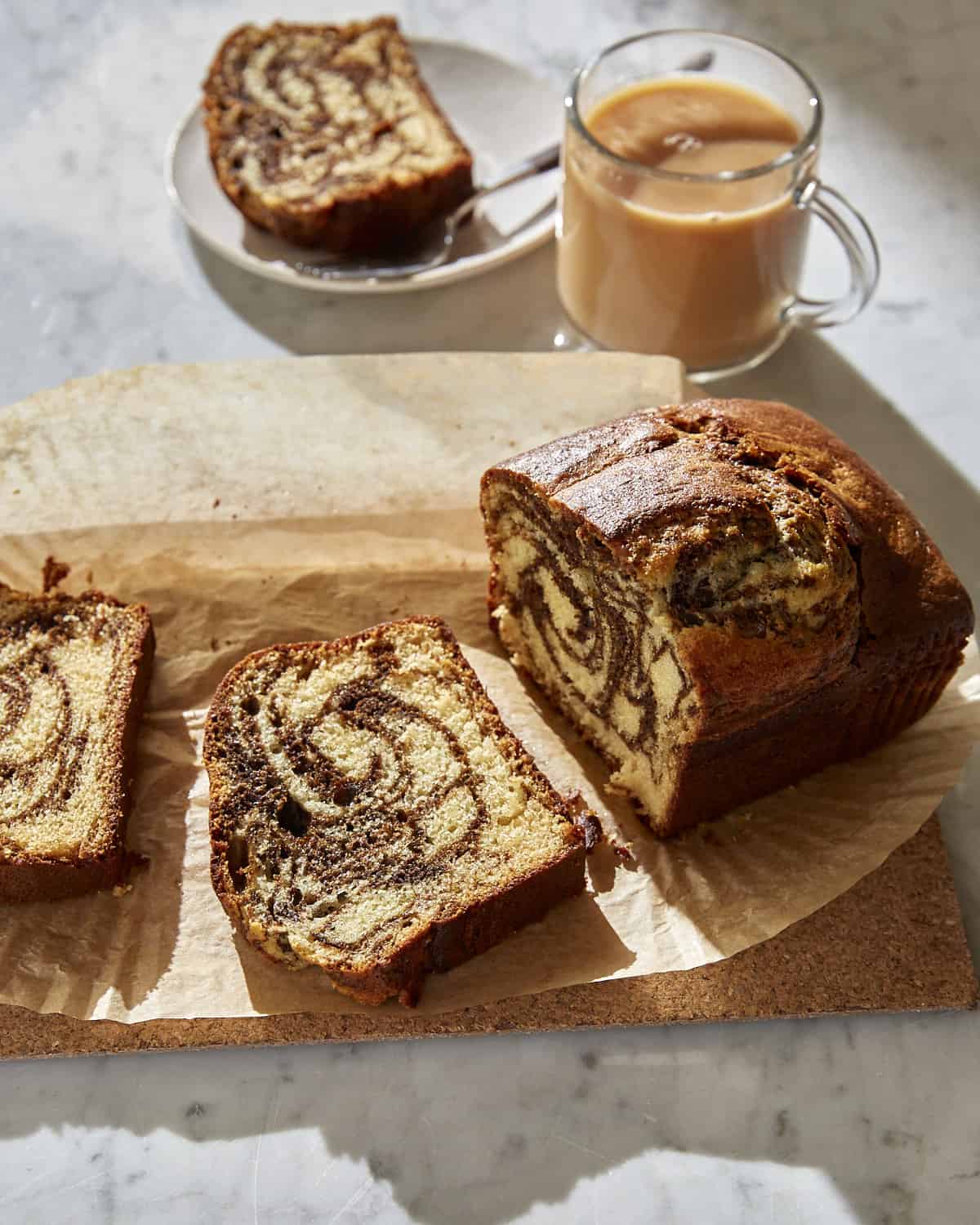 Thanks to E-Visa for sponsoring this post
If you've ever visited Vietnam, you may already know how delicious the combination of sweetened condensed milk & coffee is from drinking a Vietnamese iced coffee (cà phê sữa đá). The combination of milky sweetness with a cooling, bitter coffee is genius and incredibly tasty. It's something you can make at home with simple ingredients but if you want to try the real deal you'll need to get yourself a visa and travel to Vietnam!
This marble cake is another way to enjoy this clever flavour pairing: a condensed milk cake batter, half flavoured with vanilla, and half with coffee, swirled together in a loaf tin. The beautiful marbling pattern mimics the swirly appearance of the drink as the condensed milk is stirred into the coffee – and it's so easy to achieve.
What is Vietnamese Iced Coffee?
Since the mid-1800s when the French introduced coffee to Vietnam, it has become biggest producer of Robusta coffee beans in the world. This type of coffee bean is darker, less acidic, nuttier & richer than Arabica coffee beans. In Vietnam, the beans are brewed into a concentrated coffee using a 'phin cà phê', served over ice. To temper the bitterness of the coffee, sweetened condensed milk can be added which lends a richness to this drink which is incredibly moreish.
Where can I try Vietnamese iced coffee?
You're likely to see it being sold on most street corners, in markets and cafes in Vietnam.
If you're in London, I recommend checking out SÔNG QUÊ CAFÉ – not just for their iced coffee but also their delicious Vietnamese food. It's located on Kingsland road in Hoxton where you'll find a lovely row of Vietnamese restaurants to pick from!
Vietnamese coffee….as a cake?
After having Vietnamese iced coffee, I loved the combo – that intensely milky flavour from the condensed milk works so well to bring the flavour of coffee to life. I had also seen this Vietnamese Iced Coffee Layer Cake and wanted to try baking with these flavours. I thought a marble cake would be perfect since the internal pattern of the cake would look like condensed milk swirling into dark coffee, just like in the real drink.
Using coffee in cake batter
Now, if you really wanted this cake to be more legit you could of course brew up some Vietnamese robusta coffee beans into a concentrated liquid to use in your batter. However, the baking process does remove a lot of the flavour you get from coffee beans so I tend to think it's a shame to use good coffee beans on a cake batter! Usually I just use a cheap instant coffee for baking – it's a very easy way to get a concentrated coffee flavour.
How to get the best marble pattern in a marble cake
The key to a good marble cake, I've found, is to layer the batter up by pouring alternating strips of the two different batters (one coffee, one vanilla in this case) into the loaf tin. You don't need to swirl the batter with a knife! In fact, that usually ends up making the layers merge into one another too much, making a less defined pattern. See the video embedded at the bottom of the recipe card to see exactly what I mean.
Other loaf cakes you might like:
Ingredients
60

g

(1/4 cup) unsalted butter

melted & cooled

2

medium

eggs

130

g

(1 cup plus 1 tbsp) plain white flour (all-purpose flour)

1

tsp

baking powder

½

tsp

bicarbonate of soda (baking soda)

¼

tsp

fine table salt

300

g

(1 cup) sweetened condensed milk

40

ml

vegetable oil

2

tbsp

instant coffee granules

½

tsp

vanilla extract
Instructions
Preheat the oven to 180

°C

(convection) and line a 2lb loaf tin with a sling of baking paper.

Mix the melted butter with the eggs in a medium bowl.

In a small bowl, mix the flour, baking powder, bicarbonate of soda and salt.

Add 1/3 of the flour mixture to the bowl of butter mixture, stirring well to combine. Whisk in the condensed milk and oil until smooth. Add the remaining flour mixture and stir just until no floury patches remain.

Combine the instant coffee granules with 2 tbsp hot water in a separate medium bowl and stir to dissolve. Pour in 250g (around 1 cup) of the cake batter and stir gently with a whisk to incorporate. This is your coffee batter.

To the batter in the other bowl (the one without any coffee), add the vanilla extract and stir gently to combine. This is your vanilla batter.

Pour a few tablespoons of the coffee batter into the loaf tin. Layer a few tablespoons of the vanilla batter on top. Repeat this until you've used all of the batters up.

Bake the cake for 40-50 minutes until well risen and a toothpick inserted into the centre of the cake comes out clean. Allow to cool for 10 minutes before loosening the cake from the tin with a butter knife and tipping it out onto a wire rack. Leave to cool completely before slicing and serving.
Video
Heading to Vietnam? Don't forget your visa!
If you're travelling to Vietnam, you'll need to apply for a visa before you go. Vietnam allows citizens from certain countries, including the United Kingdom (but not Ireland), to stay in Vietnam for 15 days without a visa. However, if you plan on staying longer than 15 days, you will require a visa.
It's easy to apply online for the Vietnam visa. This can be done at any time of day, 7 days a week. The new e-visa system can make your trip much easier as the whole thing is done in advance, meaning you can avoid the 'stamping on arrival' fee and queue. This new system has been phased in since 2018, replacing the old 'visa on arrival' system. The cost of the new e-visa is £49.95 per person which includes all of the necessary consular costs and service costs.
Once you've submitted your application, after approval by the immigration service, you will receive a confirmation by e-mail. This confirmation is the official Vietnam e-visa, and you are required to carry this document during your trip. On the document you can find your name and other passport information, as well as the validity term. It has a maximum validity of 30 days so if you're there for a longer stay, it's best to apply through the Vietnam Embassy instead.
The requirements at the moment of application for a Vietnam visa are:
You cannot be in Vietnam
You must have booked at least one place to stay
You do not need to have booked transportation yet (for example, flight tickets)
You do need to know at which locations you are entering and exiting Vietnam
You cannot have been deported from Vietnam in the past 3 years
Please note that to get past passport control in Vietnam, your passport must still be valid for at least 6 months upon arrival in the country.