These delicious black sesame linzer cookies look just like a whole team of edible Totoros!! I've always loved Studio Ghibli movies (never have been much of a Disney person) and Totoro is definitley one of the most iconic characters from their movies.
I'm preeeeetty pumped because tomorrow, Netflix is dropping a whole catalogue of Ghibli movies which means I can watch them ALL. THE. TIME. The soundtracks of their movies are so soothing and since I've watched most of them multiple times now, they make the perfect kind of movie to have on in the background as I'm working.
I'm usually not the kind of person who enjoys overly decorated desserts (you will never see me make a fondant-covered cake of my own free will). Because of this, I did NOT want to make a boring sugar cookie with coloured frosting, decorated like Totoro. The dough and filling did most of the work for me as I used a black sesame dough for the grey fur and a lemony creme fraiche ganache for the white fur of the belly!
I added little leafies to some of their foreheads using candy melts leftover from a food styling job. Candy melts were also used for the whites of the eyes and then very dark chocolate for the eyes, nose and whiskers. Royal icing would work for those jobbies too.
I made a card template of Totoro to be used for the cookies. It worked well but meant I had to hand cut every cookie which was VERY time consuming. Therefore the instructions below are just for the cookie dough and filling cut as regular circles. There's a template below for if you want to print it and make your own but if you're just here for a tasty cookie, go with the circles!
Download the template below
(note – It should be around 5cm wide so make sure the scale is correct before/after you've printed so you end up with the right size of template).
Ingredients
Black sesame cookie dough:
35

g

(1/4 cup) black sesame seeds

150

g

(3/4 cup minus 1 tbsp) unsalted butter, softened

100

g

(1/2 cup) granulated sugar

zest of 1 lemon

, finely grated

1/4

tsp

fine salt

50

g

(1/2 cup) ground almonds

120

g

(1 cup) plain white (all-purpose) flour

1

egg yolk
Lemon creme fraiche ganache:
100

g

(3 1/2 ounces) white chocolate

75

g

(1/3 cup) creme fraiche

zest of 1 lemon

, finely grated

pinch

salt

1

tbsp

lemon juice
Instructions
Make the cookie dough:
Blitz the black sesame seeds in a food processor or blender until you get a rough, mealy texture.

Cream the softened butter, sugar, lemon zest and salt in a medium bowl until smooth (you could use a stand mixer with the paddle attachment fitted instead).

Add the ground black sesame seeds, ground almonds and flour and mix until you get a crumbly dough. Add the egg yolk and mix until a cohesive dough forms.

Divide the dough into two balls, flatten into disks and place into separate re-usable sandwich bags. Chill for at least 1 hour until firm.
Make the ganache filling:
Finely chop the white chocolate and place into a heatproof bowl.

Place the creme fraiche, lemon zest and salt into a small pot. Set over a low heat and allow to loosen and warm up.

Once gently steaming, remove from the heat and pour over the white chocolate. Let it sit for 5 minutes to melt the chocolate and then stir together until smooth. Finally, stir in the lemon juice.

Allow to cool (either at room temperature if your kitchen is cool, or, in the fridge if not) until the texture is thick but you're still able to stir it.

Use an electric whisk to beat the cooled ganache until light and fluffy.
Cut and bake the cookies:
Cut a large piece of baking paper and place on your work surface. Dust with plain flour.

Remove a chilled disk of dough from the fridge, take out of the bag and place onto the baking paper and dust with more plain flour.

Roll the dough out until it's about 2mm (1/16-inch) thick, dusting the top and underneath the dough with flour as needed to prevent it sticking to the paper too much. Cut out into 5cm (2-inch) circles. Remove the scraps around the edges and transfer the circles to a baking tray lined with baking paper. Chill for 15 minutes.

As the cut cookie dough is chilling, preheat the oven to 130°C (266°F). Use this time to also roll and cut circles from the second disc of dough. Place onto a second, lined baking tray. Use a small circular cutter (or the end of a piping tip) to cut a small circle from the centre of these cookies. Chill for 15 minutes as well.

Remove the chilled cookie circles from the fridge and bake for 25-35 minutes; the cookies should barely start to colour and should become crisp once cool (they'll stil lbe slightly pliable when hot). Allow to cool on a wire rack.

Re-roll the scraps, cut and bake as above, making sure that there's one plain circle per one 'doughnut shaped' circle so they can pair up when being sandwiched!

Take a plain circle cookie (without the hole) and spread a thin layer of the white chocolate ganache over the surface of the cookie. Take one of the cookies with the hole in the middle and sandwich it on top. Repeat with all your baked cookies!

Store in an airtight container for up to 5 days - they will soften a bit as they sit.

Notes
- Dough adapted from Alexandra Stafford via King Arthur Flour
- I handmade a card template of totoro to cut out the cookies with (around 5cm wide). Half of the cookies made were just the whole outline cut out. The other half of the cookies had the 'belly' cut out to make a hole for the lemon ganache to show through. I decorated them using piping bags with melted green & white candy melts and very dark chocolate. Please see the post above if you want to download the template!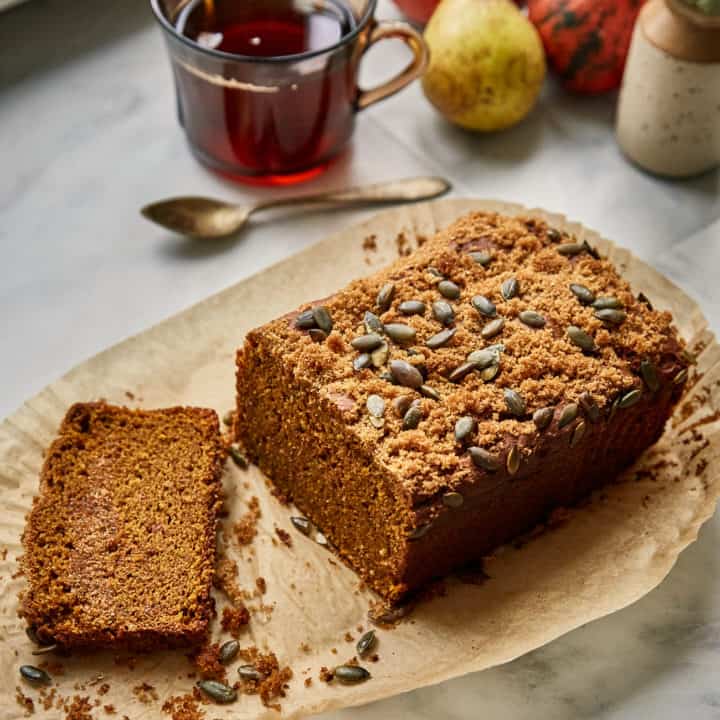 Sourdough Pumpkin Bread (Vegan)
A warmly spiced vegan pumpkin bread which uses sourdough discard!
Print
Pin
Servings:
1
loaf (serves 12)
Ingredients
200

g

(3/4 cup plus 1 tbsp) pumpkin puree*

(SEE NOTES if using homemade)

150

g

(3/4 cup) light brown sugar*

90

g

(1/3 cup + 2 tsp) neutral oil or light olive oil

2

tsp

ground cinnamon

1/2

tsp

freshly grated nutmeg

1/2

tsp

ground ginger

1/8

tsp

ground cloves

zest of 1 orange

, finely grated

1/4

tsp

fine table salt

150

g

(3/4 cup) sourdough starter/discard

(100% hydration)

120

g

(1 cup) plain white (all-purpose) flour

1

tsp

bicarbonate of soda

(baking soda)
Topping (optional):
2

tbsp

light brown sugar

3

tbsp

pumpkin seeds/pepitas
Instructions
Preheat the oven to 180°C fan (350°F). Grease a 2lb loaf tin with some oil and line with a sling of baking paper.

In a large bowl, mix the pumpkin puree, sugar, oil, spices, orange zest and salt until smooth.

200 g (3/4 cup plus 1 tbsp) pumpkin puree*

,

150 g (3/4 cup) light brown sugar*

,

90 g (1/3 cup + 2 tsp) neutral oil or light olive oil

,

2 tsp ground cinnamon

,

1/2 tsp freshly grated nutmeg

,

1/2 tsp ground ginger

,

1/8 tsp ground cloves

,

zest of 1 orange

,

1/4 tsp fine table salt

Stir in the sourdough starter. Lastly, add the flour and bicarbonate of soda. Fold together until just combined.

150 g (3/4 cup) sourdough starter/discard

,

120 g (1 cup) plain white (all-purpose) flour

,

1 tsp bicarbonate of soda

Pour the batter into your lined loaf tin. Sprinkle with the topping of light brown sugar and pumpkin seeds, if using.

2 tbsp light brown sugar

,

3 tbsp pumpkin seeds/pepitas

Bake for 55-70 minutes– a toothpick inserted into the centre should come out clean. If the loaf looks like it's browning too much but is not cooked through yet, tent the top with foil for the last 20 minutes of baking.

Allow to cool before removing from the tin, slicing & serving.
Notes
Adapted from my
Sourdough Banana Bread (vegan)
Amount of sugar: use 150g for a slightly less sweet loaf or 200g if you prefer things sweeter
If using homemade pumpkin puree: it is essential that your pumpkin puree is drained before weighing & using in this recipe. To do this, line a sieve (mesh strainer) set over a bowl with 2 layers of cheesecloth. Fill with your homemade pumpkin puree and leave to drain for 2-3 hours. After this time, gather up the edges of the cheesecloth and twist together at the top. Gently squeeze the bundle of puree to remove any last bit of water – don't squeeze too hard or the puree may start to seep through the cheesecloth! The texture should be very thick just like canned pumpkin puree. You can now measure it out and use it in the recipe.
To make homemade pumpkin puree: cut your pumpkin in half. Place cut side down on a baking tray and roast at 180C fan (350F) for 1-2 hours until completely soft. Remove from the oven, flip over and scoop out the seeds then discard them. Scoop the flesh into a blender/food processor/bowl with sitck blender, discard the skin. Blitz the flesh until smooth then drain as instructed above.
What is 100% hydration sourdough starter? This means that when feeding your starter, you're using an equal weight of flour & water (e.g. feeding it with 50g flour & 50g water each time).
Non-Vegan option: use 100g butter, melted, in place of the oil.