Three years (..and two days) since starting my blog. Man, I'm not really sure what to say!
It's weird enough to think that I've been on here for 1/6 of my life when it barely feels like a few months have passed. Now I kind of wish that I'd written one of those 'futureme.org' emails when I'd started TWC because I can't really remember what July 2011 was like and I'd feel WAY too awkward going back and reading my posts. Plus I always love the idea of time capsules/surprises (I went through a phase of leaving £1 in all of my coin purses that I'd forget about, so that when I eventually decided to use it again I'd discover the money and be all 'awww yeah let's go buy some bubble gum').
Dunno if I've said this already but I told literally no-one, except my best friend, about the blog when I started it. I think it took about two or three weeks of me 'sneaking' around, taking photos of cakes with the crappiest camera ever before my mum eventually asked me what I was doing. I like to think that I was being subtle but evidently I really really wasn't.
It's all right now, the fam is in the loop. Wouldn't that be strange though if this whole time my family didn't know I had a blog? Wow. They might just think that I enjoyed collecting single plates and planks of wood for fun (?) and was very particular about the amount of time that they had to wait before eating anything I'd made.
Food blogging is kind of peculiar…and addictive and fun! I get to bake cake and pretend there's more of a motive than me just really wanting some whipped cream.
I made this cake for a roundup that Saveur asked me to contribute to for their 20th birthday! I figured that I might as well use it to celebrate my 3rd bloggaversary too as it's suitably celebration-y and this way I can also give you the recipe! It's not too difficult to make because it's just meringue disks stacked up with ganache, whipped cream and cherries but you do have to have the oven on for over an hour (at a low temp) to dry out the disks sufficiently. So if you're boycotting the oven for the time being (thanks July heatwave 😐 ), you'll probs want to avoid making this cake right now and just look at the pictures instead.
  Notes: –
To make the top meringue layer I filled a wide, plain tipped piping bag with the meringue mixture and piped little blobs in concentric circles.
– There are two possible ways of serving this cake: You can either attack it with a sharp knife and a spoon, serving it in a messy pavlova style OR freeze the cake for an hour and then slice neatly with a sharp knife which is what I did for the pics of the slices (note that freezing changes the texture of the cherries though)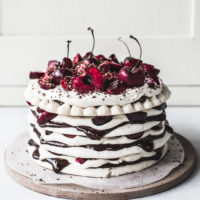 Ingredients
5

egg whites

10

oz

superfine sugar

1

tsp

vanilla extract

1 1/2

cups

heavy cream

16

oz

cherries

, , halved and pitted

7

oz

bittersweet chocolate

, , plus extra for grating
Instructions
Whisk the egg whites in a stand mixer until you get soft peaks. Gradually add the sugar whilst you continue to beat the egg whites until the mixture is glossy and you get stiff peaks. If the mixture is rubbed between your fingers there should be no sugar crystals - if the mixture still feels gritty keep beating it until smooth, then finally beat in the vanilla extract.

Spread the mixture out on two lined cookie sheets to form four, 6-inch diameter disks (see notes). Bake for one and a half hours in an oven preheated to 250 F (120 C) then switch the oven off and leave the meringue in the oven for a further hour.

Melt the chocolate and stir in 1/4 cup of the cream.

Whisk the rest of the cream until just thickened.

To assemble: take one meringue disk and spread a quarter of the chocolate mixture over it. Spread a quarter of the cream over this and then scatter over the cherries. Top with the next meringue stack and repeat the chocolate, cream and cherry layering until you've stacked up all the meringues. Grate a little extra chocolate over the cake for a finishing touch.

Serve immediately or freeze for an hour before slicing for a cleaner cut (see notes).