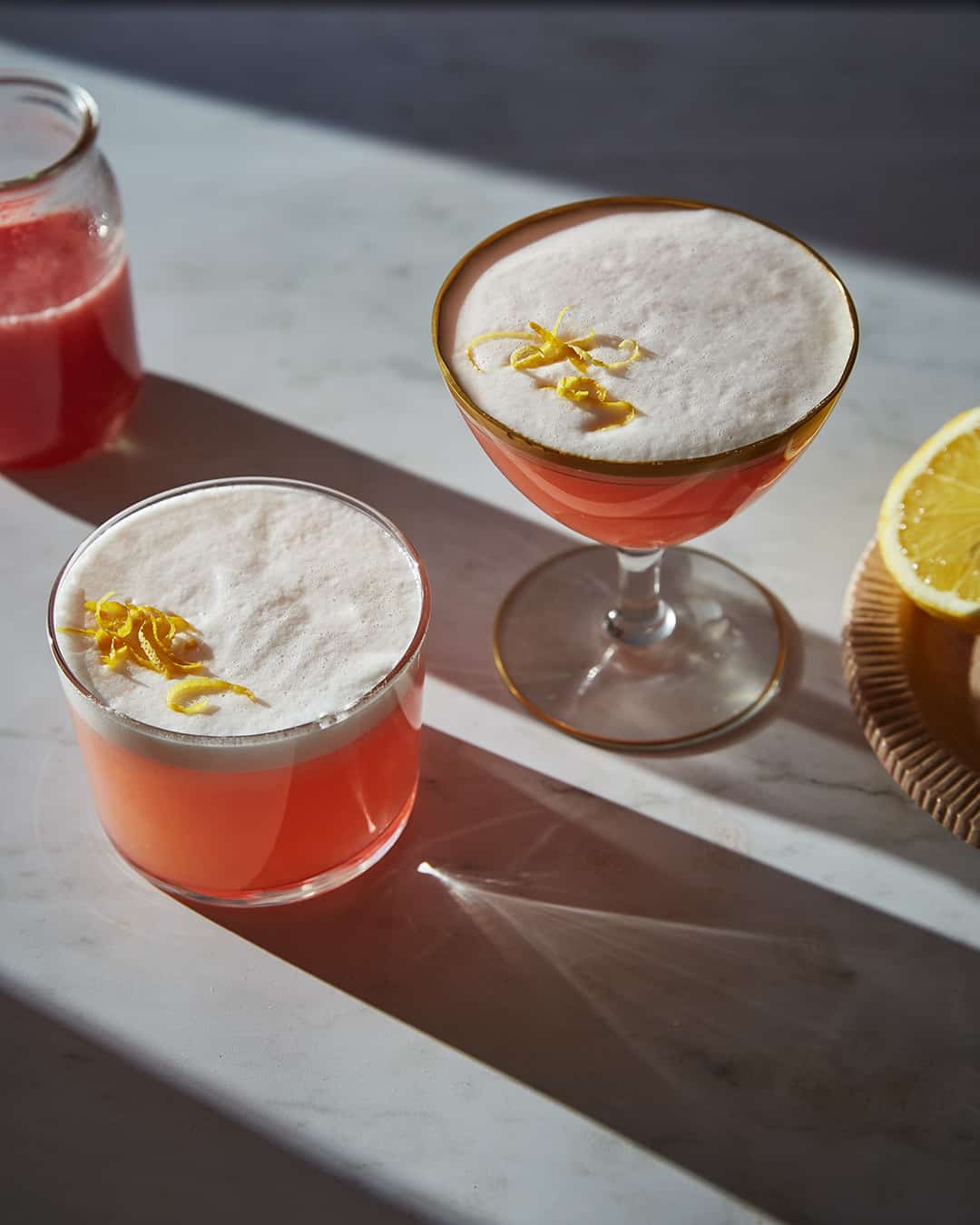 This rhubarb gin sour is a delicious cocktail to make when you've got lots of rhubarb on your hands! (if you have a rhubarb plant, you'll know what I mean).
We first make a rhubarb 'syrup' which is more of a puree, really. The rhubarb softens really quickly when heated with the water and sugar so it doesn't take long to make. You can either strain off the resulting rhubarb syrup (discarding the solids) to use in your drinks or, for a richer flavour, you can blitz the softened rhubarb into the syrup and use the puree instead. If you go down the puree route, you'll end up with a slightly thicker texture in your drink and a more flavourful result. For a cleaner, thinner texture, go with the syrup. This recipe will make more of the syrup/puree than you actually need.
For the alcohol, I like to use a homemade rhubarb-infused gin. It's a bit of a waiting game when it comes to infused spirits (this one takes about 2 weeks to infuse) but is well worth it in my opinion. Using an infused gin instead of a plain one makes a noticeable difference to the rhubarb flavour. If you cba to make it, you can even buy rhubarb gin from loads of supermarkets nowadays.
The technique for a sour cocktail to get the best froth is to do a 'dry shake' first where you shake the liquids without any ice first. This allows the aquafaba/egg white to froth up without the chunky ice cubes getting in the way! Then we add ice and shake to chill it down and strain into a glass. You end up with a pretty pink cocktail with a lovely frothy, creamy layer on top. If you don't want to use the egg white/aquafaba, you can just leave it out 🙂
Other cocktails:
Rhubarb Gin Sour Cocktail
A simple rhubarb cocktail recipe made using gin, lemon juice and homemade rhubarb syrup. Add an egg white or some aquafaba when shaking this cocktail to get a frothy, creamy layer on top of your cocktail.
Print
Pin
Ingredients
Homemade Rhubarb syrup:
200

g

(3-4 stalks) rhubarb

250

g

(1 cup + 2 tbsp) granulated sugar or caster sugar

150

g

(2/3 cup) water
For two cocktails:
2

ounces

(60ml) homemade rhubarb gin

(or use a plain gin)

1.5

ounce

(45ml) homemade rhubarb syrup

1

ounce

(30ml) lemon juice

1.5

ounce

(45ml) aquafaba or ONE egg white

ice cubes
Instructions
For the rhubarb syrup:
Chop the rhubarb into roughly 3cm lengths and place into a small pot with the sugar and water. Bring to a simmer over a medium-low heat, stirring occasionally. Cook until the rhubarb starts to fall apart.

Remove from the heat. You can either strain off the resulting syrup to use in your drinks OR blitz the rhubarb (I use a hand blender) and then strain to get more flavour out of it. Allow the syrup to cool before using.
For two cocktails:
Combine the gin, syrup, lemon juice and aquafaba/egg white in a cocktail shaker. Place the lid on and shake well to froth.

Open the lid, fill with ice cubes, place the lid back on and shake for another 15-30 seconds to froth.

Strain the drink into 2 glasses and serve.