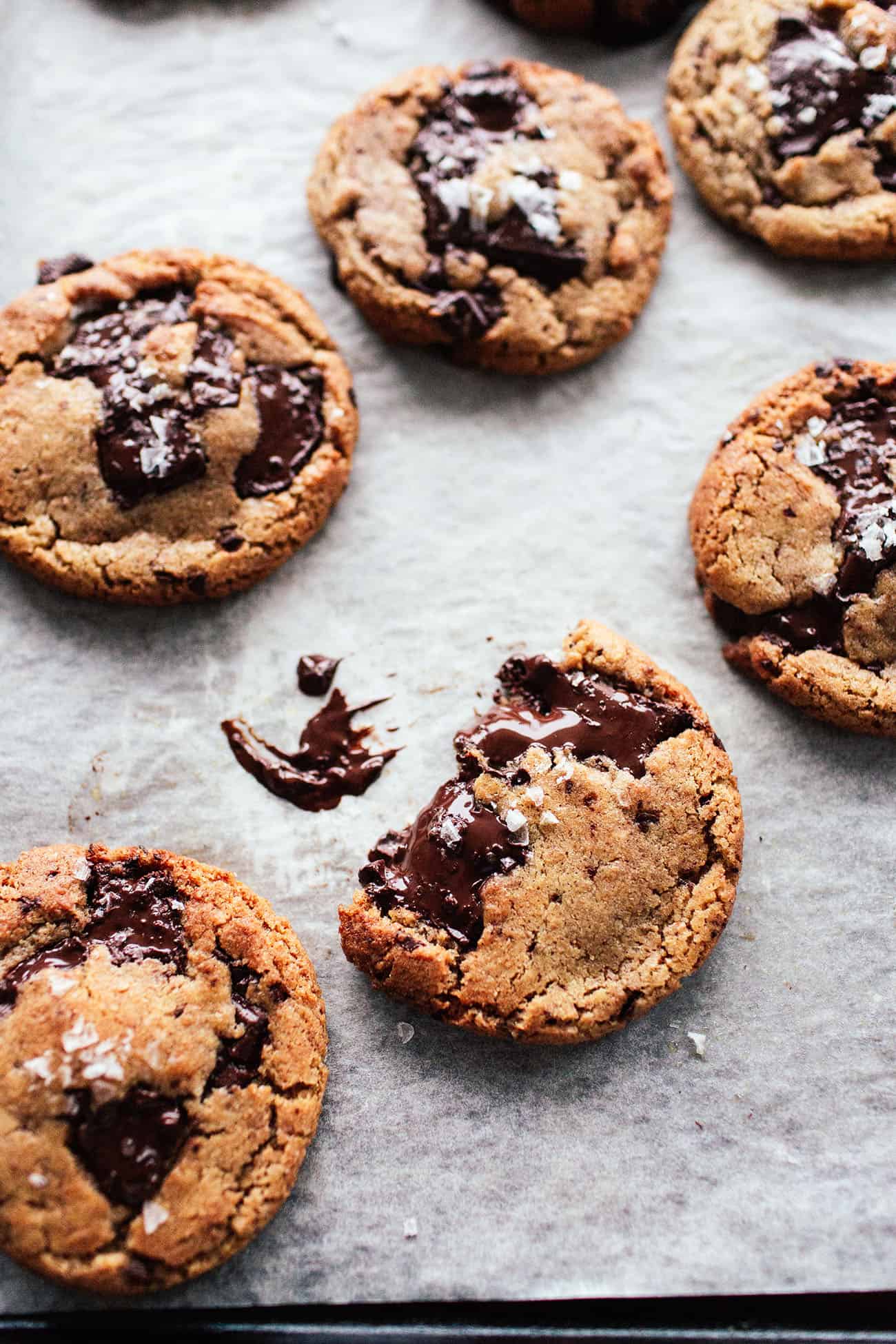 I spent a looong time developing these chocolate chip cookies to maximise the flavour of the dough! There's a few different factors involved which make them the BEST cookies. 
It's pretty hard to not fall into the boring food trap. There are always these pre-determined concepts for how recipes should be, or which flavours should be paired. Yeah, I get that they're there for a reason.
Tried and true, blah blah blah, but there's so much more potential!
Don't you always find chocolate chip cookies a bit 'blah' ? Heck yes that chocolate is going to taste good, but what about the dough? For me, it's normally leave-able. As in I could eat the chocolate and just leave the cookie part, to be honest. The dough is a vessel to get molten chocolate into my face. That is all. 
With these cookies though, they have SO much toasty, buttery flavour in the dough that they're absolutely my favourites & will be forever!!
Why are my chocolate chip cookies coming out flat?
When the chocolate chip cookie recipe came out in the NY times in 2011 everyone was going mentallll over them!One of the main reasons? Aging the dough, which developed the flavour and produced a cookie that had more depth than the Nestle Tollhouse recipe (which always turn out flat for me). 
Letting the dough rest in the fridge helps hydrate the flour (i.e. the flour absorbs the moisture in the dough). This means that the cookies will spread less upon baking! So if you find your cookie dough to be spreading a lot, chilling your dough for even an hour or two will improve this. If you age it for longer, like I do, you get the added bonus of improved flavour as the ingredients mingle together for a bit longer. 
Another factor is the eggs. I've found that because UK eggs are graded larger than US eggs (a UK medium egg is equivalent to a US large egg) that when baking cookies from American recipes, my cookies always spread more than they should. The extra moisture the egg is making a wetter dough which spreads a lot. So if you're in the UK but are baking from an American recipe and find your cookies spreading, try using small eggs instead!
The difference in butterfat % can also affect the cookie dough. In the US it is common to bake with butter which has a lower butterfat %. In the UK most of the butter we get (even bog-standard own brand butter) has a butterfat % of around 80-82%. The more butterfat, the more the cookies will spread. An easy way to rectify this is to decrease the amount of butter slightly in a recipe – maybe take out 15-30 grams (1-2 tablespoons) and see if it helps.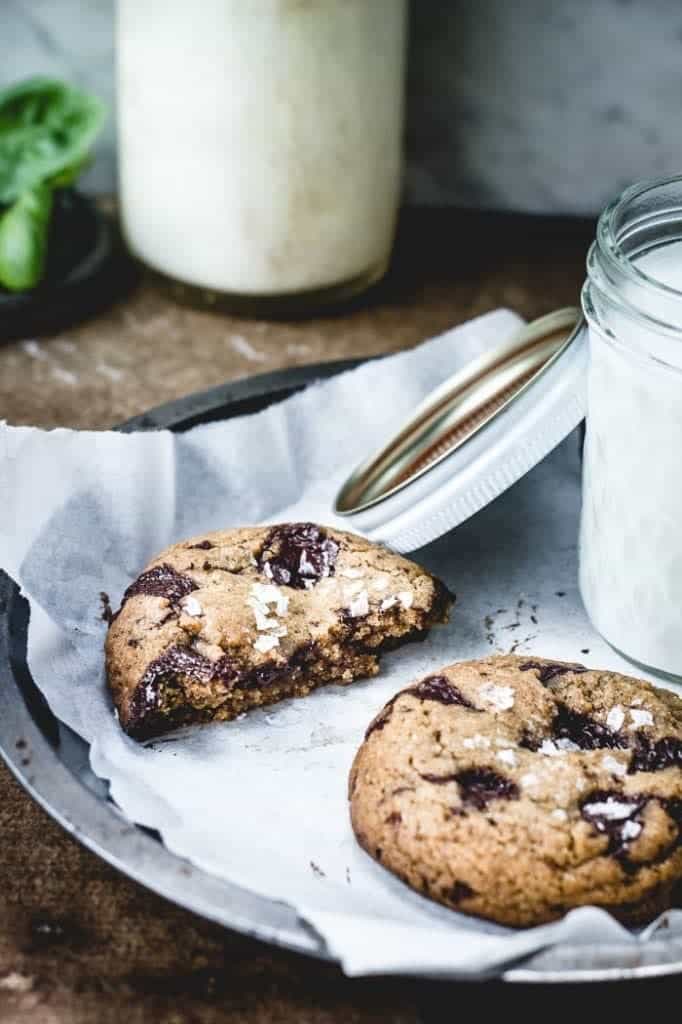 ---
So anyway… aging the dough definitely makes the most difference to me – I find it helps with the flavour SO much!!
Then there was the whole browned butter phase, and let me tell you, I still brown butter for 50% of things I make, because it's just another way of giving food a liiiiittle bit more zing.
If you think about it, it's a bit strange how in baking we use so much less flavour enhancing ingredients. When you cook, you add salt + pepper, a myriad of condiments, herbs and spices. Whereas for baking, it's usually vanilla, cinnamon, almond or fruit. Sometimes there might be some anise or cardamom. But that's about it. You might experiment with cayenne in chocolate cookies once, but it's never going to become a regular addition.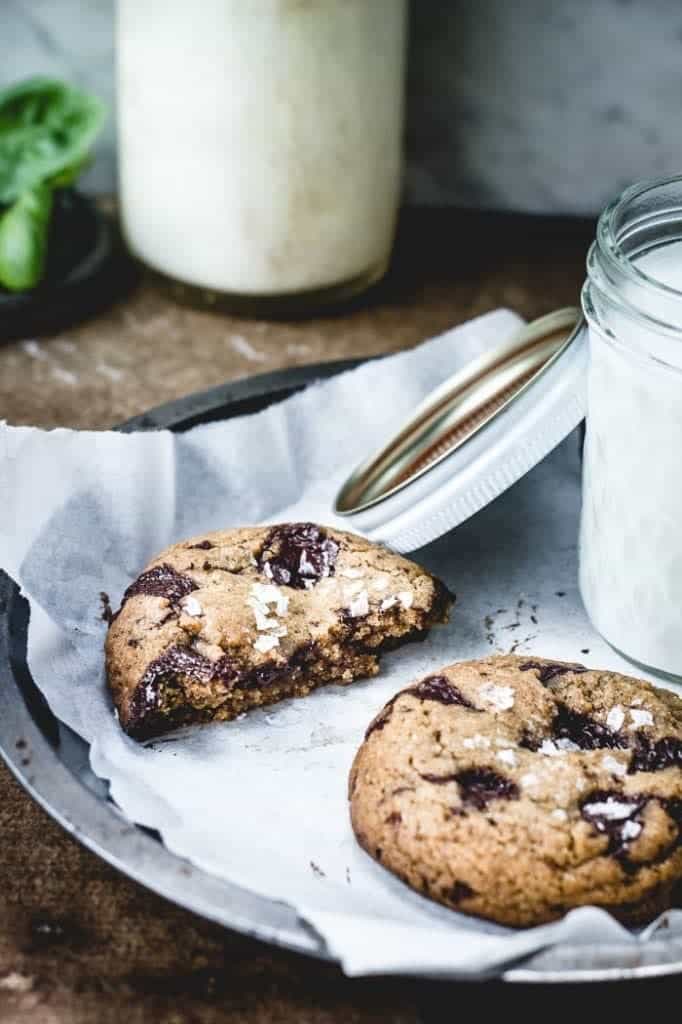 and I think that by using that logic, I've finally cracked it:
My perfect chocolate chip cookie.
I thought I'd reached perfection a few months ago, when I made these bittersweet chocolate chip cookies, but by changing one little thing this time, I improved them even more!
They have all the things I would ever want: Soft, chewy middle, loads of molten chocolate shards, crisp edges a flavourful cookie dough base (that is deffo not leave-able) and, ofc, some salt on top!
Sooo when I was browning the butter for chocolate chip cookies, I added chopped basil to the saucepan, then strained them out. I was left with this lightly scented butter, that when added to the cookie dough just gave it SO much FLAVOUR!
It wasn't like *bites into cookie* "HELLOO BASIL",
it had a herby undertone that simply worked. I asked people to guess what they thought I'd put in it, and literally no one could guess, but they loved them. And so did I, and you probably most def will too, if you make them!
BEST COOKIES EVER
They're also a snap to make – no stand mixer needed! You can just bring the dough together by hand in a bowl as we're melting the butter so the dough is super easy to mix.
aaand I'm out.
Other cookie recipes:
Notes:
If you don't fancy the basil

in your chocolate chip cookies, leave it out! It's still a delicious 

Freezer cookie dough: once you've aged your balls of dough, you can freeze them for cookies any day of the week! I freeze the dough on a cookie sheet first and then slide them into a resealable bag (the first freeze stops them sticking together in the bag). When you want to bake them, no need to defrost the dough. Just pop the frozen cookie dough balls onto a lined cookie sheet and bake as instructed – you may need to ad 1-2 minutes to the total bake time. 
You can sub the fancy salt for a scant 1/2 tsp of table salt in the dough, however you can't use table salt for sprinkling so either use the fancy salt for sprinkling or just don't sprinkle at all.
You can just use a 1/4 cup measure (which equals 4 tbsp), then roll the dough into a ball with your hands and slightly flatten into a hemi-sphere on the baking tray.
Ingredients
4

tbsp

fresh basil leaves

(optional – see notes)

140

g

(5 oz / 1 stick + 2 tbsp) unsalted butter

1

tbsp

vanilla extract

230

g

(1 3/4 cups) plain white (all purpose) flour

(I like using half whole wheat and half plain white)

3/4

tsp

baking powder

3/4

tsp

bicarbonate of soda

(baking soda)

100

g

(scant 1/2 cup) granulated sugar

140

g

(1/2 cup + 1 tbsp), light brown sugar

1/2

tsp

flaky salt / fleur de sel*

(plus more for sprinkling)

1

UK medium egg

(US large egg)

200

g

(7 oz) bittersweet chocolate, roughly chopped

(I LOVE either 85% or 70% – it's hard to find 60% in the UK, but you can use that or semi-sweet)
Instructions
Roughly chop the basil then add to a small saucepan with the butter. Heat continuously it on medium-low on the stove until it foams up and smells nutty then stir in the vanilla extract. Leave to cool for 10 minutes, then strain it through a sieve (push through as much of the browned butter bits as poss though, you're just trying to take out the herbs).

4 tbsp fresh basil leaves,

140 g (5 oz / 1 stick + 2 tbsp) unsalted butter,

1 tbsp vanilla extract

Meanwhile, either in a stand mixer or a large bowl combine the next 6 ingredients (flour through to salt). Pour in the butter and mix until it looks like moist clumpy sand with no floury patches. Add the egg and mix in for a few seconds.

230 g (1 3/4 cups) plain white (all purpose) flour,

3/4 tsp baking powder,

3/4 tsp bicarbonate of soda,

100 g (scant 1/2 cup) granulated sugar,

140 g (1/2 cup + 1 tbsp), light brown sugar,

1/2 tsp flaky salt / fleur de sel*,

1 UK medium egg

Let the dough cool a bit (so the chocolate doesn't melt) then add the chopped chocolate and mix until well distributed – but not for too long!

200 g (7 oz) bittersweet chocolate, roughly chopped

Using a 1/4 cup cookie scoop (see notes), scoop up some of the dough and smoosh it into the scoop until it's just full. Turn out onto a lined cookie tray, and repeat with the rest of the dough. You can cram them together onto the tray at this point since we're going to chill them. Cover with cling film and refrigerate for anywhere between 1 – 72 hours (the longer you wait, the better the texture and flavour!!!).

When ready to bake preheat your oven to 400°F (200°C).

Take 4 to 6 mounds of cookie dough and place onto a separate lined baking sheet, spacing them about 7cm (3 inches) apart as they spread during baking. Sprinkle these mounds with fleur de sel and shove into the oven immediately!!

1/2 tsp flaky salt / fleur de sel*

Bake for 8-12 minutes, until browned, with set edges, and a puffy, soft center. Let cool on the baking tray for a few minutes before transferring to a wire rack.